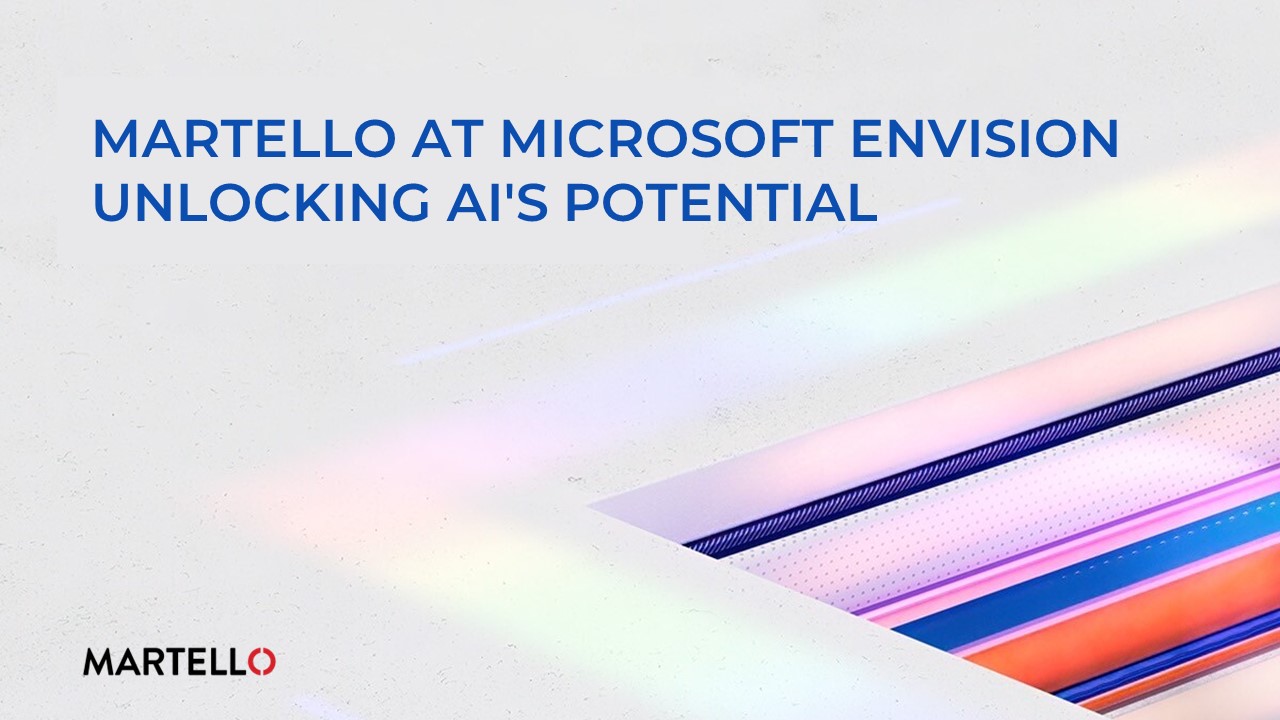 The recent Microsoft Envision event in London was a meeting place for forward-thinking leaders and tech experts, geared up to delve into the transformative era of AI. Martello had the privilege of joining Microsoft and their chosen partners for this exclusive, in-person-only event, which was a day filled with knowledge-sharing, networking, and valuable insights to move businesses into the future.
Here's a glimpse of the takeaways from the event:
Copilot: Enhancing Efficiency and Productivity
At the heart of the discussions was the concept of Microsoft Copilot. This isn't just your average AI tool; it's a game-changer. Copilot is designed to add value across various aspects of business operations. For instance, in the realm of sales, a Sales Copilot can empower sales teams to become more efficient. The event featured insights from industry giants like Accenture and Sainsbury's, who shared how Copilot is being harnessed to enhance productivity and efficiency. However, a common theme emerged – the need for proper training and a shift in mindset to fully embrace AI's potential.
Beyond Microsoft 365: Expanding the Horizons of Copilot
While Copilot's association with Microsoft 365 is well-known, the event shed light on its broader applications. For developers, Copilot plays a crucial role in accelerating and streamlining coding. This versatile tool isn't limited to a single niche; it's a catalyst for innovation in various domains.
Microsoft and Amazon: Unexpected Allies
A surprise revelation came in the form of Amazon's significant investment in Microsoft 365 licenses. Despite being competitors in many respects, Amazon's $1 billion commitment to Microsoft 365 showcases the trust in Microsoft's ability to drive technological advancement. This announcement also had a positive impact on Microsoft's share price, underscoring the company's influence in the tech landscape.
Microsoft Fabric: Elevating Copilot Offerings
Microsoft Fabric, a data analytics initiative, took center stage. Expected to go live in the coming month, it promises to enhance Copilot offerings. As businesses seek to unlock AI's potential, Microsoft Fabric provides a promising platform for further innovation and productivity.
AI in all Verticals
One of the event's standout moments was a session on AI's role. They focused in the healthcare vertical, led by Cognizant, one of the event's partners. Cognizant is actively developing a virtual medical service in the UAE, leveraging AI to provide medical advice. This innovative solution uses a series of informed questions to make diagnoses, albeit in its early stages. Technologies like GPT 3.5 and GPT 5 are being harnessed to drive this initiative, demonstrating AI's power to transform the healthcare landscape.
Importance of Security
Last but not least, security remained a focal point of discussion. In an era where data is more valuable than ever, the ongoing commitment to fortifying digital defenses and ensuring user privacy is a top priority for both businesses and tech innovators.
In summary, Microsoft Envision provided a platform for industry leaders and experts to explore the multifaceted world of AI. The event showcased AI's impact on a range of industries and underscored the importance of embracing and harnessing this technology to drive innovation, efficiency, and productivity. With security as a paramount concern, the event served as a reminder of the need for robust safeguards in our increasingly digital world.
Safeguarding the productivity of Teams users and the IT teams that support them is Martello's mission – read more about how we help with Vantage DX.