How Single Sign-On can Improve your Business in 2015: Introducing Unilogon
In 2011, the average person used 10 online passwords each day – a number that has undoubtedly increased in the years since. Remembering so many PINs and passwords has unfortunate consequences: weaker passwords and security vulnerabilities. Unilogon helps users of Mitel phones and the IT staff that support them, by providing single sign-on to desk phones and Windows hot desks. Here's how it works:
The typical user will arrive at the office in the morning, ready to start their day. They login to their Windows-based PC or laptop, and begin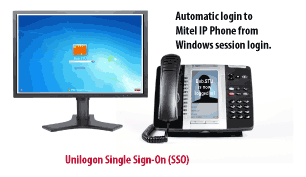 checking emails. The IP phone on their desk often remains an afterthought, until they realize they haven't logged in. Unilogon is software that is installed either on the client side (user's PC) or on the enterprise customer's network. When users log into their Windows session, they are simultaneously logged into their desk phone. The software supports phone discovery, allowing workers simplified mobility throughout the office. For example, if an offsite worker spends time working in a vacant office, Unilogon will automatically log the user into the IP phone nearest their laptop.
How can Unilogon improve your business?
Security – Weak passwords can expose user data to session identity theft and leave the company vulnerable to fraud. With Unilogon, there is no need to remember one more password – strengthening security.
Productivity – Organizational productivity is improved in two key ways: users miss fewer calls because they have forgotten to login to their IP phone, while IT staff spends less time assisting users that have forgotten their passwords.
Decreased Mobile Costs – Unilogon can help increase usage rates for IP phones, delivering greater ROI for the UC deployment. In addition, mobile usage tends to decrease, lowering the organization's mobile costs.
Unilogon is compatible with Mitel MiVoice Business 53xx series IP phones, and Microsoft Windows/Vista. Unilogon also supports VMWare View Horizon and Citrix (Xen App, Xen Desktop).