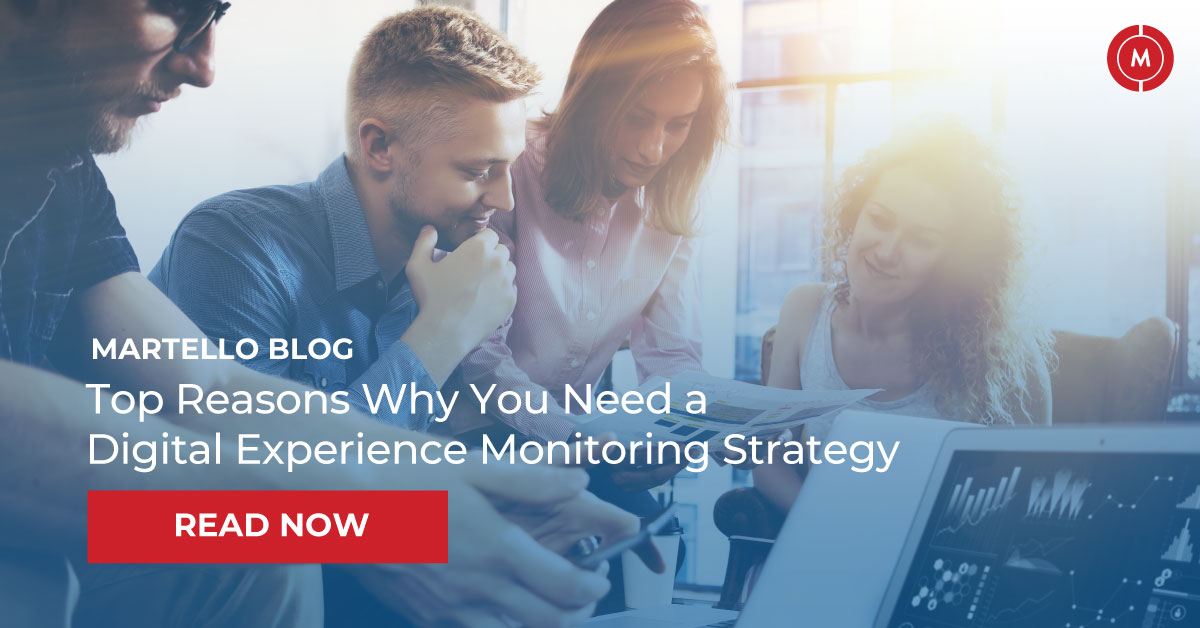 Your cloud application or service can look pristine from an IT perspective, while the end-user identifies it as "glitchy" and "unreliable". Though the technical issues may not be your fault, it still impacts the user's perception of your company and brand.
Issues could spawn from the user's device limitations, the browser version, or a regional public cloud outage that is causing the poor user experience. Many of these things are out of your control, however, without any concrete data to show that the issue is not within your grasp, there is no way to prove it.
With digital transformation and the Internet of Things (IoT) changing the way we interact with the world around us, it's often neglected that wherever connectivity goes, monitoring must follow closely behind. As applications and services move to the cloud, IT no longer has control and visibility into all components. This presents a challenge when attempting to deliver a high level of service quality. People have high expectations that online tools and communication channels always operate flawlessly.
In order to execute on this high standard of user experience, visibility into all available channels and a single pane of glass to watch over them is critical. That's why creating a Digital Experience Monitoring (DEM) strategy is critical to any business's success.
Looking at leading tools in application performance monitoring including Real User Monitoring (RUM) and Synthetic Transaction Monitoring (STM), you can choose the right DEM solution for your business, giving you end-to-end visibility into your end user experience.
"By 2023, 60% of digital business initiatives will require I&O to report on users' digital experience, up from less than 15% today."

Gartner, Market Guide for Digital Experience Monitoring, Federico De Silva, Sanjit Ganguli, Charley Rich, 5 September 2019
Why is Visibility the Core to a Successful User Experience?
While most businesses may feel they have a basic understanding of managing the "digital experience" of their users, many do not recognize the key factor in its long term success- performance monitoring and optimization. Getting the most out of your digital landscape requires visibility of your entire IT infrastructure and how well it supports the needs of the users. DEM solutions help companies bridge the gap between performance and reliability with positive end user experiences.
Consider this scenario. Many companies view Microsoft Teams as a critical component to creating valuable brand experiences with their employees and customers. This has led organizations to invest in this application to provide the ability to connect and collaborate throughout the business. Design and usability, however are only two elements required to create a great digital experience.
To ensure Teams performance, you must consider multiple elements of back-end complexity:
Internet Service Providers and Mobile Network Access
Content Delivery Networks (CDN)
Domain Name Systems (DNS)
Hosting Services
Microsoft 365 services; OneDrive for Business, SharePoint Online; Exchange
There are so many factors that affect the overall delivery of your applications and services, it's critical to monitor as many elements, from as many places as possible. If an issue arises, you can't fix what you don't measure and it can take a long time to get to the root cause and resolve the issue, leaving a negative user experience.
Digital Experience Monitoring gives businesses actionable insight to address performance issues before it impacts the user and tarnishes the brand's reputation.
Not all Digital Experience Monitoring solutions are created equal. It's important to know what to look for when choosing the right DEM solution.
How to Choose the Right DEM Solution
Being able to analyze the performance of an application or service requires real-time data from multiple sources to measure various aspects of the user experience. This can include availability, jitter, latency, packet loss, uptime and more. Using application performance monitoring tools is a reliable way to collect the data you need to understand the user experience.
Why Application Performance Monitoring Alone is Not Enough
Application Performance Monitoring (APM) includes software-based monitoring tools used to detect and diagnose application and service disruptions.
APM alone is not enough to identify and get to the root cause of problems impacting the user experience quickly.
Digital Experience Monitoring is a collection of tools to proactively measure the performance and delivery of an organization's cloud applications and services, from the perspective of the user. Unlike traditional APM or NPM approaches, DEM provides critical insight into how the user is experiencing a cloud service, in addition to monitoring the service itself. This delivers a more comprehensive view of service delivery and performance, helping organizations to detect underlying problems before they impact the customer's digital journey.
While it may seem like the core components of most digital experience monitoring solutions are similar, there are many differences in features and functionality. Basic monitoring solutions capture certain aspects of the customer journey but fall short of creating a full end-to-end picture of the end user experience. Detecting outages, and performance trends while sending alerts to the correct teams in real-time help to create a proactive approach to monitoring.
The leading tools for Digital Experience Monitoring include Real User Monitoring (RUM) and Synthetic Transaction Monitoring (STM).
What is Real User Monitoring?
Real user monitoring (RUM) sheds light on the user's experience by recording all interactions with applications from their point of view. Development and operations teams will then be able to swiftly trace errors and diagnose the specific application point of failure. Combined with a proactive approach to service quality monitoring that monitors the service 24/7, you can now prevent and troubleshoot any end-user experience issues.
What is Synthetic Transaction Monitoring?
Synthetic Transaction Monitoring (STM) is a method to monitor a service's performance by simulating users. It works by issuing automated, simulated transactions from a robot client to your application in order to mimic what a typical user might do. This insight is mission-critical if you are running an online store or any site where you can reasonably expect traffic spikes. Using STM you will be able to identify and eliminate application issues before the end user reports them.
The DEM Solution
When used together, real user monitoring (reactive) and synthetic transaction monitoring (proactive) helps organizations to understand their users to ensure that they are supported in all aspects of the digital experience.
According to Gartner, by 2025, 70% of digital business initiatives will require infrastructure & operations leaders to report on the user experience. Get started now, with a DEM solution that is adaptable, scalable and will help you future-proof your business needs as your requirements change.