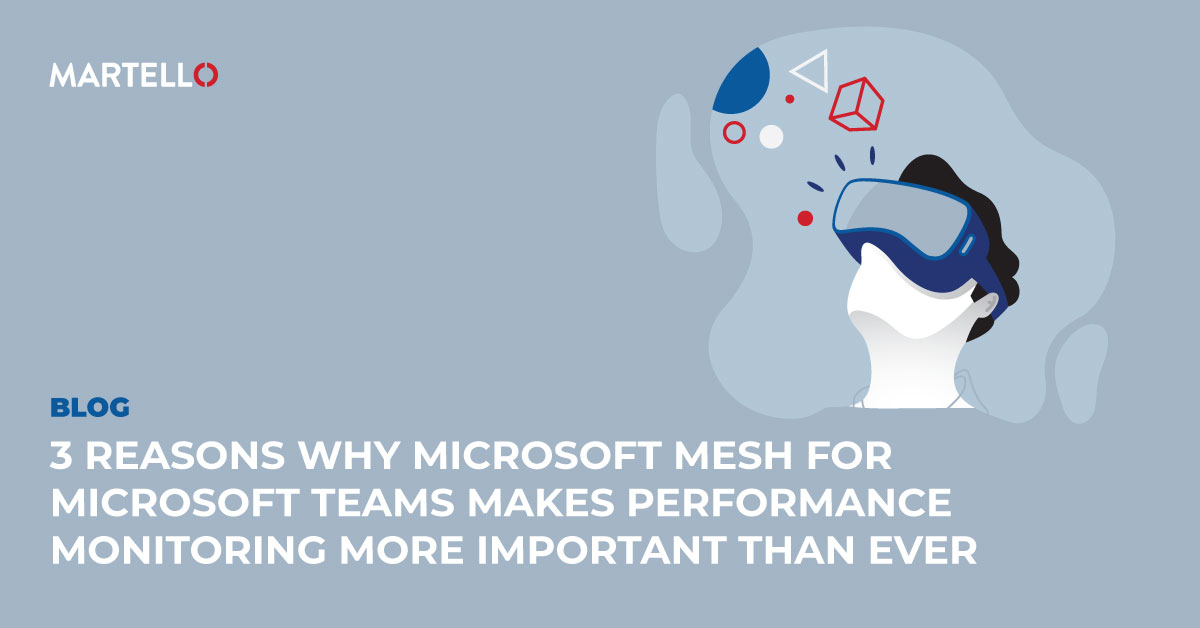 Written by Microsoft MVP Nick Cavalancia.
Earlier this month, Microsoft announced the 2022 rollout of Mesh for Microsoft Teams as the next step in online and virtual collaboration. This seemingly bold step forward into a new type of interaction between individuals is more a natural evolution, taking years of augmented reality research and applying it in a way that provides value to organizations wanting to better collaborate.
But as organizations begin to test and adopt Mesh for Microsoft Teams, the issue of monitoring the performance of Teams, its related services, and all that goes into establishing connectivity between user and service is going to become more critical. Today, ensuring Teams performance is already important, and there are three reasons why monitoring its performance will be even more critical once you add Mesh into the mix.
1. Mesh for Microsoft Teams *is* the Future of Collaboration
Bringing multiple methods of collaboration under one roof within Teams was a brilliant step in affording organizations with an ability to find new ways to connect, share, and interact. Mesh takes this concept farther, empowering employees to interact with others in a way that feels like they're in the same room. This is going to improve the quality of work – particularly in a hybrid workforce scenario where employees, contractors, and partners are literally anywhere in the world.
I suspect the adoption will be like any truly new technology; slow at first. But make no mistake, Mesh has the potential to bring companies closer, bridging the remote gap created by the pandemic while improving the quality of collaboration.
2. Bandwidth is Going to Become an Issue
We've just come out of arguably the greatest shift in how the world works since the industrial revolution and your bandwidth options are the same today as they were 2 years ago. Add to this the fact that Microsoft made it known earlier this year that they would be adding in "roaming bandwidth control" in January 2022 as part of their product roadmap to minimize bandwidth consumption.  This feature indicates that there are many cases where users don't have enough bandwidth today to be fully productive with existing Teams' features (and note this is an Internet connectivity issue and not an actual problem with Teams itself).  There is only so much compression that can be applied to the various kinds of traffic generated by Teams before there's either a drop in quality or lag in performance.
Now add in Mesh's Holoportation and Avatars functionality – which will, no doubt, add to a user's bandwidth requirements. Given the hybrid workforce within an organization will have varying Internet connection speeds, WiFi connections, use of VPNs, routing through the corporate network, etc., there will no doubt become a need for every ounce of bandwidth and as optimized a connection as possible.
3. Performance will be as Critical as Availability
Today, the initial performance focus IT has is on Teams service availability. Microsoft provides service health status updates, but that doesn't help identify the source of a performance problem if the issue isn't the services themselves. With so many factors sitting in between the user and Teams in the Microsoft cloud (e.g., wifi, Internet connection, VPNs, internal routing, corporate Internet, routing to and within the Microsoft cloud, and finally the Teams services), it's critical today for organizations to be monitoring as many of those factors as possible to quickly identify and address performance issues and minimize their impact on users.
With Mesh, this issue is only going to be multiplied. We certainly notice today if something as basic as a Teams audio call is jittery and we're struggling to even continue a call when continually missing every other word.  Now imagine a scenario where users are reliant on Mesh's functionality – where seeing the other person's facial expressions, gestures, as well as the associated audio becomes important.  Everything from perceived slow response times during a discussion to the Holoportation-equivalent of jitter, and anything else we have yet to experience with Mesh is going to impact the user's experience of Teams performance. If you were to have the same performance gaps with Mesh as we have today with Teams (again, due to improper routing, insufficient bandwidth, etc.) the problems would be magnified in nature because of the more complex experience Mesh provides, and the resulting inability to communicate (let alone collaborate) will be obvious.
Don't Wait for Microsoft Mesh
The performance concerns Mesh will incur are really the same issues we already face today; jittery calls, video lag, slow upload times, and more are already experienced by Microsoft Teams users.  And while sometimes Teams itself is the issue, more often than not, Teams is not the culprit and it's some other factor in between the user and Teams causing the problem.
Monitoring Teams performance is something that is available today and should make sense for organizations that are heavily reliant on Teams as part of daily operations. Empowering IT teams with visibility into just about anything along the user's path that can impact Teams service quality will aid in both proactively addressing problems before they reach the user and provide context to speed investigations and remediation steps should Teams performance dwindle.
And by having this in place today, when Mesh becomes a part of your organization's use of Teams, IT will already have a solid understanding of what's involved in maintaining acceptable performance, and what to do when the user experience with Mesh is less than acceptable.
Curious if your Microsoft Teams will be up to the task to support Microsoft Mesh when the time comes? Get our Ultimate Teams Performance Guide – the 8 metrics you need to measure to assess the user experience.
Wondering what type of monitoring solution is right for your organization? Download our Buyers' Guide for Microsoft Teams Performance Monitoring Solution written by Microsoft MVP, Brien Posey.