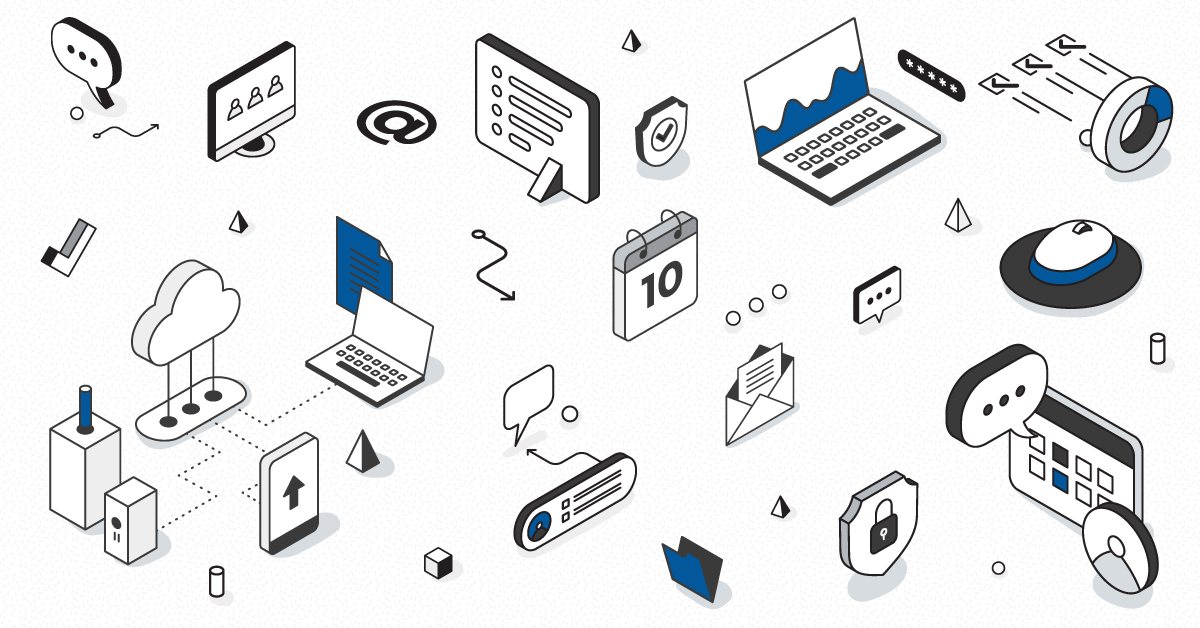 Discover how Cloud Service Delivery Transforms your IT Service Management Office 365, the world's leading SaaS solution, has profoundly changed the nature of IT Service Management (ITSM). Now that (most of) the servers are the responsibility of Microsoft, many customers are wondering how to transform their ITSM to fit their cloud delivery. Determining the right Microsoft monitoring tool for your business is crucial.
Modern ITSM as described by Microsoft should represent how IT manages, operates and transitions technology, designs services and manages risk within the organization.
But how to monitor your workload in the cloud, manage an incident or optimize your service desk when you don't have visibility to your end-user experience?
Microsoft provides Service Level Agreement for Office 365, the famous 99.99%. But it is necessarily limited to specific services and to the edge of their datacenters. Hence, what really matters is everything that is happening between your users and the cloud services.
Interested in modern Office 365 service management? Learn more about the critical role that effective Microsoft monitoring plays.
 In this podcast, we explain how the cloud impacts your ITSM practice, what exactly are the Microsoft SLA's and which best practices they recommend when it comes to SaaS delivery.
In this 30-minute session, our experts shared how our large customer base has dealt with this challenge, implementing end-to-end service level agreements that put the end-user at the center of their ITSM practice.
Microsoft Teams has suddenly become even more critical for many companies around the world. Just last week, 12 million new users began actively using the Microsoft service. Therefore, ensuring the quality of services for your critical users, wherever they are working, at home or in the office, is essential.
Whether you primary Teams use is chat, channel, document access or Voice, you need performance data from users at their sites to support them when they experience service degradation.
To deal with the unprecedented challenge we are all now facing, we review the connectivity best practices to follow to enhance the MS Teams experience. Then we show you how to take control of your Teams deployment by monitoring performance with Martello Gizmo to detect and resolve any issues.
Listen to this podcast and learn how to use our Microsoft monitoring tool with Synthetic Transactions for MS Teams to:
Troubleshoot your critical MS Teams user's performance issues
Use end-user experience data to collaborate effectively with Microsoft
Ensure an excellent Teams user experience anywhere, anytime.
Organizations running a hybrid implementation of Microsoft Exchange have to contend with a complex mix of cloud and on-prem services, servers, routing, and clients. Even so, IT is expected to deliver a consistent experience that ensures users productivity, regardless of the underlying environment intricacies. And when anyone part of this delicate machine fails, IT is left without the needed visibility- Who is affected, what is the impact on operations, and what is the root cause, and often doesn't realize this visibility gap until it's too late.
So, how exactly does a hybrid Exchange environment impact service quality, productivity, and ROI?
In this educational podcast, join Microsoft MVP, Nick Cavalancia, as he discusses the importance of an effective Microsoft monitoring tool and examines:
• What are the components to be mindful of in a hybrid Exchange environment?
• What happens to user productivity should any one of them fail?
• Why visibility is key in delivering service quality and ROI?
Understanding the route to the Cloud is the most important thing you can use to increase your Microsoft 365 performance and end-user satisfaction. Therefore, Microsoft has provided a few recommendations that are important to follow. However, what is the real impact on your Microsoft 365 service quality if you do not follow Microsoft's tips? How can you detect, troubleshoot and improve your configuration? During the session, Martello Gizmo experts review best practices and present use cases illustrating the consequences of non-optimized route to the Cloud configuration. We also show you the free Microsoft monitoring tools that you can use to understand the issues and proceed to meaningful changes that will help your users get a better Microsoft 365 services quality.
Deployment and ongoing support of large scale SaaS applications like Microsoft 365 comes with many challenges. Whether you are deploying Teams, running Exchange or optimizing SharePoint Online environment, you are responsible for the success of the Microsoft 365 service delivery to users. From deployment delays to production issues, operational and financial risks come with the limited visibility you currently have into the Microsoft 365 user experience. Don't miss out! Our experts dive into 3 different Microsoft 365 user experience cases. You will see how our clients have transformed their IT organization, adopting a proactive approach to ensure user satisfaction.
Is it Teams, the network, or even the client that is slowing everything down? Is it a tenant or a local issue? When did it really start, and do you have metrics to prove it?
Today's hybrid cloud infrastructures are creating a real challenge for IT operations. They fly blind when they get complaints about Microsoft 365 Voice quality because they don't control end-to-end service delivery path.
You can't manage what you don't measure.
Troubleshooting Microsoft 365 Voice quality issues is like playing the famous board game CLUE (aka. Cluedo in Europe): You need to find out precisely what is the issue, who is affected, and where is the source of the problem. Network components can affect the Voice end-user experience in various ways. Whether they hear a robotic voice or interruption during a call, users jump to the same conclusion. It just doesn't work. Understanding what is precisely happening is key to troubleshooting the issues and ensuring the best voice quality you can across your entire organization.
Martello Gizmo assembles the clues, so you can crack the case.
Listen to this 30-minute podcast to see how Martello Gizmo helps you restore visibility on your Microsoft 365 voice users' experience anywhere, getting the right data at the right time to enable fast troubleshooting.
Get insider tips and simple tricks to improve your Microsoft 365 experience. When dealing with Microsoft for Office 365, you get a 99.9% SLA availability contract. However, Microsoft can only guarantee the quality of service to the point that it leaves their datacenters. Everything in-between your users and the entry point at Microsoft is still your responsibility.
When a user complains, how do you know if it is Microsoft's responsibility or yours?
How do you know if open tickets require escalation to Microsoft?
Finally, how can you prevent issues and provide maximum performance to your end-users?
In this 30-minute podcast, you will learn how to recognize and prevent these performance issues thanks to a few simple tricks.