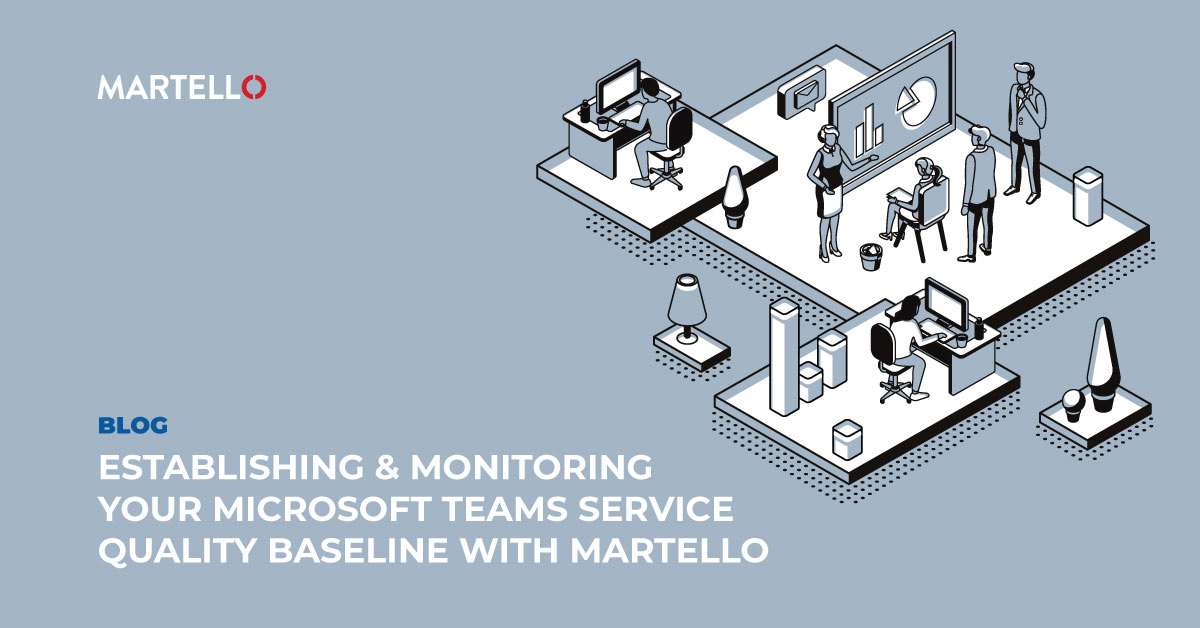 To maintain effective Microsoft Teams performance, you must first understand two things: the metrics that define an optimal Microsoft Teams performance and where your Teams performance currently ranks against those metrics. By establishing a Microsoft Teams service quality baseline for your business, you can determine what is normal in terms of performance, and what isn't. More importantly, you can identify where and when your focus should be to improve the overall user experience. It's also important to note that regional location plays a major factor when determining baseline as well, and it can vary from site to site.
Measuring Teams Performance
Measuring a location's ability to provide a decent Microsoft Teams user experience before, during, and after any deployment is critical. The following are some of the top compulsory metrics that offer the most effective insight into maintaining a high-quality Teams experience.
MOS
The MOS is usually a score that is based on a questionnaire sent to the users, like the one you have after each call on Teams: "Please rate the quality of the call from One to Five stars" (5 being excellent, 1 being poor). That is why you can't have a MOS superior to 5. The problem is that when you want to assess your environment (or even during migration) you don't have enough feedback to get this score. Microsoft has worked with other network specialists on the definition of Network MOS metric that can predict the value of the Wideband Listening Quality Mean Opinion Score (MOS-LQ). To calculate that, multiple factors are considered such as the latency, packet loss, Jitter, the codec used, etc. As for the real MOS, the Network MOS ranges from 1 to 5, but due to the compulsory impact of the audio codec, the highest score is usually around 4.4. Average MOS: 4.37
Packet Loss Rate
This represents the amount of packet loss for 15 seconds (for example if 1000 packets are sent in 15 seconds and 50 are lost, it will generate a 5% packet loss). A high packet loss will lead to a moment of silence during a call or to a degradation of the voice quality giving people 'robot voices'. Microsoft recommends keeping it at 1% during a 15-second call. Less than 3% packet loss should provide a decent call quality. Between 3-7% packet loss there is a noticeable performance impact. Over 7% packet loss and the call quality will be severely lacking. Average packet loss: 0.18%
Jitter (also called Packet Inter-Arrival Jitter: In Millisecond)
The Jitter is the size of the buffer that is needed to store packets before reconstructing them in the correct order. It can be compared to an audio packet waiting room. The value of the Jitter is calculated over every period of 15 seconds. A low Jitter number means that the connection to the call is good and solid. A large Jitter buffer provides an additional delay in calls; it is a sign of congestion of the network.  Ideal Jitter: 3.96ms
You can download our Microsoft Teams Performance guide here for our full list of performance metrics.
Microsoft Limitations
Although Microsoft's CQD (Call Quality Dashboard) 'is designed to help Teams admins and network engineers monitor call and meeting quality' and drive performance quality at an organization-wide level, it is limited in what it can provide. There are no alerts, no integration with ITSM, and no correlation with network information which makes it challenging to effectively monitor and ensure the quality. This is where Martello's solution comes in.
Martello solution
With Martello's solution you can ensure the optimal route to the cloud at any time – and get a network performance baseline per site and region.  Our 24/7 synthetic transactions measure, alert and report on the level of service per site and correlate this data with other existing monitoring tools you are using; this synchronizes everything in ITSM, shows the root cause of any service issue (Microsoft related or internal equipment, service provider, etc.) and provides extended service baseline monitoring and reporting on every component that affects sustaining an optimal level of performance.
Here are some of the benefits that Martello can provide for your IT team and overall business:
IT can ensure baseline performance objective in every site.
IT can proactively warn the user when issue are affecting the performance baseline
Limit impact on business when issue
Reduce MTTR when objective is not reach
Benchmark site to understand better why the baseline is not reach
Define your Microsoft Teams service quality performance baseline and gain peace of mind over the experience members of your business are having. Learn more about taking control of Microsoft Teams performance by registering for our upcoming webinar