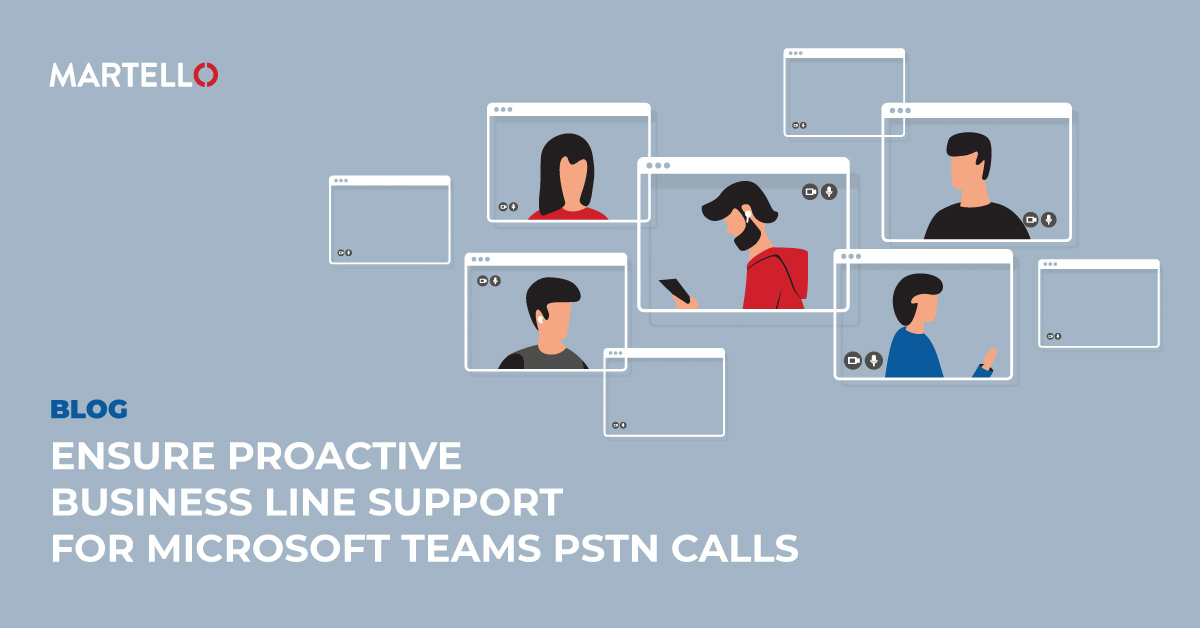 With Microsoft Teams usage continuing to increase, it was only a matter of time until we also saw the rise of Teams voice through PSTN. Even though this requires more expensive Microsoft 365 licenses, the return on investment can be significant purely based on the pricing structure but sizable savings can be realized when it comes to management overhead costs. However, it can be a challenge to ensure PSTN call quality for all your business lines and users. Let's look at a recent use case we encountered at an IT organization.
Current PSTN Challenges
It is no secret that cloud to PSTN calls require many types of equipment and several teams to be properly managed. When responsibility stretches across an organization, every team must play a role.
We often see Unified Communication (UC) or telephony calls managed by the Session Border Controller (SBC) which is very often an Audiocodes, Ribbon, Oracle or Cisco product. These devices are monitored by existing network tools such as PRTG, Nagios and SCOM among others and these tools are primarily used to check the health state and availability of the service. Internal usage data can also be retrieved from these devices and can be used to ensure appropriate capacity planning and for troubleshooting issues.
The telephony team is also responsible for the PSTN carrier and the PSTN trunk. However, reliability and quality issues can also stem from these providers which is why it is important to have a holistic view of the usage, failed call rate and dropped call rate per carrier.
The network team is also a stakeholder, as they manage the monitoring tool that is providing information specific to the SBC health. This tool also typically shows the availability of the other equipment or devices involved in the call including the Wi-Fi, switch, internet connection and local bandwidth.
In today's modern workplace, Microsoft Teams voice services must be both available and working well, and therefore the internal team managing the Microsoft 365 tenant and Microsoft Teams plays a critical role as well. To ensure that this is the case, proactive monitoring, both testing and alerting, must be in place.
The device team also has a stake here, as specific mobile devices can often deliver poor-quality calls. In this case, the team can look for a troublesome device model and check to see if there is a pattern – this would be shown as a high percentage of calls with issues coming from a specific device model. They can also look at the mobile broadband provider that might also have issues – this would be seen in a high percentage of users with that specific provider who experience PSTN or cloud call issues.
Finally, the ITSM team also receives data and alerts from their respective tools which can sometimes be directly raised by users.
All of these alerts need to be prioritized and then assigned to the appropriate team. But when it comes to Microsoft Teams and PSTN calls, the lack of data can make pinpointing issues complicated. There is a wealth of data that can be found in the Microsoft Call Quality Dashboard (CQD) however, it is not a monitoring tool. Without any custom grouping capabilities, alerting capabilities, complex search capabilities or correlation with other sources of data, the Microsoft CQD won't help to ensure that cloud and PSTN calls are more reliable.
This is where Martello Vantage DX comes into to play.
Vantage DX collects all PSTN call quality data and enables IT to group, alert, correlate and analyze compliance and root cause issue patterns directly from a single pane of glass and without the need to install any agents. With Vantage DX, IT can easily share information between every team to support users and streamline issue resolution. Here is what this looks like with Vantage DX:
The telephony team can now see and be alerted of Microsoft Teams call issues and receives detailed error messages to better understand the quality of the service provided to their business lines. They can see the monitoring data coming from the network and infrastructure tools – checking Wi-Fi, switches, SBC, and every piece of equipment involved in service delivery.
The Microsoft 365 team can also be alerted of PSTN call failures and poor user quality as well as on SBC issues and see PSTN trunk consumption issues. They also have detailed reports on the number of problems per-device model, per operating system, per location, or by any custom group they want to define in order to analyze issue patterns amongst users and prevent future problems.
The ITSM team can also benefit from the correlation of alerts coming from every system involved in the service delivery of PSTN calls through Microsoft Teams. This gives them the ability to quickly identify if the issue is coming from a carrier, their internal network, a common model of device, headset, etc.
The overall goal for these IT teams is to ensure exceptional service quality at all times, enabling business continuity – anywhere, anytime.
Microsoft Teams voice usage and PSTN connection is here to stay and will continue to grow – as will our dependency on it. It is time for IT to rise to the challenge with a holistic monitoring solution to deliver reliable service – and Martello can help. Book your custom demo today.