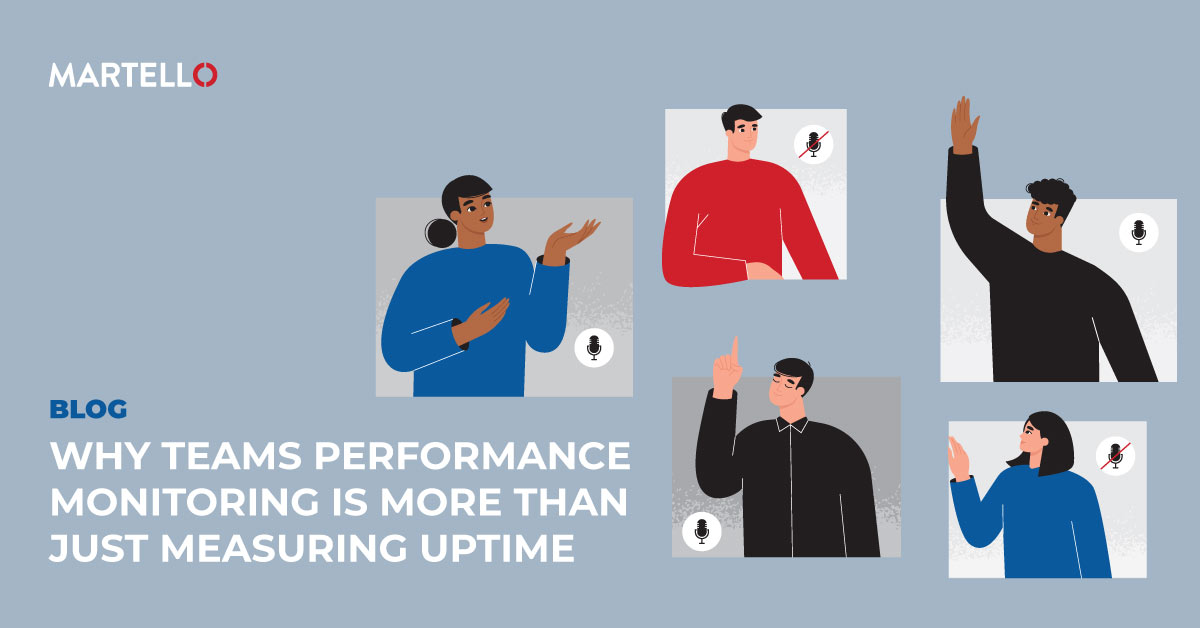 Written by Nick Cavalancia, Microsoft Cloud & Datacenter MVP
When your organization's very ability to share, collaborate and meet depends on Microsoft Teams performing, solely watching Teams service availability simply isn't enough. Employees operate on the assumption that every bit of technology they rely on just works.  Teams is the modern example of the most critical application to businesses today, with over 145 million daily active users. But even though it is part of the Microsoft 365 platform, it still represents a technology solution internal IT teams are responsible for. And that presents a huge problem.
Effective Microsoft Teams performance monitoring is necessary.
Take the example of a customer of ours whose headquarters is in the downtown of a major U.S. city and has 7 floors of nothing but meeting rooms, with IT located in the basement. The only time IT even knew there was an issue with Teams was when the employee tried to use Teams unsuccessfully at the meeting time. That's never a great experience for the user or IT.
The challenge is for each meeting room, there were so many factors that could the reason for a Teams performance issue: it could be the meeting room computer, the network switch, the cabling, an issue with network routing, authentication issues, and all the services Teams relies on including Azure AD, SharePoint, OneDrive, Exchange, and more.
Internal IT teams traditionally only have visibility into the overall status of the Teams service; there's the Microsoft 365 Service health status site and the Microsoft 365 Status account on Twitter.  But all those do is measure one metric – uptime – of a very multi-faceted scenario where literally anything technically sitting between the meeting room computer and Teams can be the problem.
For those organizations heavily relying on Teams, the goal is not just for it to function, but to perform well – and that includes meetings, collaboration, chatting, integrations, access to files, and more. So, it's necessary to look beyond just the uptime of the Teams service and look for ways to get deeper visibility into what parts of the path from endpoint to Teams may be causing the problem.
Today, there are a number of monitoring technologies available that can assist in both provide the needed visibility and help to isolate the root cause of not just outage issues, but even Teams performance issues.
These include:
Synthetic Transaction Monitoring
Mimicking user requests, a robot agent interacts with Teams in the same way users do, reporting back metrics on whether it was able to perform actions like scheduling a meeting, upload a file, start a call, and more. By placing these bots strategically, you can represent entire geos, office locations, floors, subnets, wireless/wired network connections, and more. This kind of monitoring helps to identify issues with service quality, providing detail on scope, location, and impact.
Real User Monitoring
Using an agent on a specific user's endpoint, this method focuses on the user's interaction with specific Microsoft 365 services and reports back on the quality of service provided therein. This kind of monitoring helps to identify if a specific user (e.g., the meeting rooms mentioned above) is having issues.
Service Monitoring
This kind of monitoring collects, consolidates, correlates, and analyzes both Microsoft 365 services, as well as your organization's internal infrastructure to ensure proper end-to-end service delivery, providing insight into the root causes of issues, whether it's a Microsoft 365 service, an internal switch, or anything in between.
Monitoring Teams for performance reasons requires much more focus on two factors:  first, whether your users are experiencing a Teams issue, and second, what is causing the issue. While there's little you can do when problems occur on the Microsoft side of thing (other than to inform your users of the problem), having visibility into everything else used to get the user connected to Teams opens up a whole range of possibilities around providing better – and more proactive – service delivery of Teams.