Martello Appoints Mike Danforth as VP Global Partnerships and Sales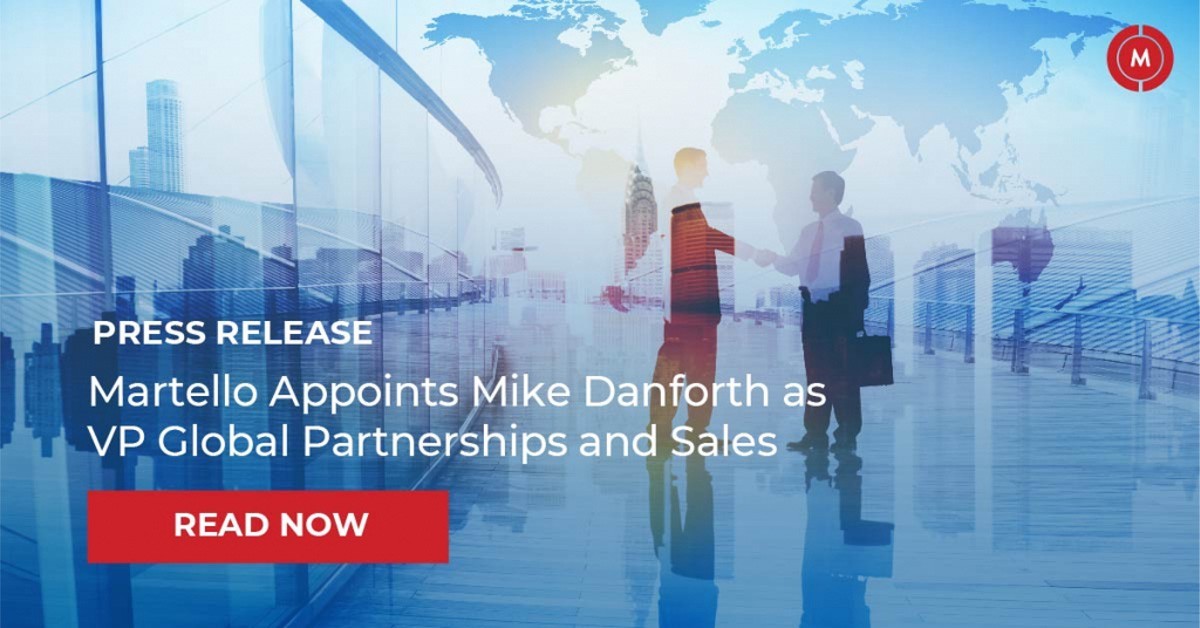 Danforth to lead channel development for Martello as it accelerates its channel sales strategy for digital experience monitoring solutions.
OTTAWA, June 1, 2020 /CNW/ – Martello Technologies Group Inc., ("Martello" or the "Company") (TSXV: MTLO), a provider of digital experience monitoring (DEM) solutions deployed in more than 5,000 enterprise networks around the world, today announced the appointment of Mike Danforth as Vice President, Global Partnerships and Sales for Martello.
The appointment comes as Martello places a strategic emphasis on channel relationships and sales, to bring Martello's DEM solutions to managed service providers, systems integrators and distributors. Mr. Danforth's experience, knowledge and relationships will position him to take a leadership role in accelerating this strategy. Martello's DEM solutions include monitoring and analytics that deliver insight into the performance and user experience of digital services such as video conferencing and unified communications.
Mr. Danforth will focus on strengthening relationships with current partners, while establishing new strategic partnerships for Martello's DEM solutions. He has a strong track record of successfully leading global teams to over-achieve on quotas for B2B software products, via direct and channel models. He spent four years as a sales executive at Salesforce, and most recently, served as Global VP of Alliances and Strategy for Safeguard Cyber, where he established strategic relationships with global systems integrators, built a global alliances program and led a channel sales team that achieved significant growth. He has strong relationships with industry players like PWC, Salesforce, Accenture, Deloitte and Microsoft, and a proven track record of bringing value to customers and partners.
"I'm delighted to welcome Mike to the Martello team as we place a strategic focus on developing channels for our DEM solutions," said John Proctor, President and CEO of Martello. "Mike has a history of building successful channel programs and leading teams that deliver value to customers and partners. He will play an important role within Martello as we bring our unique DEM solutions to the channel, supporting businesses with a better way to manage the digital user experience."
"Businesses today rely on digital communications more than ever. The performance and user experience of these digital communications services are critical to achieving a return on the digital transformation investment," said Mike Danforth, VP Global Partnerships and Sales of Martello. "Martello is leading this next wave, and I'm thrilled to be joining the Company at this critical inflection point, to bring its DEM solutions to market and deepen its channel reach. I'm confident in the strategic direction that Martello has chosen, and look forward to joining this high calibre team, led by CEO John Proctor."
About Martello
Martello Technologies Group Inc. (TSXV: MTLO) is a technology company that provides digital experience monitoring (DEM) solutions. The company develops products and solutions that provide monitoring and analytics on the performance of real-time applications on networks, while giving IT teams and service providers control and visibility of their entire IT infrastructure. Martello's products include unified communications performance analytics software, and IT analytics software. Martello Technologies Group is a public company headquartered in Ottawa, Canada with offices in Montreal, Amsterdam, Paris, Dallas and New York. Learn more at http://www.martellotech.com
FORWARD LOOKING STATEMENTS: This press release contains forward-looking statements that address future events and conditions, which are subject to various risks and uncertainties. Actual results could differ materially from those anticipated in such forward-looking statements as a result of numerous factors, some of which may be beyond the Corporation's control. These factors include: general market and industry conditions, risks related to continuous operations and to commercialization of new technologies and other risks disclosed in the Corporation's filings with Canadian Securities Regulators.
Forward-looking statements are based on the expectations and opinions of the Corporation's management on the date the statements are made. The assumptions used in the preparation of such statements, although considered reasonable at the time of preparation, may prove to be imprecise and, as such, undue reliance should not be placed on forward-looking statements. The Corporation expressly disclaims any intention or obligation to update or revise any forward-looking statements whether as a result of new information, future events or otherwise, except as required by applicable law.
Neither the TSX Venture Exchange nor its Regulation Services Provider (as that term is defined in the policies of the TSX Venture Exchange) accepts responsibility for the adequacy or accuracy of this release.
SOURCE Martello Technologies Group
For further information: Tracy King, VP Marketing, tking@martellotech.com, 613.410.7636
Related Links