Martello Improves Microsoft Teams Room Management with Latest Release of Vantage DX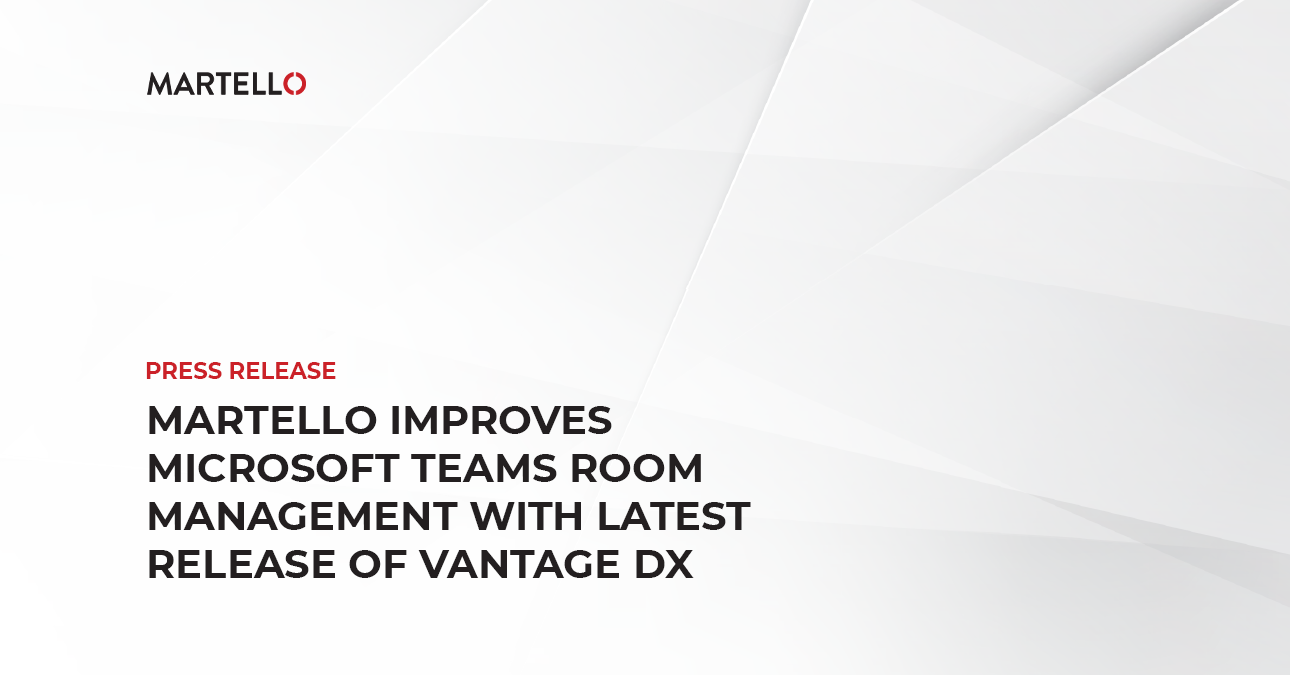 Microsoft-recommended solution reduces troubleshooting of Microsoft Teams Room issues from hours to minutes with end-to-end visibility of devices and the surrounding network infrastructure.
ORLANDO, Fla., March 27, 2023 /CNW/ – Martello Technologies Group Inc., ("Martello" or the "Company") (TSXV:MTLO), a leading developer of software solutions that optimize the Microsoft Modern Workplace, announced today at Enterprise Connect 2023 new Microsoft Teams Room monitoring and analytics capabilities in Vantage DX V3.10. The solution can now deliver end-to-end visibility into the performance of any number of Microsoft Teams Rooms and devices to improve the hybrid meeting experience. Vantage DX is the only comprehensive, out-of-the-box performance monitoring solution for Microsoft Teams. Martello is providing demos of Vantage DX at Booth #1004.
Microsoft Teams Rooms facilitate better meeting experiences in today's hybrid workplaces. They deliver inclusive meeting experiences that put in-room and remote attendees on an equal footing, with high-quality audio and video devices to help everyone be seen and heard, regardless of location. Microsoft Teams Rooms represent an investment not only in technology but real estate and are often used by VIPs in mission-critical meetings. More than 60% of the Fortune 500 have already chosen Microsoft Teams Rooms to connect internal and external stakeholders across the hybrid divide and according to Microsoft, there are more than 500,000 active Teams Rooms devices, up 70% year over year (January 2023).
As Microsoft Teams Rooms become a critical part of the hybrid meeting technology stack, managing them for optimal performance is challenging for IT and audio-visual (AV) teams. The number of Microsoft customers with more than 1,000 rooms has doubled, which means thousands of devices and the network infrastructure they operate on must perform optimally for meetings to run smoothly. IT teams can spend hours trying to find the root cause when there is a problem with a Teams Room meeting.
Martello Vantage DX improves Microsoft Teams Rooms Management, reducing the time spent troubleshooting problems from hours to minutes. The solution can also position IT and AV teams to proactively detect and fix problems before they can impact meetings. Vantage DX 3.10 brings new dashboards to simplify the management of Microsoft Teams Rooms with the following capabilities:
Know if an MTR is performing poorly – before users complain.
Ensure your MTR devices are working optimally – know if a device is actually online or requires a software update and quickly troubleshoot issues.
Streamline MTR management to reduce time spent troubleshooting performance and redirect IT resources to where they will have a greater impact.
Know which of your MTRs are the busiest and closely monitor them for performance.
Deliver maximum ROI on your MTR investment and ensure VIP meeting satisfaction.
Vantage DX customer Unum is an American Fortune 500 insurance company. A distributed global organization with a hybrid workforce of 14,000 employees, Unum has chosen Vantage DX to stay ahead of issues in the network infrastructure that will negatively impact their employees' Microsoft Teams experience, including their 190 Microsoft Teams Rooms: "Vantage DX has made it significantly easier for us to monitor all of our Teams Rooms. Instead of having to use five different tools to monitor different aspects of the rooms we now have a 'single pane of glass' to monitor them", said Joshua Snipes, Collaborative Technologies Engineer at Unum. "The ability to correlate issues and root causes from a single platform showing us device and peripheral health, Room call quality, Teams service health from Microsoft, and license status all in one location is huge. The icing on the cake is that Vantage DX can generate alerting – no more blowing up your inbox with alerts coming from multiple different sources."
"Our customers can depend on Vantage DX as they deepen their investment in Microsoft Teams capabilities, including Microsoft Teams Rooms", said Rob Doucette, VP Product Management at Martello. "Microsoft Teams is a key engine of productivity in many organizations globally and the latest release of Vantage DX is yet another example of our commitment to giving IT teams the tools they need to ensure the network and IT infrastructure supporting Microsoft Teams works reliably to keep users productive".
Martello is a Microsoft Partner and its Vantage DX software is a Preferred Solution on the Microsoft Azure Marketplace.
Learn more about Vantage DX for Microsoft Teams Rooms:
About Martello Technologies Group
Martello Technologies Group Inc. (TSXV: MTLO) is a technology company that provides digital experience monitoring (DEM) solutions to optimize the Microsoft Modern Workplace. The company's products provide actionable insight on the performance and user experience of cloud business applications, while giving IT teams and service providers control and visibility of their entire IT infrastructure. Martello's software products include Vantage DX, which provides Microsoft 365 and Microsoft Teams end user experience monitoring and optimization. Martello is a public company headquartered in Ottawa, Canada with employees in Europe, North America and the Asia Pacific region. Learn more at http://www.martellotech.com
Neither the TSXV nor its Regulation Services Provider (as that term is defined in the policies of the TSXV) accepts responsibility for the adequacy or accuracy of this news release.
This press release does not constitute an offer of the securities of the Company for sale in the United States. The securities of the Company have not been registered under the United States Securities Act of 1933, (the "1933 Act") as amended, and may not be offered or sold within the United States absent registration or an exemption from registration under the 1933 Act.
This press release shall not constitute an offer to sell or the solicitation of an offer to buy nor shall there be any sale of the securities in any state in which such offer, solicitation or sale would be unlawful.
SOURCE Martello Technologies Group Inc.
For further information: CONTACTS: Tracy King, Vice President of Marketing, tking@martellotech.com, 613.410.7636