Martello Reports Financial Results for the Third Quarter of Fiscal 2023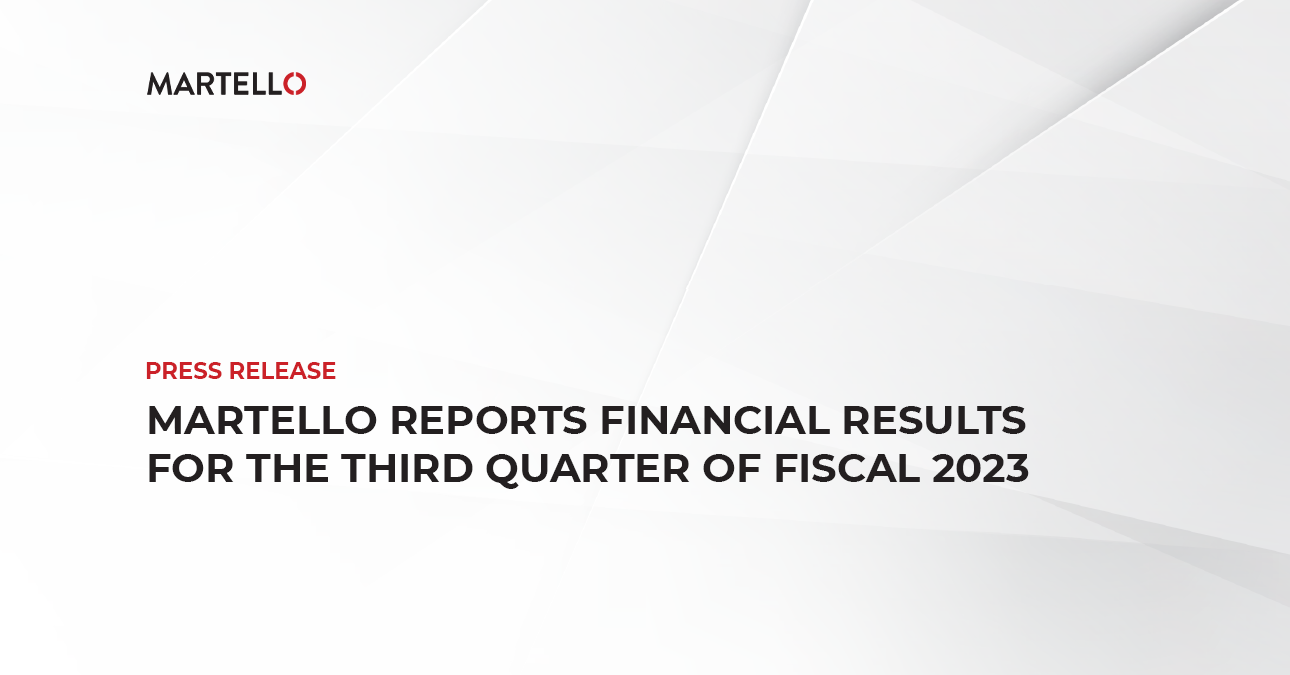 Vantage DX continues to be the fastest-growing Martello product line. Elevation to Top Tier Microsoft partner status subsequent to quarter-end is expected to accelerate revenue growth.
Vantage DX monthly recurring revenue (MRR) has increased 454% since launch and there are 689,000 users on the platform. The Company expects a channel-based strategy led by the Microsoft partnership will accelerate Vantage DX growth.
Mitel business line continues to provide a stable and profitable recurring revenue base. Mitel acquisitions have the potential to increase the client and revenue base.
Legacy product revenue is declining as expected, although legacy partner offboarding and recession fears have caused a faster decline in Q3 FY23 than forecast.
Adjusted EBITDA loss improved by 80% as a result of a cost optimization exercise in Q2 FY23.
Martello reached Top Tier status in the Microsoft Azure IP Co-sell Program subsequent to quarter-end. This is the highest-level partner designation within the Microsoft ecosystem and provides a greater incentive to Microsoft sellers to sell Vantage DX to their customers.
/NOT FOR DISTRIBUTION TO UNITED STATES NEWSWIRE SERVICES OR FOR RELEASE, PUBLICATION, DISTRIBUTION OR DISSEMINATION DIRECTLY, OR INDIRECTLY, IN WHOLE OR IN PART, IN OR INTO THE UNITED STATES./
OTTAWA, ON, Feb. 14, 2023 /CNW/ – Martello Technologies Group Inc., ("Martello" or the "Company") (TSXV: MTLO), a provider of software that optimizes the Microsoft Modern Workplace environment, today released financial results for the quarter ended December 31, 2022. Martello software provides businesses with actionable insights on the performance and user experience of cloud services such as video conferencing and voice calls, with a focus on Microsoft 365, Microsoft Teams and Mitel unified communications.
Martello Chairman Terence Matthews expressed his confidence in the unique Martello market opportunity and timing: "The Martello team continues to perform well in executing on our strategy to develop and grow globally the Vantage DX business.  I am impressed by the activity and uptake with new clients and the MRR growth. The onboarding with new Microsoft users is everywhere", said Mr. Matthews, Chairman of Wesley Clover International. "Timing is everything in business and Martello has a SaaS solution that solves challenges experienced by enterprise IT teams tasked with delivering a reliable Microsoft Teams experience for users. With more than 280 million monthly active Teams users globally, and the number continuing to grow fast, Martello has a unique opportunity as a Microsoft Preferred Solution to capture a significant share of this global market, and at the right time".
"The achievement of Microsoft Top Tier partner status unlocks significant Vantage DX growth potential for Martello", said John Proctor, President and CEO of Martello. "We are focused on executing on this partnership and further accelerating our channel strategy. I believe we are appropriately resourced today to be successful. As we move towards the next fiscal year, I expect this partnership and other channels to drive growth in Vantage DX MRR."
"Solid growth in Vantage DX revenue quarter over quarter is an encouraging trend, and the team is focused on continuing to accelerate this through channels, direct sales and the conversion of certain legacy customers" said Jim Clark, Chief Financial Officer of Martello. "We are closely monitoring operational KPIs and streamlining our sales and trial process to increase the velocity of pipeline conversion, as we continue the disciplined cash management that has resulted in an 80% improvement in adjusted EBITDA loss."
Q3 FY23 Financial Highlights
Financial Highlights

December 31,

December 31,

December 31,

December 31,

(in 000's)

2022

2021

2022

2021

(Three months ended)

(Nine months ended)

Sales

$

4,054

4,455

12,072

13,269

Cost of Goods Sold

447

433

1,401

1,209

Gross Margin

3,607

4,021

10,671

12,059

Gross Margin

%

89.0 %

90.3 %

88.4 %

90.9 %

Operating Expenses

23,365

5,526

33,078

16,357

Loss from operations

(19,758)

(1,505)

(22,407)

(4,298)

Other income/(expense)

(367)

(742)

(1,373)

(1,877)

Loss before income tax

(20,125)

(2,247)

(23,780)

(6,175)

Income tax recovery (expense)

(83)

75

(75)

116

Net loss from continuing operations

(20,208)

(2,173)

(23,855)

(6,059)

Net loss

(20,208)

(2,173)

(23,855)

(6,059)

Total Comprehensive income (loss)

$

(18,614)

(2,794)

(23,218)

(6,735)

EBITDA (1)

$

(18,838)

(1,069)

(21,428)

(2,796)

Adjusted EBITDA (1)

$

(168)

(777)

(1,664)

(2,030)

(1) Non-IFRS measure.  See "Non-IFRS Financial Measures".
Revenue of 

$4.05M

 represents a 9% decrease compared to 

$4.45M

 in Q3 FY22 and a 6% increase sequentially compared to 

$3.84M

 in Q2 FY23. Vantage DX revenue increased to 

$0.38M

 in Q3 FY23 compared to 

$0.015M

 in Q3 FY22.
Sunsetting legacy product revenue declined by 

$0.81M

. The ongoing decline of Legacy product revenue is proceeding as planned with the exception of offboarding a large legacy partner which began in Q1 FY23. The offboarding of this partner is expected to be complete by Q4 FY23. The Company has identified certain Legacy customers with potential to migrate to the Vantage DX platform and is executing on a strategy to convert these customers.
The Mitel business line remains a stable and profitable source of 

$1.86M

 in recurring revenue in Q3 FY23, compared to 

$1.81M

 in Q3 FY22.
Revenue was 99% recurring compared to 97% in Q3 FY22.
Gross margin as a percentage of revenue was 89%, compared to 90% in the comparative period. The slight decrease is primarily attributable to the higher cost of hosting software products on the cloud. Hosting costs continue to improve as the Company executes a multi-year action plan including continued Vantage DX growth coupled with technological advances towards optimized multi-tenancy.
Modern Workplace Optimization continues to be Martello's dominant business line, with 54% of total revenues in Q3 FY23 (59% in Q3 FY22). Mitel Performance Analytics represented 46% of revenues in Q3 FY23 (41% in Q3 FY22).
In Q3 FY23, MRR was 

$1.34M

 compared to 

$1.45M

 in the prior year, a 7% decrease attributable to declining maintenance and support and subscriptions on sunsetting legacy products as described above. MRR is a non-IFRS measure, representing average monthly recurring revenues earned in a fiscal quarter.
Operating expenses, before impairment losses, decreased 24% year-over-year to 

$4.20M

 in Q3 FY23 from 

$5.53M

 in Q3 FY22. The decrease is primarily attributable to headcount reductions in the recent cost optimization exercise.

$19.3M

 non-cash impairment predominantly of Goodwill reflects a number of variables including: challenged technology sector has adversely impacted Vantage DX growth and share price, and the high cost of capital.
The Q3 FY23 net loss of 

$1.04M

, excluding impairment losses, represents a 52% improvement compared to a net loss of 

$2.17M

 in the same period of FY22, as a result of the items outlined above.
The Adjusted EBITDA (a non-IFRS measure) loss has decreased by 78% to 

$0.17M

 compared to 

$0.78M

 in Q3 FY22, and by 80% sequentially compared to Q2 FY23. This was the result of the cost optimization exercise undertaken by management in Q2 FY23.
The Company's cash and short-term investments balance was 

$3.25M

 at 

December 31, 2022

, compared to 

$5.02M

 at 

March 31, 2022

. Working capital of minus 

$10.56M

 at 

December 31, 2022

 compared to 

$2.27M

 at 

March 31, 2022

 reflects the Vistara loan of 

$8.96M

 and Wesley Clover International's subordinate loan of 

$2.12M

 reclassified as current liabilities in FY23 compared to FY22 as the loan matures in 

May 2023

.
Conference Call Details
Martello will host a conference call with John Proctor, President & CEO and Jim Clark, CFO at 8:00 AM Eastern Time on Wednesday, February 15, 2023 to discuss the Q3 FY23 financial results.
Canada/USA Toll Free:            1-800-319-4610
International Toll:                     +1-604-638-5340
Callers should dial in 5 – 10 min prior to the scheduled start time and ask to join the Martello call. An audio recording of the call will be available on February 15, 2023 at https://martellotech.investorroom.com/quarterly-results.
The financial statements, notes and Management Discussion and Analysis ("MD&A") are available under the Company's profile on SEDAR at www.sedar.com, and on Martello's website at www.martellotech.com. The financial statements include the wholly-owned subsidiaries of Martello. All amounts are reported in Canadian dollars.
Two institutional investment firms provide research coverage of Martello. The Company does not endorse the research of third-party institutions.
This press release does not constitute an offer of the securities of the Company for sale in the United States. The securities of the Company have not been registered under the United States Securities Act of 1933, (the "1933 Act") as amended, and may not be offered or sold within the United States absent registration or an exemption from registration under the 1933 Act.
This press release shall not constitute an offer to sell or the solicitation of an offer to buy nor shall there be any sale of the securities in any state in which such offer, solicitation or sale would be unlawful.
About Martello Technologies Group
Martello Technologies Group Inc. (TSXV: MTLO) is a technology company that provides digital experience monitoring (DEM) solutions to optimize the modern workplace. The company's products provide actionable insight on the performance and user experience of cloud business applications, while giving IT teams and service providers control and visibility of their entire IT infrastructure. Martello's software products include Vantage DX, which provides Microsoft 365 and Microsoft Teams end user experience monitoring and optimization. Martello is a public company headquartered in Ottawa, Canada with employees in Europe, North America and the Asia Pacific region. Learn more at http://www.martellotech.com
Neither the TSXV nor its Regulation Services Provider (as that term is defined in the policies of the TSXV) accepts responsibility for the adequacy or accuracy of this news release.
Cautionary Note Regarding Forward-Looking Information
This news release contains "forward-looking information" within the meaning of applicable Canadian securities legislation. Forward-looking information can be identified by words such as: "anticipate," "intend," "plan," "goal," "seek," "believe," "project," "estimate," "expect," "strategy," "future," "likely," "may," "should," "will" and similar references to future periods and " includes, but is not limited to, statements with respect to activities, events or developments that the Company expects or anticipates will or may occur in the future including the expectation that a channel-based strategy led by the Microsoft partnership will accelerate Vantage DX growth, acquisitions by Mitel having the potential to increase the client and revenue base, and the plan to increase the velocity of pipeline conversion. 
Forward-looking information is neither a statement of historical fact nor assurance of future performance. Instead, forward-looking information is based only on our current beliefs, expectations and assumptions regarding the future of our business, future plans and strategies, projections, anticipated events and trends, the economy and other future conditions. Because forward-looking information relates to the future, such statements are subject to inherent uncertainties, risks and changes in circumstances that are difficult to predict and many of which are outside of our control. Our actual results and financial condition may differ materially from those indicated in the forward-looking information. Therefore, you should not rely on any of the forward-looking information. Important factors that could cause our actual results and financial condition to differ materially from those indicated in the forward-looking information include, among others, the following:
Continued volatility in the capital or credit markets and the uncertainty of additional financing.
Our ability to maintain our current credit rating and the impact on our funding costs and competitive position if we do not do so.
Changes in customer demand.
Disruptions to our technology network including computer systems and software, as well as natural events such as severe weather, fires, floods and earthquakes or man-made or other disruptions of our operating systems, structures or equipment.
Delayed purchase timelines and disruptions to customer budgets, as well as Martello's ability to maintain business continuity as a result of COVID-19.
and other risks disclosed in the Company's filings with Canadian Securities Regulators, including the Company's annual information form for the year ended 

March 31, 2021

 dated 

January 7, 2022

, which is available on the Company's profile on SEDAR at www.sedar.com.
Any forward-looking information provided by the Company in this news release is based only on information currently available and speaks only as of the date on which it is made. Except as required by applicable securities laws, we undertake no obligation to publicly update any forward-looking information, whether written or oral, that may be made from time to time, whether as a result of new information, future developments or otherwise.
SOURCE Martello Technologies Group Inc.
For further information: Tracy King, Vice President of Marketing, tking@martellotech.com, 613.410.7636; John Proctor, President & CEO, jproctor@martellotech.com, 613.271.5989