Martello Supports Hybrid Work with Softphone Voice Quality Monitoring in Mitel Performance Analytics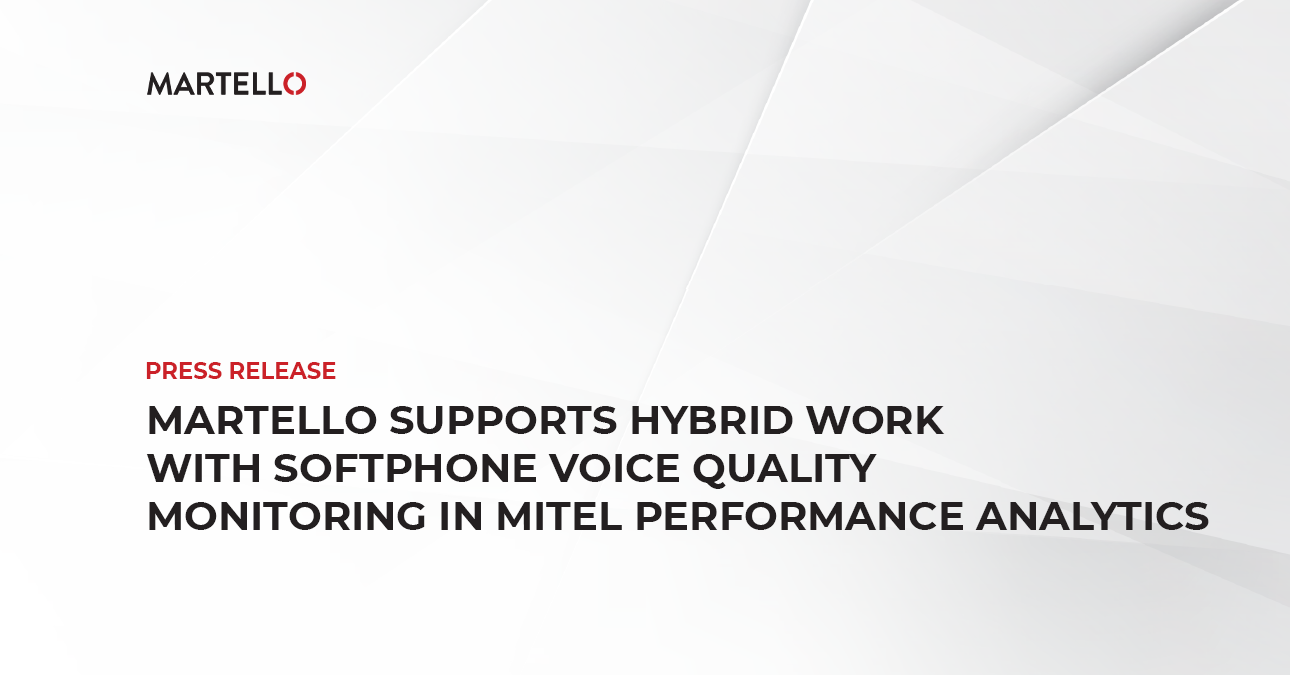 As softphones grow in popularity for hybrid and mobile workers, measuring voice quality with Mitel Performance Analytics ensures a positive and productive user experience.
DENVER, Colo., April 19, 2023 /CNW/ – Martello Technologies Group Inc., ("Martello" or the "Company") (TSXV: MTLO), a leading developer of software solutions that empower IT in the modern workplace announced today that the latest release of Mitel Performance Analytics (MPA), the software developed by Martello for Mitel partners and customers includes softphone voice quality (VQ) monitoring. Martello is providing demos of MPA and these new softphone monitoring capabilities at Mitel Next in Denver April 19-21 and in the UK on April 27.
Today's hybrid workforce has adopted new communications habits to stay connected from anywhere. Among these habits is the increased adoption of softphones. A softphone is a software application that runs on a computer or mobile device and functions as a phone, but without the use of a desktop phone handset. The advantages of softphones include cost savings, since calls are placed using VoIP rather than traditional phone lines. In addition, softphones provide the mobility and flexibility that hybrid workers require, with all of the features of a traditional phone system such as transferring calls and the integration of mobile capabilities like SMS messaging.
Harnessing the benefits of softphones is highly dependent on the healthy functioning of the underlying network, and Mitel customers and partners need better end-to-end visibility of all of the factors that can impact softphone voice quality. Martello provides IT teams and partners with the clearest picture of how hybrid work habits such as softphone usage are impacting their office networks.
MPA is a fault and performance management solution that proactively monitors and manages a customer's entire unified communications network, providing analytics and reporting that can simplify troubleshooting of problems and identify VQ and network quality concerns before business affecting outages arise. Release 3.4 of Mitel Performance Analytics extends these trusted voice quality monitoring and reporting capabilities to include Mitel softphones, with both mobile and desktop MiCollab softphone VQ analytics and reports. MPA can quickly point towards the root cause of a problem with VQ cause visualisation, including correlation graphs. MPA also helps with capacity planning, providing trunk traffic and MiCollab AWV utilization reports as well as usage reports for audio, web and video.
"MPA has allowed VOIP Networks and Cloud9 Infrastructure to provide a robust and stable solution to our clients for more than a decade of utilizing the product.  We rely on MPA to not only provide enhanced softphone voice quality monitoring, but monitoring, altering and accessibility for our direct clients and Mitel resellers", said John Collins, Chief Technology Officer of VoIP Networks. "MPA provides a single dashboard to manage, view, and report on not just the Mitel applications, but third-party device such as servers, switching and hypervisors. The flexible alerting allows VOIP Networks and Cloud9 Infrastructure to customize the type and level of alerts for each Mitel VAR and end user. MPA has increased our user satisfaction by allowing a faster first level support resolution and reduces costs and losses associated with downtime."
"Martello is committed to empowering IT in today's modern workplace with software that monitors the performance and user experience of critical communications tools such as Mitel systems and Microsoft Teams", said John Proctor, CEO of Martello Technologies. "As Mitel continues to innovate to support their customers and partners, we are pleased to work hand-in-hand with them to ensure every Mitel user has the benefit of visibility into voice quality and overall performance".
Learn more about Mitel Performance Analytics:
About Martello Technologies Group
Martello Technologies Group Inc. (TSXV: MTLO) develops software solutions that empower IT in the modern workplace. The company's products provide actionable insight on the performance and user experience of critical business communications systems, while giving IT teams and service providers control and visibility of their entire IT infrastructure. Martello's software products include Vantage DX, which provides Microsoft 365 and Microsoft Teams end user experience monitoring and optimization, and Mitel Performance Analytics (MPA), the fault and performance management solution for Mitel unified communications platforms. Martello is a public company headquartered in Ottawa, Canada with employees in Europe, North America and the Asia Pacific region. Learn more at http://www.martellotech.com
Neither the TSXV nor its Regulation Services Provider (as that term is defined in the policies of the TSXV) accepts responsibility for the adequacy or accuracy of this news release.
This press release does not constitute an offer of the securities of the Company for sale in the United States. The securities of the Company have not been registered under the United States Securities Act of 1933, (the "1933 Act") as amended, and may not be offered or sold within the United States absent registration or an exemption from registration under the 1933 Act.  
This press release shall not constitute an offer to sell or the solicitation of an offer to buy nor shall there be any sale of the securities in any state in which such offer, solicitation or sale would be unlawful.
SOURCE Martello Technologies Group Inc.
For further information: Tracy King, Vice President of Marketing, tking@martellotech.com, 613.410.7636