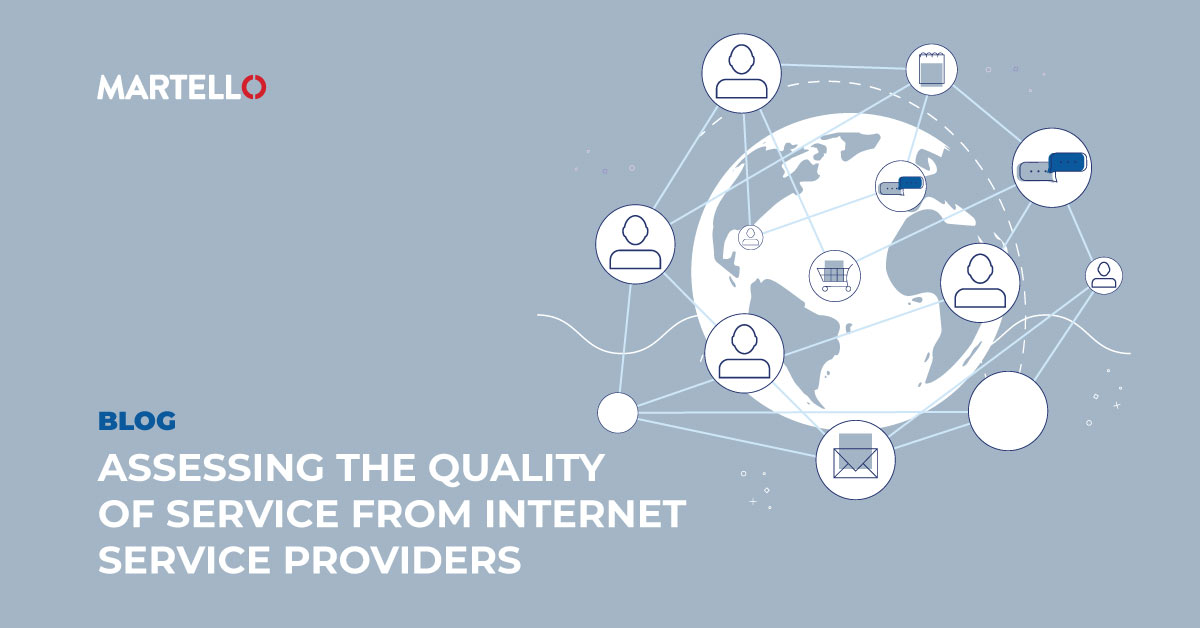 Before you can achieve access to any cloud service a connection to the internet is required. Sounds simple enough, however, the challenge lies not only with the internet connection itself, but the provider of the service as well. Not all internet service providers (ISPs) and pathways to the internet are created equally which makes assessing and understanding the quality of the service you're on a critical step toward maintaining business productivity. This blog will examine some ISP-related challenges and how Martello's solution provides enhanced visibility of the quality of your internet service.
Microsoft Limitations for ISPs
Collecting call quality data is important for assessing overall service quality. Microsoft does provide call quality data about the ISP in use – down to the user level – which can offer insight by helping to narrow down the options of where an issue stemmed from. The main downside however is that Microsoft cannot identify the number of issues the ISP has nor can they group users by ISP or provide alerts of service quality issues. This means that with Microsoft data alone it would remain difficult to decipher if a user issue were solely due to an ISP problem. However, the enhanced data and visibility offered by our Martello solution can help.
Martello Solution
Generating effective data that can be used to identify whether ISPs are the root cause of a service issue is the best way to maintain your current workflow and minimize any interruptions. To provide enhanced visibility Martello's DEM solution provides a comprehensive process that consists of the following: detection, troubleshooting, and improvement.
Detection 
Martello's solution works effectively for both in-office and remote users, but the tools used to detect and troubleshoot vary. For in-office users, our DEM robots are deployed to detect overall service degradation in real-time, 24/7. Although no ISP data is retrieved through this method we can determine if ISP issues have real-time consequences on the service quality delivered to users. Our real user monitoring (RUM) feature can be used by remote users; not only does it detect and offer a first-level understanding of potential ISP issues it also groups users by their ISP and provides alerts when issues arise.
Troubleshooting 
Once the issue has been detected the next step in the process is to confirm that detection and troubleshoot it. Martello's Active Network Path Monitoring (ANPM) probe checks the latency between the ISP and Microsoft 365 service to determine the root cause of the issue, whether it lies within ISPs network, and the most efficient way to alert the user. Martello's 'single pane of glass' correlates our solution with the users' existing monitoring tools and ensures that no other parts of your internal IT department are being affected by the ISP issue and helps calculate the Microsoft Teams call quality services per ISP service level agreement and shares the information with your stakeholders.
Improvement 
Once all the data has been collected and used to identify that the service quality issue is indeed a problem with the ISP the information can be used to discuss remediation with the ISP directly. At this point, you can proceed with a decision that best suits user experience and maintaining productivity.
By assessing the quality of the ISP service your users have you are better positioned to detect where service degradation issues stem from, and if they are related to the ISP being used. The sooner this is determined the faster you can reduce the time of escalation and potential business loss for your organization. The more effective data you acquire the better you become at making quick decisions to improve the overall user experience and productivity. With Martello's solutions we empower your business to stay ahead of potential issues and maintain a productive work environment anywhere you are working from.