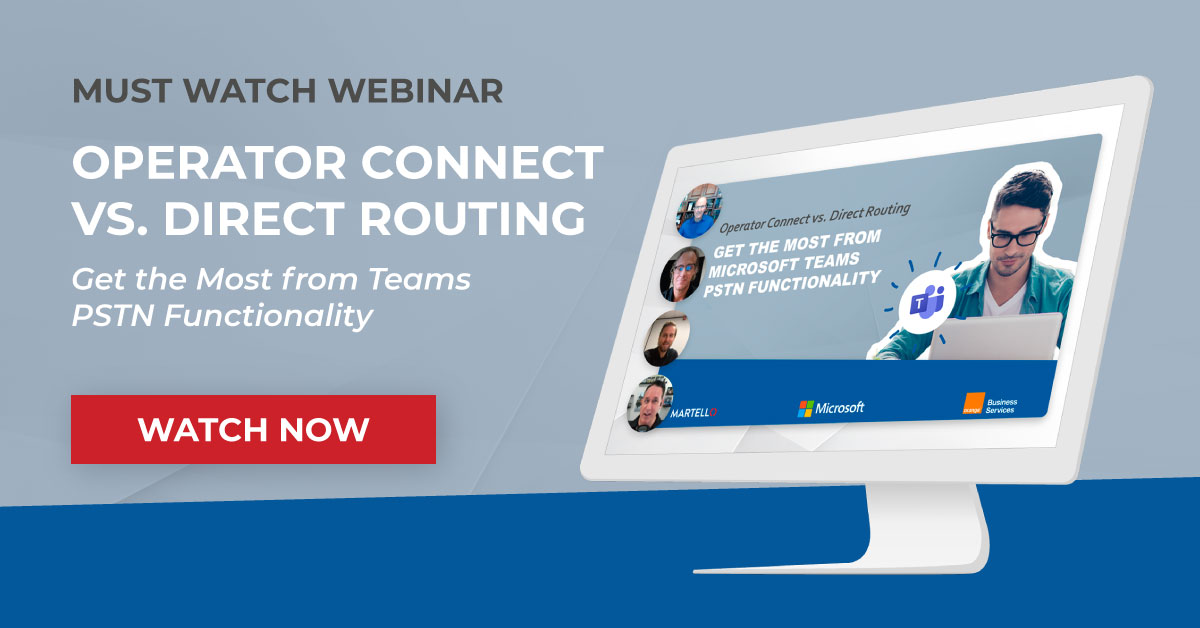 The popularity of Microsoft Teams Calling has many organizations looking at their options to add Teams PSTN capabilities to their Microsoft Teams deployment. While it's important to select the right PSTN option for your business, it's even more important to recognize the complexity that PSTN will bring to your Teams deployment and have a plan to deliver good service quality with the technical support resources you have.
This was the subject of a recently aired webinar hosted by Microsoft MVP Nick Cavalancia with a panel of experts that included Evan Zaleschuk, Cloud Solution Architect at Microsoft, Michael Burrell, Unified Communications Director for Orange Business Services, and Rob Doucette, VP Product Management at Martello.
According to Michael Burrell at Orange Business Services, a Microsoft Operator Connect Partner, the uptick in demand for Microsoft Teams PSTN is the latest wave of Teams adoption since the start of the global COVID-19 pandemic, when adoption jumped dramatically as businesses required a solution to keep their employees productive while working from home. On the success of this wave, there was a subsequent push for Microsoft Teams Meetings deployments, and now the third wave of adoption is PSTN calling.
The experts on the webinar highlighted the factors that an organization should be considering when they decide which Teams PSTN option to deploy: direct routing, calling plan, or Operator Connect. There is another factor that IT teams need to consider, no matter which PSTN option they choose: how to deliver good Teams PSTN service quality to users, when there is so much complexity to manage for IT and unified communications teams.
As Nick Cavalancia pointed out, "When Microsoft Teams has a problem, it's easy to say 'it's Microsoft's fault', but maybe not – and in fact, probably not". There are so many factors in a successful Teams call, from the handset or headset used, the laptop, the internet connection, wifi at home or how you connect to the office using a VPN – so what can look like a Microsoft Teams problem is in all likelihood caused by something else in the IT infrastructure.
How do you tackle this? Vantage DX from Martello is the Microsoft-recommended tool, and Evan Zaleschuk explains why: "If there is a technical issue affecting the quality of Microsoft Teams service delivery, like a network or wifi issue, Microsoft doesn't give you a lot of visibility into that. What we're seeing now is the desire on the part of customers and partners to not just be reactive but proactively pick up on problems before they have an impact on the user environment. That's what Martello does – how about if we prevent the problem from ever occurring and impacting your users? That is really powerful".
So when there are Teams user experience issues, where in this vast, complex environment is the problem likely to be? Watch the complete webinar for a deeper dive into what these experts are seeing and how Vantage DX identifies the issues, but spoiler alert: the most common cause of Teams issues for work from home users is the home wifi network. For those working in the office, it is most often a network architecture that was not designed for today's hybrid work model, in which people continue to have Teams video calls in the office. Watch the webinar to see what surprising cause of Microsoft Teams problems Evan Zaleschuk says is most misunderstood by Microsoft's customers.
Rob Doucette provided a sneak peek of the powerful new Teams dashboards in the new release of Vantage DX, demonstrating how they show IT and UC teams which problems they should focus their time on, how Microsoft Teams PSTN calls are performing, and ultimately how Vantage DX can shift the IT mandate from reactive to proactive in delivering Microsoft Teams service quality. Take a look at our two recent blogs that do a deep dive on the new Vantage DX features.
The Who, What and Where of Microsoft Teams Call Quality

AudioCodes SBC Used for Microsoft Teams Direct Routing – Leveraging Performance Metrics
According to Evan Zaleschuk, if you are considering adding PSTN calling, you should think about mean time to resolution – if you can only be reactive, how long does it take you to resolve a user's problem? In addition, what level of skill will be required to troubleshoot the issues that come up, without Vantage DX. Zaleschuk believes that "With Vantage DX a level one tech can become a level 2, and a level 2 can become a level 3". Putting the right tool in place maximizes the resources you already have.
The webinar was full of additional information and anecdotes on how customers are reducing the cost and time associated with troubleshooting Microsoft Teams issues, as well as a demo of the latest and greatest Vantage DX features.
Watch the webinar to hear how Vantage DX addressed a challenge faced by a key Orange customer, the world's largest snack company.
Webinar: Microsoft Teams – Operator Connect vs. Direct Routing