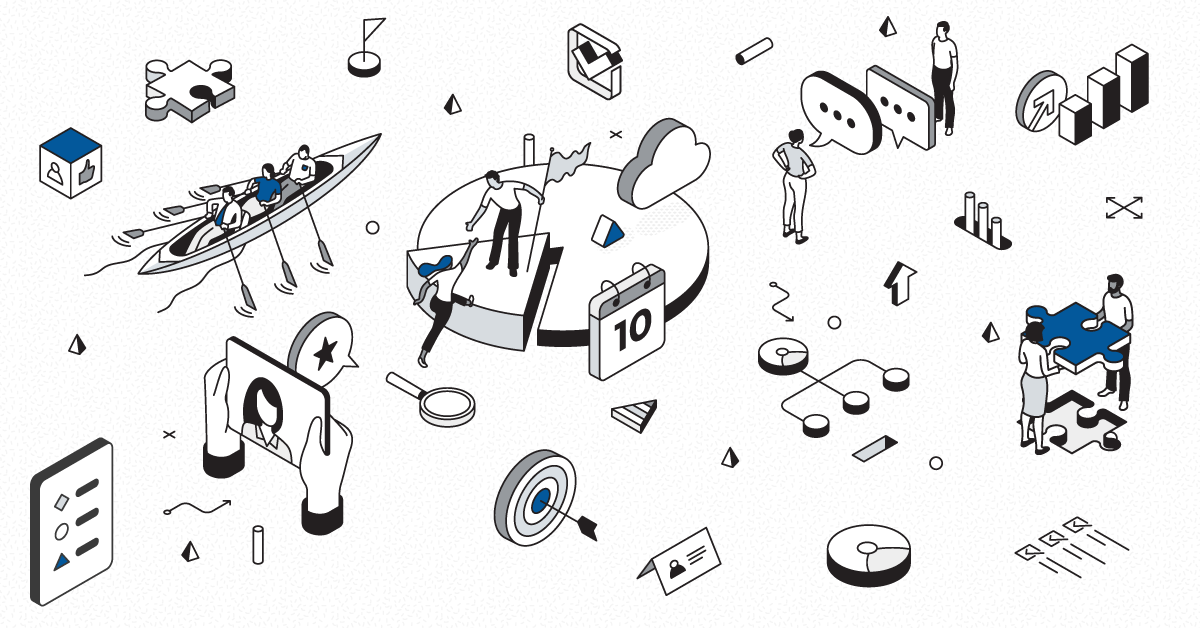 As summer folds into fall and the kids head back to class, we can't help but get caught up in the back to school excitement. At Martello, welcoming new co-op students has become second nature to us now and we eagerly anticipate the exchange of ideas, and opportunities to push the boundaries of design that come along with these bright and enthusiastic additions to the team. Martello's Co-Op Program is part of our long-term strategy to recruit terrific talent and enhance the Martello community.
Inside Martello, we have built a mentoring program that guides our co-ops along the path to becoming top software designers. This apprenticeship model is one that works at Martello and allows co-ops to forge bonds within the company as they gain practical skills. Our co-op students thrive in our open and welcoming environment.  Fellow Martellians look out for them on the educational front and include them in weekly badminton games and at the infamous 'co-op shawarma challenge' that takes place at the end of every placement. Our co-ops are treated as one of the team from day one, running some of the development team's daily stand up meetings and showing off what they are working on weekly demo days. We aren't interested in giving our co-ops 'busywork' – the features our co-ops have developed over the years are used every day in more than 5,000 networks around the world.
Welcome to the Martello Team Yahya Rafiyev
Last week, we welcomed Software Designer Yahya Rafiyev from the University of Waterloo, where he has completed his third year of studies doing a bachelor's degree in Computer Science. Yahya's path to Martello is an interesting one, he grew up in Russia but in his teens returned to Azerbaijan, his family's original home. When he was in high school, the University of Waterloo came on a recruiting campaign for his school, talking about the opportunities for study in Canada. Because of this, Yahya made the decision to study at Waterloo and work at Martello.
During his studies at the University of Waterloo, Yahya has had other co-ops at Ericsson and through the University. Yahya chose Martello for this placement because he wanted to hone his software developer skills and felt that he could have more of an impact in a smaller company. He saw lots of opportunities to work on projects that would have real-world applications, not just sit on a computer somewhere. He felt that the strong culture at Martello would provide him with the guidance and support that he needed but also give him the chance to build the foundations in order to take intelligent risks and try new things.
"I chose Martello for my co-op placement because I felt that the work I would be doing would have an impact and I was drawn to the strong and supportive learning environment that I knew would be in place here." said Yahya.
As we help Yahya settle in over the coming weeks, we're reminded of the impact our Co-Op Program has on our long-term strategy. The investment we make in mentoring our co-ops pays off in many ways – not least the idea that they will someday return to Martello – eventually becoming top software designers within our organization.
Part of The Team: Co-Op Success Story
Alok Swamy graduated from Carleton University in 2016 with a degree in Computer Software Engineering and during his studies, he completed co-ops at a variety of different companies including Wesley Clover, Recognia, Fuse and Health Canada. In his fourth year, he did a four-month co-op at Martello and he thrived in the challenging environment.  Alok says he felt that the team wanted him to succeed, not just for the company but for his own personal development. When he graduated, Alok chose to come back to Martello. Having played a significant part in developing our MarWatch product already, was exciting to him.  Alok had seen that the work he had done was part of a bigger picture – and he wanted to be part of driving our product's evolution and to be a factor in the success of the company.
"Martello gave me opportunities to grow, develop my skills and take risks that a larger company might not have. I felt that I was doing work that was going to have a significant impact on the product that was being developed." said Alok "It's inspiring here, we are not just cranking out boring code. It's real."
Every day at Martello we see the impact that our Co-Op Program is having on the company. Everyone from our senior developers to our co-op students sees this in action – where employees are encouraged to take intelligent risks, problem solve and think outside the box to solve problems in a supported environment. This is how we work and is the foundation for our corporate culture. As we continue to grow, our Co-Op Program will be a critical part of our success, with a direct impact on the experience our customers have with our product every day.