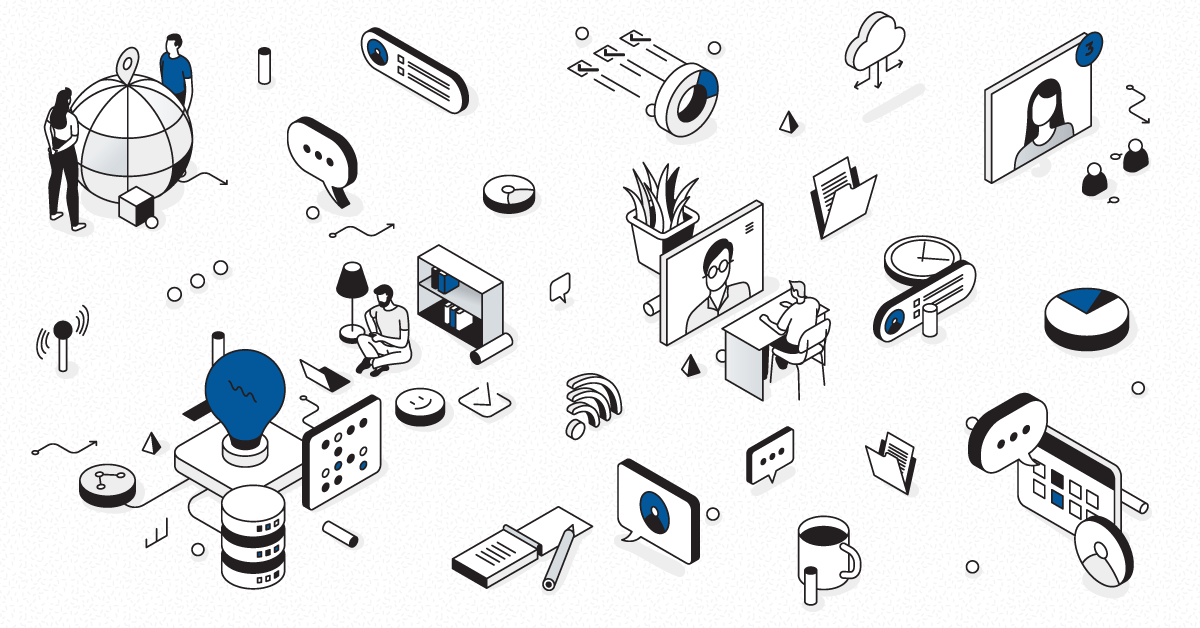 The world changed at the beginning of 2020 and many businesses had to react quickly, shifting their entire workforce to remote work overnight.
This shift has caused a massive reliance on Microsoft Teams to keep connected.
Microsoft Teams jumped 70 percent to 75 million daily active users by the end of April. To know what that actually looks like, Microsoft saw 200 million meeting participates in a single day in the month of April. That's inching closer to a statistic Zoom has been using to share it's impressive growth, sharing they have 300 million meeting participants earlier in the month.
It's important to note, that two-thirds of those Teams users are also interacting with, or collaborating with files inside the app and that Microsoft has seen triple the amount of organizations integrating apps with Teams.
Microsoft has been beefing up Teams, quickly adding new features and options to meet the demands of their exponentially growing user-base. Teams can play a major role in keeping the post-pandemic workforce working in the most efficient way.
As the world looks to return to a "new normal", organizations need to consider how they will operate going forward. Making plans to ensure that every user – regardless of where and how they are working – has a consistent user experience. That means addressing the challenges users face when it comes to service quality, user performance and user experience both remote and in-office. Starting with network monitoring tools that will give you information into your user experience is an important start.
Then and Now
In the beginning, organizations first responded to the shift to remote work by ensuring every user could function from their home. This meant establishing connectivity, improving security and providing staff with new software tools. This also meant that most of the IT staff were primarily focused on firefighting. From low connections to broken sessions, the IT tickets kept piling up as employees worked their way through the new challenges they faced at home.
Today, the remote workforce is operational, so now it's time to look at optimizing and future-proofing what is in place. As offices begin to open back up, we know that many will be slow to return- some not at all. This means that supporting the remote worker in a post-pandemic world will be essential for IT teams across the globe. It will be up to you to keep the workforce productive while out of traditional infrastructures. Increased productivity often results in increased profitability so investing in the IT department it becomes a simple justification for companies to make.
Visibility is the Key to Optimization
There are many factors involved in how your network routes information from the servers to a user endpoint. Each area of the network has the ability to impact the performance and service quality of your applications. So, it becomes necessary to obtain end-to-end visibility over the entire network.
Cloud service delivery is playing a key role to meet the new normal workforce requirements. Easily available from anywhere, packaged applications such as Microsoft 365 or business application sitting on Azure have enable users to stay productive wherever they work.
To meet this ever-growing demand, Enterprise IT is becoming an internal cloud service provider, managing the provisioning and the delivery of cloud applications to the business lines. Generally, Cloud providers such as Microsoft, Amazon or Google have developed tools to ease the provisioning of their services. The difficult part is the management of the delivery. For example, Microsoft Cloud services, whether they are packaged like Microsoft 365 or custom sitting on Azure need more than just the availability of the Microsoft datacenter to perform well from end-user or business line perspective.
There are many factors involved in how your infrastructure and network routes information from the cloud services to a user endpoint. Each layer has the ability to impact the performance and service quality of your applications and services. So, it becomes necessary to obtain end-to-end visibility over the entire cloud application delivery.
Martello's mission is to provide Enterprise IT with the tools they need to ensure maximum availability and performance of cloud applications for their business lines and end-users. This mission has become even more critical in the post-pandemic world.
Enter Martello iQ
Martello iQ is your command center for your entire cloud services applications delivery including Microsoft Azure, Microsoft 365 and Amazon. Martello iQ unifies and correlates your monitoring tools, your cloud subscriptions and ITSM systems into comprehensive dashboards that gives you the power to ensure end-to-end availability of any cloud services & applications.
Martello iQ integrates with Microsoft 365 and combines Monitoring and Analytics for end-to-end visibility over your entire environment. Taking all alerts from Microsoft 365 to visualize them in rich dashboards, it unifies all your monitoring tools, cloud platforms and ITSM systems. Improving troubleshooting and decreasing downtime, it makes reporting easier for your entire IT team. Streamlining alerts and incident workflows, Martello iQ creates efficiencies where they are needed most in this new world for remote work. With the help of Martello iQ, you can now see how your infrastructure, network and cloud services are impacting the delivery of your applications for your business lines, reduce the MTTR in case of issue and decrease the overall costs of management and support.
Enter Gizmo
With a hybrid workforce remaining in a post-pandemic world, IT departments are faced with security and connectivity complexities that will impact the user's ability to productively use Teams. Using fully-customization dashboards, Gizmo provides insightful detail on all the factors that can be objectively measured, allowing organizations to get the full picture of what the current state of Teams performance is, and to identify points that can be optimized.
Dedicated to Microsoft 365 availability and performance, Gizmo continuously tests the service quality provided by Microsoft Teams, Exchange, SharePoint, and OneDrive from where the users are to ensure 24/7 service performance for your business lines. By proactively detecting any service issue and providing every metrics you need to qualify and troubleshoot the problem before it affects your users,  Gizmo reduces drastically the MTTR, ensure users satisfaction & adoption of Microsoft 365 services and reduces its support costs.
Enter UCScore
UCScore is the easiest and most powerful tool to support the availability and quality of your cloud Voice and Video services for your home office users.
Completely web-based, UCScore tests and troubleshoots network capacity and quality issues, in real time, providing Enterprise IT the statistics they need to ensure remote workforce productivity at any time, from anywhere.
UCScore instantly removes any finger pointing between IT departments and cloud providers by clearly assessing if the network is the root cause of any end-user's quality issues with cloud services.
Preparing for the Future of Work
Much about the COVID-19 continued shutdown remains unknown, but one of the few certainties is that it will have a lasting impact on how people work going forward. Working and managing a remote workforce is no easy task, but this evolution in how workforces operate is long overdue. Cloud service delivery involves the entire IT to deliver the applications your users need, when they need it and where they use it. Martello Technologies helps you meet the end-to-end availability and performance level required by your Business lines.
Get in touch with us and see how we can help prepare you for what the future of work looks like.