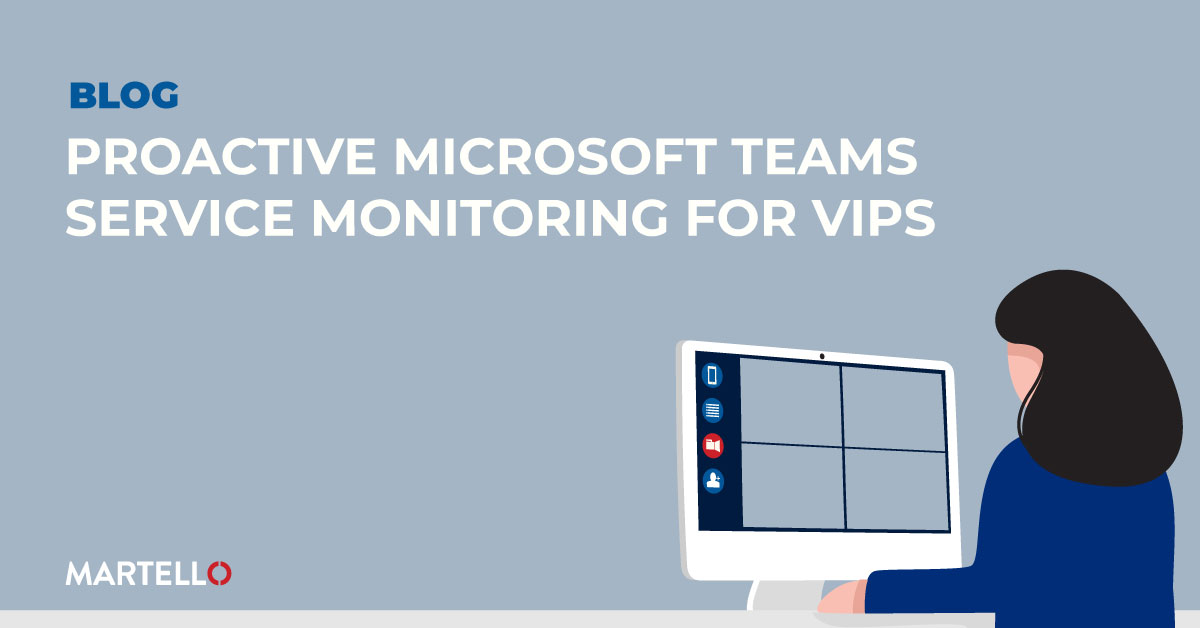 The IT department of an organization is tasked with helping maintain the productivity of their Microsoft Teams and Microsoft 365 services, facilitating effective service delivery for all users. The executives of the business (VIPs) are sensitive to optimized performance as they must regularly conduct very important calls and meetings. VIPs carry a large influence over IT projects and are a big part of the overall ROI of cloud applications so ensuring their cloud services are effectively maintained – and that they are alerted when service is degraded – is critical.
While specific monitoring tools can offer some insight into the user experience they are limited in their capabilities and create data gaps that can be detrimental to your business. What happens when an executive member of your organization is experiencing a service-related issue themselves? By offering proactive support to your organization's  IT will have the necessary data to remediate the problem quickly. This blog will examine how Martello's solution helps provide optimal Teams performance for those VIPs.
Microsoft Teams Limitations
While Microsoft does offer insight about the quality of their service and how users may be impacted by potential issues via their call quality dashboard this data is only provided at the user level and does not allow the creation of groups to get specific alerts for them to ensure the quality of service. What does this mean? Executive-level VIPs whose ability to communicate on Microsoft Teams with business partners, colleagues, prospects, etc. is critical are not able to be alerted proactively when service degradation occurs. This is where Martello's new Vantage DX solution comes in.
Martello Solution
Since some key VIPs of an organization including the head of IT and the CFO are responsible for IT budget and projects, they can initiate/cancel any deployment because of service delivery issues affecting them. This means that they would also require enough proactive support to make these service-related issue decisions before they develop into a larger problem that can impact their business. Below we outline how Martello's solution provides what's necessary to keep the VIPs alerted and informed.
Detection
Martello's solution first starts by detecting and alerting issues with the route to the cloud at the site level. We provide proactive real-time monitoring 24/7 across the entire set of features of Microsoft Teams and the critical information about the service delivery both at the office and remotely where the VIPs work.
At the Office – For VIPs at the office our robot user is strategically placed (even on their floor) to continuously monitor the quality of service.
Working Remotely – For VIPs working remotely our real user monitoring data can group call quality dashboard data by VIP and define a sensitive threshold for IT to be alerted when VIPs have voice quality issues.
Troubleshooting
Our active network path monitoring continuously checks where any potential latency would come from and enables proactivity for onsite VIPs, which is crucial in case an issue arises suddenly for all the VIPs at the same office or working on the same floor. You can also know who is responsible for the latency issue (your company's network, your ISP, Microsoft, etc.) which reduces the time to repair. For remote work, if a VIP has been detected with a recurring issue IT can install a probe that analyzes their route to the cloud in order to better understand the situation. Also, VIPs do not need to open a support ticket for the IT team to be aware of any issue that they may be facing.
Improvement
Our single pane of glass correlates all of Martello's tools with your existing infrastructure and network monitoring tools 24/7 to provide all necessary information to ServiceDesk and Helpdesk teams to proactively manage the VIPs user experience and provide a perfect view of everything that can affect the service to the VIP. Our solution automatically highlights the reason for service degradation in the performance report for IT to improve the situation over time and helps reduce MTTR for issues affecting VIPs, shows IT proactivity on service quality delivery, and justifies the overall IT budget.
Maintaining Microsoft Teams performance is essential for all users within an organization but critical for VIPs.
Managing Microsoft Teams and Microsoft 365 services requires deep insight into the real user experience as well as coordination between IT departments and service providers and Martello's Vantage DX solution provides actionable data on the performance and VIP experience for Microsoft 365 services and helps identify, prioritize and solve critical issues that affect performance.