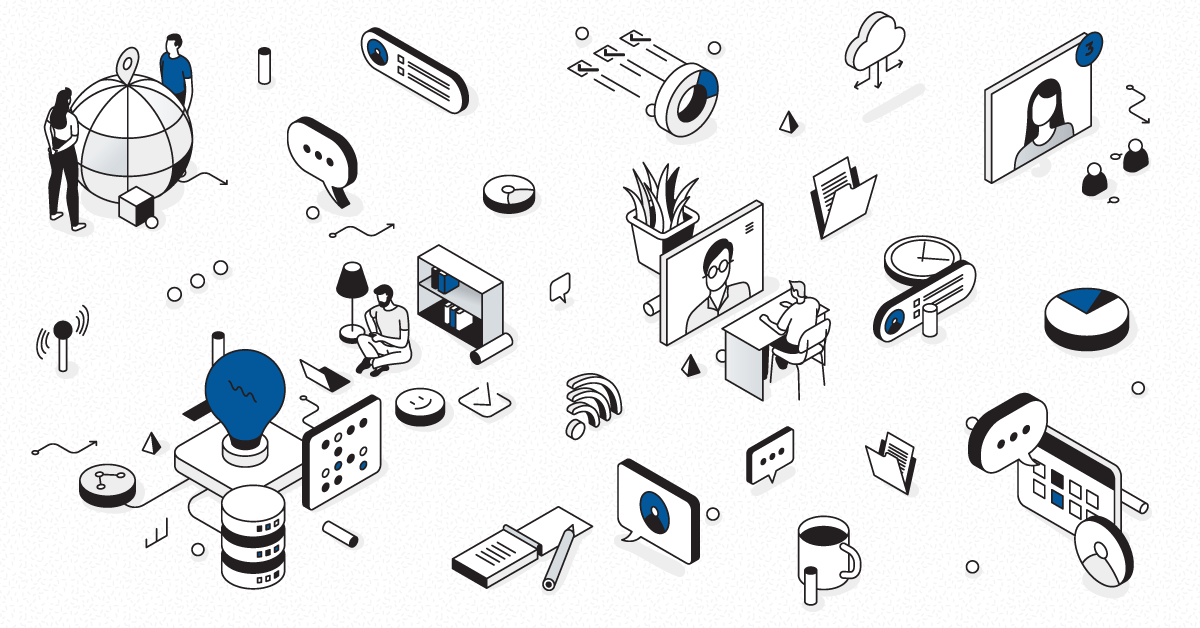 This entry is part of our series on Microsoft Teams Performance monitoring.
If you want to deploy the new Microsoft Teams service through your company a network readiness assessment, you need to assess the ability of your network to handle the new load created by this service. A network readiness assessment is the best way to achieve this.
The purpose is to spot bottlenecks in your environment prior to deployment. For that, all sites hosting Teams clients must be tested to provide a deeper insight of the network readiness.
Reasons are obvious. Real-time communication services are heavy users of network resources. On top of that, users are usually extremely sensitive to the quality of the end-user experience. They complain quickly because they can experience latencies (pause, robot voice, etc.) in real-time during their calls.
Deploying without preparing carefully will drive your company to an unexpected increase of user complaints, tickets, and a costly war room crisis.
Assessing your network before Microsoft Teams deployment is a mandatory step.
A readiness assessment during the migration is also critical, as it is the moment where the load is really hitting your network.
Maintaining predictive monitoring during production is more than useful if you want to lower your administration costs, monitor the result of any change in your environment, reduce your mean time to resolve incident and finally keep your users happy.
In this article, we'll see how we can help you to assess your environment and check the results of any change you make to meet the Microsoft Teams network requirement and continuously keep your administration costs as low as possible.
Readiness Assessment Process

You can find lots of pages of advice, frameworks, recommendations, network questionnaires, and deep technical knowledge on the Microsoft FastTrack website.

The assessment can be done by you, by a Microsoft partner or by Microsoft. In any case, they should follow the same structure: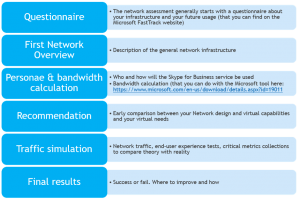 Later, we will see that most of these processes can be extremely eased thanks to GSX Robot Users and the PowerBI analysis that you can get from the data you will collect.
But before going there, let's spend some time defining the metrics recommended by Microsoft that you need to collect to perform your MS Teams readiness assessment or your production service monitoring.
How to Collect the Necessary Data?
WHERE
As explained by Microsoft on their FastTrack website, the tests and data collection must take place from every site that will enable Teams services.
The tests must be done on the Client Network Segment (the one that contains MS Teams clients) and the Edge network Segment (that breaks out to Office 365).

It is important to compare the results to explain potential network health issues.
Each site must be tested and qualified as "Ready" or not (or in between in case of partial fails leading to minimal investigation) in order to plan for investment.
It is also very important while planning to measure the ROI of your network improvement. Often, some distant sites with a very few number of users can require huge network investment.
You need to decide if it is something critical or not for the company and if it worth the money, you'll have to spend to satisfy these users.
WHEN
Secondly, it is important to gather data over a long period of time, because network consumption varies through the week and often during the month.
Since the goal is to determine if your network across the world can handle the load during peak time without too much degradation of the audio quality, you need to gather data continuously and analyze it.
Finally, and for the same reason, Microsoft recommends that you take measurement regularly and frequently – that means at least every 10 minutes – to have a perfect view of what is happening within your global environment.
With all of that, you'll be able to easily build your baseline, compare peak time between locations and define network ability to provide the service.
If you need to implement changes, you'll be able to measure their results, justifying investment to provide good end-user experience.
Now that we've gone through the entire process and definition of what is needed to assess your network readiness to provide MS Teams service, you might wonder how you can deploy all these tests in your locations, perform them constantly, store the results and display them in a comprehensive dashboard for further analysis.
And that's where the GSX Robot Users will greatly help you!
How You Can Easily do That with the GSX Robot Users
As you may know, GSX Solutions is a specialist in Office 365 end-user experience monitoring.
We have developed Robot Users that you can install anywhere (on any Windows 7+ workstation or Windows 2012 R2 VM) and that will continuously perform end-user scenarios as well as network checks.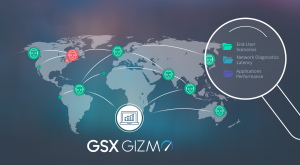 The Robot Users are centrally deployed and controlled by the GSX management console called GSX Gizmo. It also allows you to adjust thresholds for any action and tests they are performing.
Thanks to that, you can be alerted as soon as the performance starts to degrade on any of your sites.
For more information about how the Robot Users are providing you with end-user experience metrics, please read this article >>
All the data are sent to a real-time interface, as well as in PowerBI for data analysis.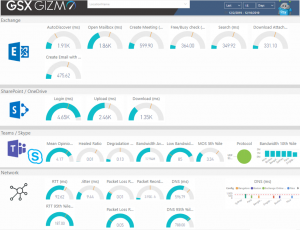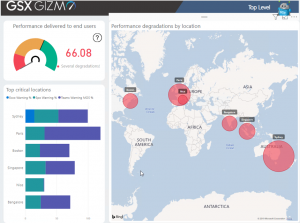 Each Robot User analyses the network and the end-user experience of MS Teams services but also Exchange Online, SharePoint Online and OneDrive.
So how does the GSX Robot Users meet the Microsoft tests requirements?
First, the Robot Users are designed to collect the data recommended by Microsoft to be analyzed.
For more information about the Microsoft recommended statistics you can read this article >> 
All these statistics give you a perfect understanding of the call quality experienced by the end user while using MS Teams. Moreover, analyzing these statistics provides great help when aiming to troubleshoot and improve the audio and video call quality.
On top of these critical statistics, the Robot User also provides you the Remote IP and Port used during the call as well the Network Protocol.
Finally, in case of any issue, the Robot User provides the ICE Type and warning flags.
In order to understand better the warning flags, you should use the ICE Warning Flag decoder that you can download here >>
When it comes to MS Teams, assessing the quality of audio and video calls is the most important, but you also might be interested in the availability of other features such as the login, the presence and the IM capabilities.
The GSX Robot User can also perform these end user actions, providing you with real time performance and alerts in case of issues.
As you can see, the GSX Robot User offers all the data you need to assess the readiness of your environment and even monitor and troubleshoot it in production.
The second very important point is that they meet the process that Microsoft recommends.
How the Robot Users Perfectly Meet Microsoft Requirements
Here is a summary of what Microsoft recommends, and how the Robot Users fulfill the requirements.
Microsoft Recommendations
GSX Robot Users
Perform tests from every location
You can deploy your Robot User automatically in any location.

Everything is centrally managed

Perform tests frequently (like every 10 min)
You can setup intervals starting at one minute
Perform tests during a long period of time
Robot Users can run during assessment, migration and production as long as you want
Collect the right data
Robot User collect all required data + additional data to ease troubleshooting and understand end-user experience
Being able to store, display and understand the data
Data is stored as long as you want in SQL and PowerBI dashboards are provided to understand your readiness and / or the impacts of the changes you make in your network.

Difference with the Microsoft Assessment Tool
To finish this article, let's have a few words about the Microsoft assessment tool that you can download here >>
This tool can help you run individual tests.
The problem is that it is pure PowerShell command lines, and everything must be done manually. So, it will be difficult to run tests every 10 minutes during a month, store the results, and then present them in a way you can understand.
Moreover, the tool won't alert you in case of issues, so you cannot use it as a proactive monitoring tool during or after migration.
On the contrary, the GSX Robot Users are easy to deploy everywhere and will work for you all the time running every test you need, alerting you in case of issue, storing the results and presenting them in PowerBI dashboard that you can work with.
And that is why so many partners and large companies are working with us to conduct professional site by site readiness assessment and proactive monitoring of the Teams service deliver to end-users.
This entry is part of our series on Microsoft Teams Performance monitoring. Learn more about Microsoft Teams performance by downloading our 'Ensuring Teams Under the Hood' eBook today!
Related Articles: