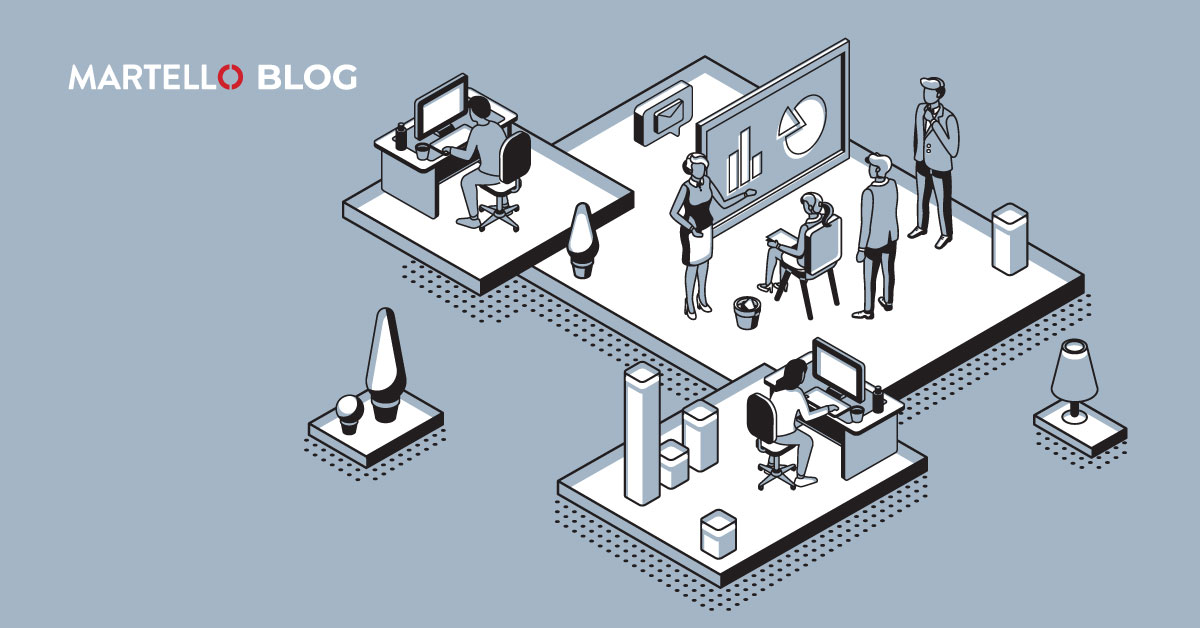 You're probably bored with talking about Covid – we certainly are. But something that we still find interesting is that in the modern workplace, how people now interact with one another, how they work together and the communication tools that they use play a critical role in boosting their overall productivity.
Because of the pandemic, many of us now split our time working between the home and the office – so how can we reimagine the modern workplace to get the most out of it?
It's been said over and over and over, but the Covid-19 pandemic has changed the way we work – there's no question about it. Outside of freelancers, most people had never experienced working from home – let alone split their week between their spare bedroom and their normal spot in the office. So, how do we make the best of where we all now find ourselves?
The Best of Both Worlds
Going to the office has a lot of benefits, and while free coffee might be quite a way up the list, for a lot of people the best part about going into their business office is the social aspect. They get to interact with their colleagues, get work done, and often build stronger relationships than those that form remotely.
Conversely, the best thing about working from home, for most people, is freedom. That's the freedom to be in complete control of one's space, but also the freedom to focus on work without the humdrum of a noisy office environment, where anyone can interrupt you at any point.
So if hybrid working models are to continue (they definitely are) then we should all be focused on combining the best elements of each environment. Freedom in the office and better social contact from home.
Supportive Systems for the Modern Workplace
To get the best of both worlds, we need to look at the systems in place that help support the positive elements of each environment. Or, at the very least, cut down on the drawbacks those spaces have.
If your company has been hot on WFH, then you'll be lucky enough (!) to now be a part of a video call culture that is punctual and to the point. And as we all know there's little as demotivating as being sat in a 12-person call with nothing to contribute as the organizer spreads out into various tangents. This is, of course, the most common danger with in-person meetings too – they often derail and become something other than what was intended.
For this reason, changing the physical settings of meeting rooms can be a good place to start for many businesses. Rather than big, comfy chairs around a huge meeting table, stand-ups should be encouraged as they naturally cut down on meeting time, keeping the conversation focused.
On the flip side, when people are working remotely, you want them to be able to collaborate seamlessly. Whether that's through text chat, calls, video links, or via shared documents. The fewer barriers to entry there are, the more people are likely to use them to the fullest and stay connected with one another. If the service quality offered by platforms like Microsoft Teams is as high as it can be, it becomes a more natural way of communicating and is the best way we have to replicate in-person interaction.
The Normal We Should All Aim For
The home and the office are in no danger of becoming identical places – nor should we want them to. The office isn't just a spot to work from, it's a physical representation of a company, it's a place to host clients, and those hold an important place in our working lives.
By that very same token, your house isn't suddenly going to become a fluorescent lit, cubicle environment devoid of your personal touch. The freedom you have working from home is perfectly represented by the fact it looks and feels like yours – that can really help a lot of people feel comfortable and detached from the constant company of others.
The new normal just isn't new anymore, but many businesses are still adjusting to it nonetheless. Company culture takes more than a few months to truly catch up, so don't worry if your business isn't where you'd like it to be just yet. In fact, if you are interested in improving it, then making adjustments to your office and the platforms your people connect to remotely can help to catalyze change and realize a truly modern workplace.
Want to get more from Microsoft Teams? Martello can help you with that. Book a Demo!