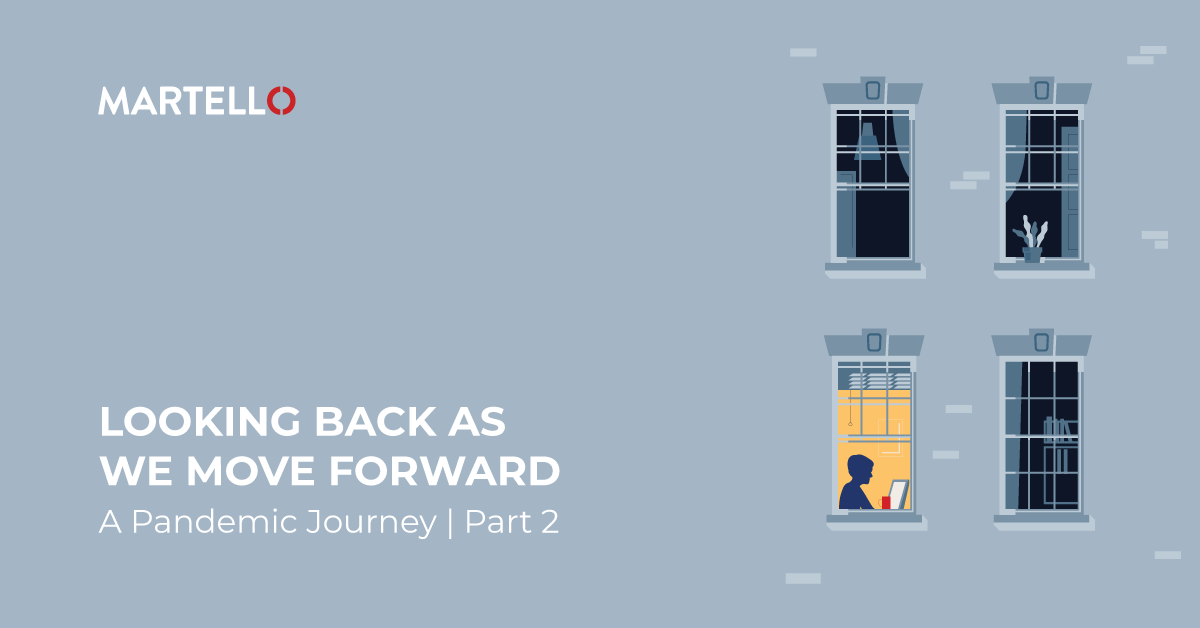 Over a year after COVID-19 was declared a global pandemic, the hope of speaking about it in the past tense is something we all still hold on to. Not only are we still being challenged by it in the present, but it has changed the way we think and do many things. However, just because something has become normalized over time (out of necessity) doesn't mean that everyone has adjusted without incident. In this second and final part of our pandemic journey series, we focus on the impact felt by people, who are navigating a new professional world that is still trying to define itself. You can read Looking Back as we Move Forward: A Pandemic Journey – Part 1 here.  
Late February and early March 2020 for many employees around the world represented a similar experience – being alerted by their respective organizations that in an effort to maintain the health and safety of the staff, work from home and remote working initiatives would immediately be implemented for a period of two weeks (minimum). In most cases that two-week period is still ongoing in 2021, with no definitive end in sight; some companies have even established permanent remote working options as a result. While some found the transition to remote work an easy one, many others had to deal with new challenges; finding a comfortable (and relatively quiet) spot to conduct work in while maintaining productivity can become more difficult when suddenly your partner and children are home trying to do the same thing. Martello faced a particularly unique challenge; acquiring and integrating a new company into our fold, bringing about new employees and additional hires…all of which have yet to meet face to face with their new Martello co-workers. Despite this, we were able to make great strides integrating teams and pushing forward with new products.  
Having the initial two-week window made this seem like a temporary problem that most didn't think too much about at first (the idea of setting up in the kitchen where there's an abundance of natural light and unlimited snacks sounded pretty good!). But as that period came and went, the reality of this new work from anywhere world sticking around for a while started to set in.  
Establishing 
a Remote Work Routine
To better understand how the staff at Martello has dealt with the challenges of working remotely over the past year we conducted an internal survey of our globally distributed team to gain some insight. The following is an account of some of the experiences: 
What has been your top challenge working from home?
Not being able to meet everyone face to face, and I really enjoy collaborating in a room with a whiteboard. 
Training! I'm a "new" hire and found very little documentation created for training purposes. Working from home doesn't really allow you to shadow 100% someone that already has experience on the position, but I'm trying my best! 
Missing humans. So much of my daily work interactions now are 'transactional' I really miss the casual interactions in the office with teams or individuals that you might not otherwise see. 
Connecting with more people in Martello. In an office setting, you would bump into people in the hallway/kitchen/etc. I realize everyone is simply a Teams call away but finding that "ice breaker" reason to interrupt their day is challenging. 
What is your top 
tip to make your work from home experience as productive as possible?
Start early, save your evenings for downtime. Also, get some fresh air. 
Keep the office hours, turn the laptop off at the end of your working day to keep a healthy personal/working time. 
Structure – I really try to maintain a daily schedule but it can be hard sometimes. Taking a break during the day can be good and trying to maintain a good 'work-life balance' (ugh I hate that phrase!) is key. 
Whatever pumps you up in your daily life. Do that as often as possible! Music does it for me. 
What makes your home workspace unique?
I have a sit-to-stand desk. I also recently purchased a stationary bike/e-bike; I took the handlebars off and with my desk, in stand position I can fit the bike right up to my desk and peddle while working! 
I have to share the "office" space with my daughter. Sometimes one of us has to move to a bedroom to avoid disturbing the other one. 
I have an office in the attic so it can be nice and sunny but gets cold! A coffee warmer keeps me going during the day and running a diffuser makes a difference to my overall mood when days get busy. 
Several times over the past few months I've looked out my office window to see a family of deer about 10ft from my window. Rural living has its advantages. 
Those who were so inclined also shared images of their unique home workspaces: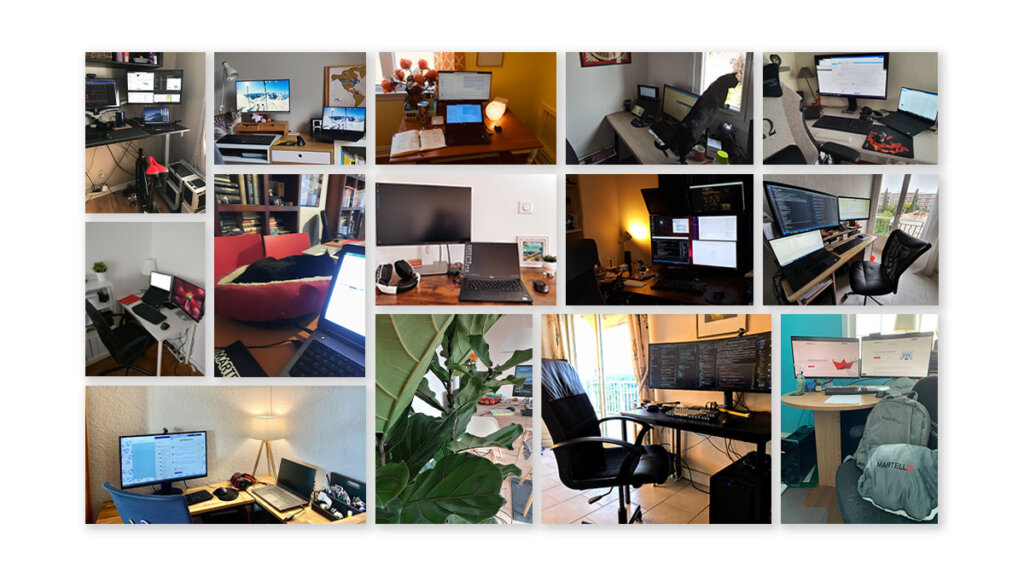 Focus on Physical & Mental Health
 at Martello
Under normal circumstances, the benefits of establishing a healthy routine that includes both physical and mental exercise are clear, but this is even more pronounced during a global pandemic. Taking the time to put yourself first throughout the day is crucial, though it can be difficult, especially if your bubble is also inhabited by other friends/family members and pets. A separate set of challenges exist for those who live alone as feelings of isolation/loneliness can weigh heavy on an individual, affecting their mental health and wellbeing. Setting boundaries becomes a necessity; knowing what your defined work hours are and sticking to them, eating healthy food that properly fuels your day and helps maintain productivity, and taking both physical activity and mental health breaks to keep your mind and body in top form are important.
Martello prioritizes facilitating an environment that promotes living and working as healthily as possible. Staff is encouraged to take part in our consistently offered mind and body initiatives including group virtual meditation sessions and easy listening music Fridays where playlists are shared, and collective listening takes place. The use of the computer camera during these activities is also encouraged to further promote the social aspect of these virtual gatherings; being able to see each other in any capacity can be extremely helpful for those who happen to live alone or are in parts of the world with stricter guidelines surrounding regularly leaving their home. 
Looking Forward
While we do not know what the coming months will hold, one thing that we do know is that many employees might look to adopt a hybrid approach to work post-pandemic. This means that IT teams will have to continue to support a digital workforce and address the challenges which come along with that. In the past year we have seen Microsoft 365 adoption – and particularly Microsoft Teams – spike. Microsoft Teams has quickly become the way in which we stay connected – it is our collaboration tool, meeting space, a place where we chat, and social watercooler all rolled into one. 
Knowing the quality of experience for Microsoft 365 end users is always difficult to assess, as less than 20% of users will log a service call if they are experiencing issues.  
At Martello, our priority is to maintain seamless service delivery of critical applications, regardless of where they might be being accessed. Our new work from anywhere solutions are designed to better facilitate the remote working reality that has become normal for so many of us. If you'd like to learn more about how we can help your business, make sure to check out our work from anywhere blog that further examines how we plan to improve the remote working experience for all, with a special focus on Microsoft 365 users.