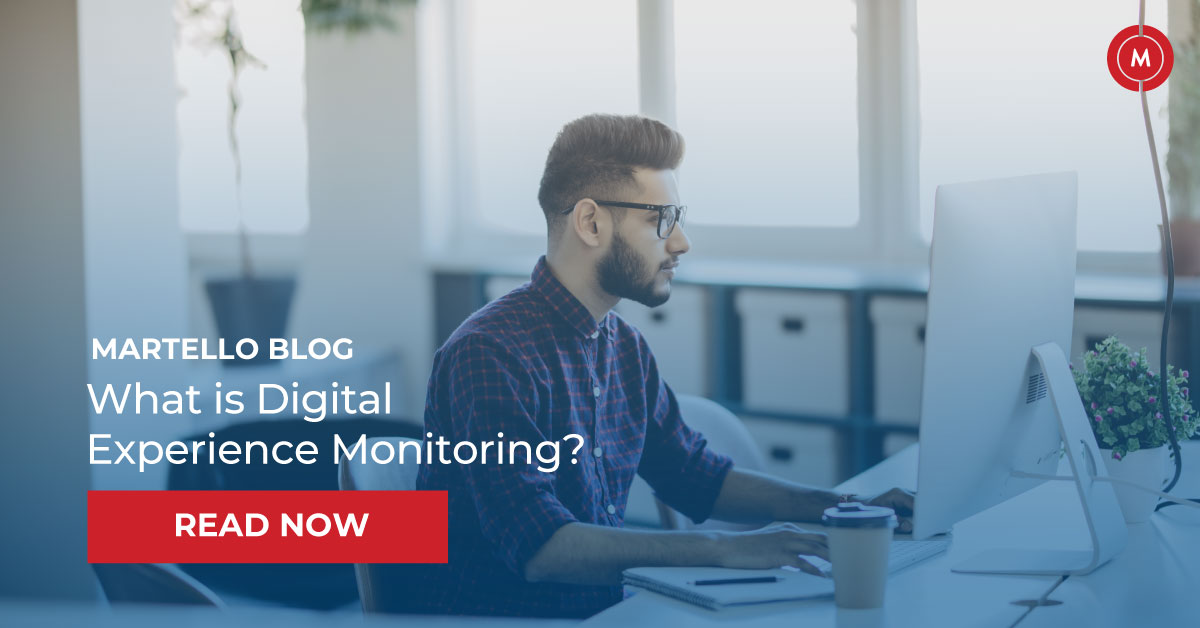 In today's world of remote workers and distributed teams, a seamless digital user experience is the most significant aspect driving productivity and collaboration and Digital Experience Monitoring (DEM) allows an enterprise or service provider to optimize the performance of critical cloud productivity and collaboration tools, for a smooth user experience. By using monitoring and analytics to identify performance issues and understand the user experience, you can improve processes and tackle issues proactively, reducing downtime.
Gartner predicts that "by 2023, 60% of digital business initiatives will require I&O to report on users' digital experience, up from less than 15% today." (Gartner, Page 2 – Market Guide for Digital Experience Monitoring, September 2019)
But why is it important?
Enterprise monitoring portfolios have developed critical visibility gaps because of cloud migration. Today, enterprises have dozens of business-critical SaaS applications that require a DEM approach. A traditional "find and fix" IT Operations monitoring model just won't work with these kinds of services. DEM solutions complement existing Application Performance Monitoring and Network Performance Monitoring tools. Together, they provide an end-to-end picture with DEM adding insight into user experience, which directly translates into business outcomes. Recognizing that a sales employee on an important virtual call will have a poor experience and addressing this problem with DEM means you can prevent revenue loss, allowing you to directly attribute that event to the outcome.
So what is Digital Experience Monitoring?
Digital Experience Monitoring solutions move beyond traditional network and application performance monitoring to identify network problems that could impact the performance of cloud-based services. Monitoring tools that combine application performance data, real user behaviour and synthetic transaction monitoring offer deeper measurements on user experience to help pinpoint issues that could have an impact on the business.
SaaS Demands a New Approach
When businesses move to web applications in the cloud, IT teams no longer have control or visibility over the performance of that application.
"As businesses adopt commercial cloud stacks to run applications, I&O leaders are becoming blindsided because of the lack of control and visibility this creates. This is especially the case with SaaS applications, where monitoring teams have no visibility into the infrastructure layer and cannot instrument the application." (Gartner, Page 4 – Market Guide for Digital Experience Monitoring, September 2019)
This new focus on SaaS applications will bring a new approach to monitoring.
Gartner forecasts show that, in 2019, "44% of cloud spend will be on SaaS creating visibility challenges for I&O teams that can impact customer experience, revenue and brand reputation."(Gartner, Page 2 – Market Guide for Digital Experience Monitoring, September 2019)
With enterprises having thousands of business-critical SaaS applications, a DEM approach will be necessary to gain visibility and a vantage point into the user experience. This means that DEM will not only be applicable to IT organizations but also line of business teams that rely on critical SaaS applications for daily activities.
In the July 21, 2020 report Leverage Office 365, Monitoring Practices to Improve Availability and Eliminate Performance Challenges, Gartner recommends that "I&O leaders responsible for transforming IT infrastructure, operations and cloud management must: identify issues that impact the end-user experience by implementing dedicated performance analysis tools to establish a performance baseline for office applications, enhance visibility into the user experience by leveraging SaaS-based monitoring tools that focus on global, end-to-end usage and synthetic transactions." Martello-GSX has been recognized in this report.
Why a Proactive Approach to the User Experience is the Future of Monitoring Strategy
Traditional network monitoring has multiple tools to collect data from various sources. With multiple tools to monitor the network, infrastructure, applications, servers, etc., it is easy to point fingers at where the issues are because it can be difficult to identify the true root cause. Using a single pane of glass monitoring solution will consolidate alerts and create an incident management workflow that makes it easy to identify the most mission-critical performance issues, to ensure that they are resolved first.
By taking a proactive approach, you can enhance the digital experience by preventing problems before the user is impacted, through synthetic monitoring. By using synthetic transactions, you can continuously test network and service availability on a 24/7 basis and discover issues before they start to affect performance and create a negative experience for the end user. This will improve uptime and overall performance for every user on the network, and is a critical differentiator for DEM compared to traditional monitoring approaches. Imagine walking into the office Monday morning to find out there had been an unresolved outage over the weekend. With 24/7 monitoring, IT teams are alerted to issues right away and have them resolved before productivity is impacted.
Putting the user first is not only good for employees but is essential to ensuring business continuity and preventing lost revenue. Digital Experience Monitoring is the piece that brings the right data into the hands of the right people to resolve issues before they have a chance to impact the end user.