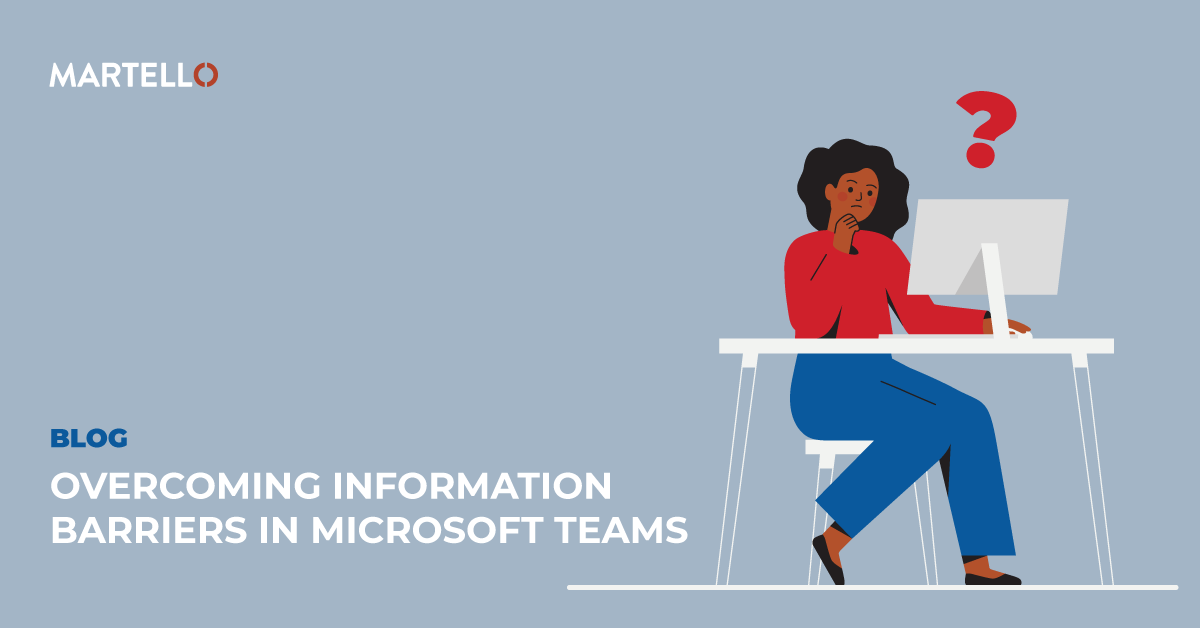 The phrase "Teams is slow" means that somewhere something isn't working. But who in the organization should lead the charge to address the problem – especially when the problem isn't Teams? This blog will examine the different information barriers in Microsoft Teams and how to overcome them.
Years ago, when IT life was simple, the resolution to a problem like "Word isn't working" was obvious; either walk to or remotely connect to the endpoint, take a look at Word, perhaps reboot, reinstall, etc.  But today, when there's a problem with a cloud service as complex as Teams, there can be a myriad of root causes that can exist literally anywhere along the path from the user's endpoint device all the way to the Teams service – and anything that lies in between. These different information barriers in Microsoft Teams can cause performance challenges and be detrimental to business productivity.
This means isolating the problem and determining which part of your IT organization to call to fix the issue (assuming it's not Teams that's the problem) are going to be a challenge.  To make matters more difficult, larger IT organizations like yours function in silos; and that doesn't help the process of determining where a service quality issue is with Teams.  For example, the following silos of IT could very well be the root cause of the "Teams is slow" problem:
Endpoint Team – It could be a simple matter of a rogue process consuming all of an endpoint's CPU utilization, causing Teams to appear to be responding slowly.
Infrastructure Team – Users working remotely may be required to connect to the corporate network via VPN, forcing Teams traffic through the same path (despite Microsoft's best practice guidance of having all Microsoft 365 traffic be routed directly to the Microsoft cloud).
Networking Team – Once on the corporate network, there are potentially countless switches, routers, firewalls, proxies, and more that all can be misconfigured, malfunction, or just add so much latency that Teams is affected.
Security Team – Microsoft recommends against putting any kind of SSL inspection, packet inspection, and data loss prevention solutions in between the user and Teams, as they can also add latency to the connection.
Identity Team – The problem could be an authentication delay behind the scenes that those responsible for any federated identity need to take a look into.
Development/Integration Team – what if the specific problem is with a Teams integration and has nothing to do with Teams at all?
Being able to effectively filter through these information barriers in Microsoft Teams allows your IT team to identify and remedy any issues that much faster. With all these potential hands in the proverbial Teams soup, it's obvious that you either need to have each of these siloed IT teams working closely to solve one user's Teams issue (yeah, right!) or you need a way to create end-to-end visibility across all the silos.
To accomplish this, the best approach is to take the responsibility of identifying the root cause completely away from any of the teams mentioned above and, instead, leverage solutions designed to create this visibility through detailed monitoring of the user experience, services, infrastructure, and network. This is how your business can best overcome information barriers in Microsoft Teams.
Using a variety of technologies including synthetic transactions, real user monitoring, active network path monitoring, and service-level monitoring, it's possible to create a singular view that can be used to view the entire path from user to Teams, drilling down into the area responsible for the drop in Teams service quality. Once you've identified the source of the problem (e.g., it's a malfunctioning switch in the corporate office), then you can notify the appropriate siloed IT team to fix the problem.