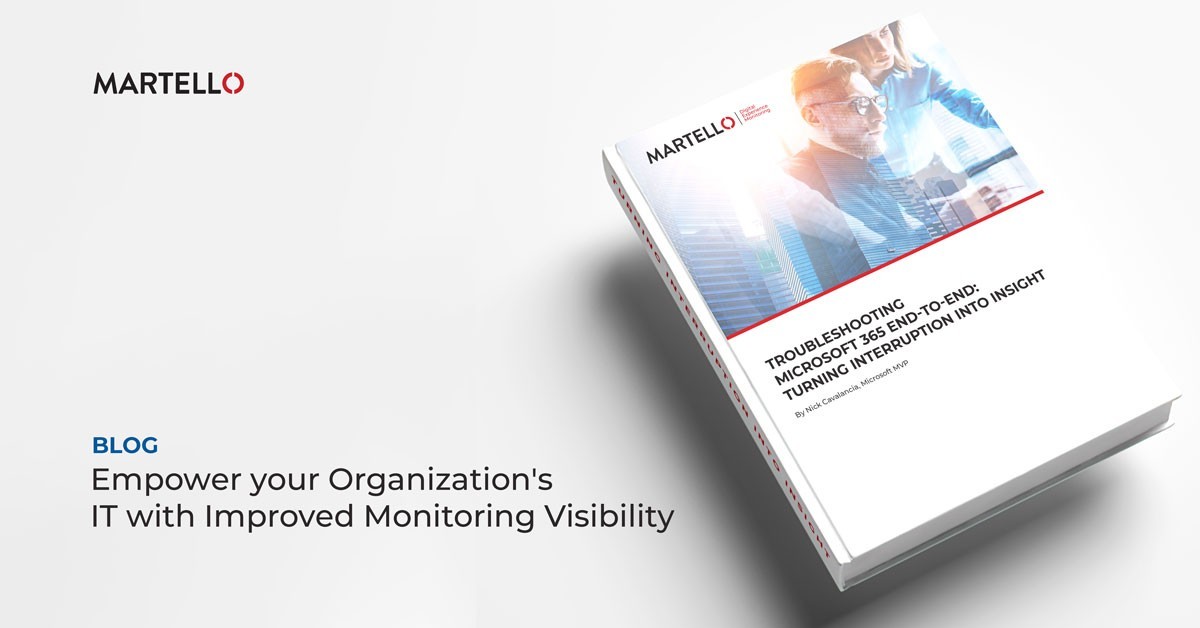 As technology evolves so do the needs of an organization that rely upon it; the ability to quickly adapt has become more important than ever, especially as of late. However, this doesn't mean that adopting new technology isn't without its own set of challenges. Take operating in the cloud for instance; one of the trade-offs is end to end visibility. When someone else owns the service, the application, the networking stack, and/or the infrastructure, it's assumed that the organization is going to give up some visibility, but when service delivery issues arise – with Microsoft 365 or any other cloud service– the organization still looks to internal IT to diagnose and remediate the problem, regardless of the source of the issue. 
End to End Visibility
Traditionally, organizations have deployed services and applications in their own data centres, connecting them with monitoring solutions to detect the health of every component so IT knows everything is in "the green." But today, all of that has moved to Microsoft's data centre, leaving IT with no direct visibility. Despite being the largest software company on the planet, even Microsoft can have service delivery issues from time to time. To their credit, Microsoft does go to reasonable lengths to communicate outages in several ways; their own Microsoft 365 Service health status site, as well as their Microsoft 365 Status handle on Twitter, are examples of this.  
For those organizations that heavily rely on Microsoft 365 services, this simply isn't enough; a scenario where IT finds out well after users begin feeling the repercussions of an outage is simply too late. This doesn't empower internal IT to do anything to at least understand who was impacted, what services were disrupted, and, if possible, what the root cause was.  
A Comprehensive Monitoring Solution
Martello Vantage DX provides IT with visibility from the perspective of the user. By creating synthetic transactions, Vantage DX emulates user transactions, interacting with the very same servers, applications, services, and data that an actual user does – providing visibility into an endpoint, client, and connectivity specifics useful for response and remediation.  
Instead of waiting until the user informs IT of the problem, Vantage DX proactively seeks to identify when there are service delivery issues. Using a PowerBI dashboard, Vantage DX can provide organizations with needed visibility into the state of their user's interactions with Microsoft 365 services, proactively yielding insight into the when, where, and who may be having (or will have) service issues.  This level of monitoring granularity allows Vantage DX to identify not just when and where a problem exists, but also provides context into scope, severity, as well as what functions, client applications, and locations, are impacted.  
Traditionally in larger organizations, internal IT is broken into many technology silos, each with its own team and monitoring system with limited visibility into where the problem lies and even less insight into what to do to fix the issue. What's needed is end to end visibility (rather than per-business application) and the ability to correlate monitoring data in a way that makes your IT teams not just aware of the problem but gives them enough proactive context and detail that it becomes actionable insight – ideally before users find the problem themselves.   
Why Choose Martello?
With a Martello DEM solution, your organization's IT team will regain lost visibility allowing it to gain the necessary insight to determine the root cause of service interruptions, identify impact scope and take the necessary steps to remediate – or at the very least minimize – overall impact. Learn more about how we can help your business achieve its productivity goals by downloading our latest eBook Troubleshooting Microsoft 365 End-to-End. Contact us directly so we can show you why a Martello solution is the right choice for your business.