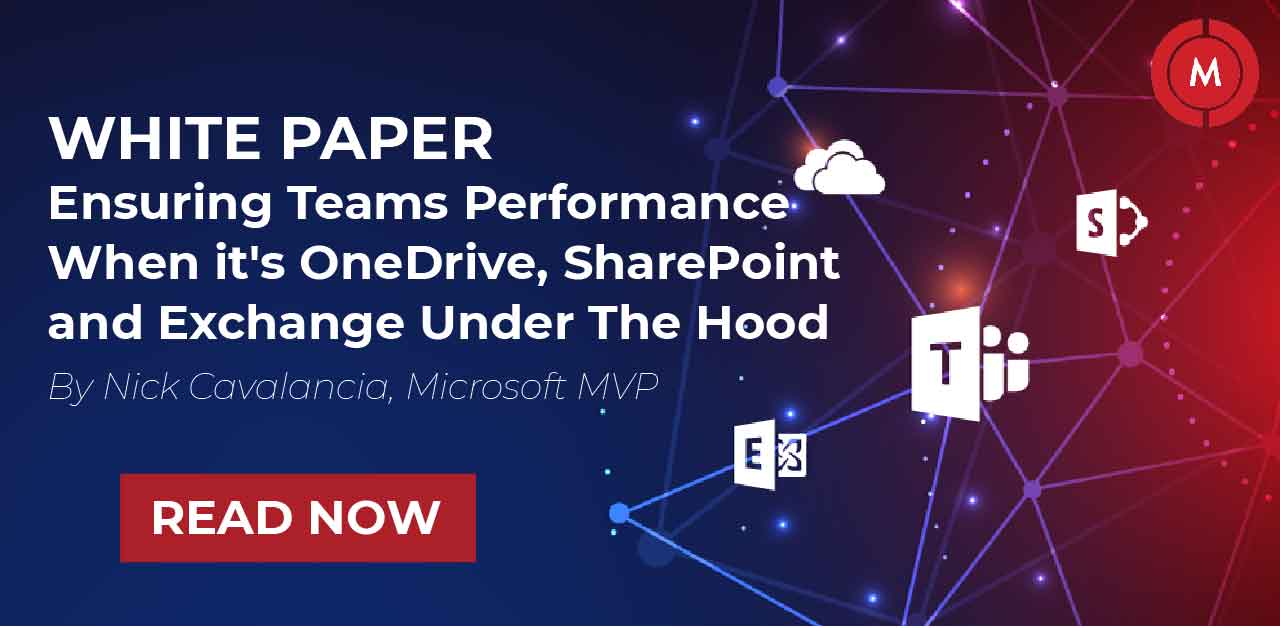 By Nick Cavalancia, Microsoft MVP
Microsoft Teams has risen to rock star status, breathing new life into organizations that have traditionally used a "bricks and mortar" operating model and have shifted due to the pandemic. It's the backbone of many organizations, where conference calls, meetings, collaboration, and sharing all take place. We can continue to work to replace traditional operating methods with digital ones by using Microsoft Teams. However, like any product, Microsoft Teams has its own performance issues in the Microsoft 365 cloud.
Just recently, users in North America had issues joining meetings and, while atypical, the impacts of these issues with service delivery can be material to organizations that so heavily rely on Teams. With Microsoft Teams monitoring tools you can overcome some of the key Microsoft Teams performance issues and improve user experience.
Unfortunately, IT organizations that want to play a role in helping to ensure Teams performance for their users have a bit of an uphill battle for three reasons.
1. Teams is used everywhere
Over half of today's workforce (57 percent)  is either partially or completely working remotely, according to a recent Gallup poll. That means users of Teams are now hitting the Microsoft 365 cloud from clients and geographies, the majority (61 percent) are using personal devices, varying devices and operating systems, and Teams clients. This disparity in the where, how, and what of users connecting to Teams only makes identifying and isolating performances issues more difficult.
2. Teams is used by everyone
The last count in April 2020, there were 75 million Teams users.  That number has, no doubt, increased materially, although no formal numbers have been released. My wife is a first grade teacher here in Fort Lauderdale, FL and last week over 350,000 teachers and students began using Teams for hours each day.  And that's just one county across the United States. This kind of use puts a significant simultaneous demand on Internet connections and the Microsoft infrastructure. It's reasonable to conclude there is going to be some form of service delivery issues occurring, albeit at least intermittently.
3. Microsoft Teams performance issues are not related to just Teams
Problems with Teams aren't limited to the Teams application itself; there's a lot that makes up what users experience in Teams.  There's authentication with Azure Active Directory, Updates to the web, desktop, and mobile Teams clients, good connectivity between the user and the Microsoft 365 cloud, and the multitude of Microsoft 365 services that, behind the scenes, support Teams as a front-end application. IT organizations desiring to monitor user performance will need a complete perspective on every facet of what makes up Teams to truly be able to have a positive impact.
Having said all this, I'm not suggesting you should just pack up your things and forget about trying to make some headway in improving Teams performance for your organization. Quite the opposite; but understanding the difficulties ahead, you can go into this with eyes wide open, looking for ways to work around the limitations of Microsoft's native toolsets and be able to monitor and positively affect the performance of Teams.
To learn more about improving the performance of Microsoft Teams, check out the eBook, Ensuring Teams Performance When It's OneDrive, SharePoint and Exchange Under the Hood.