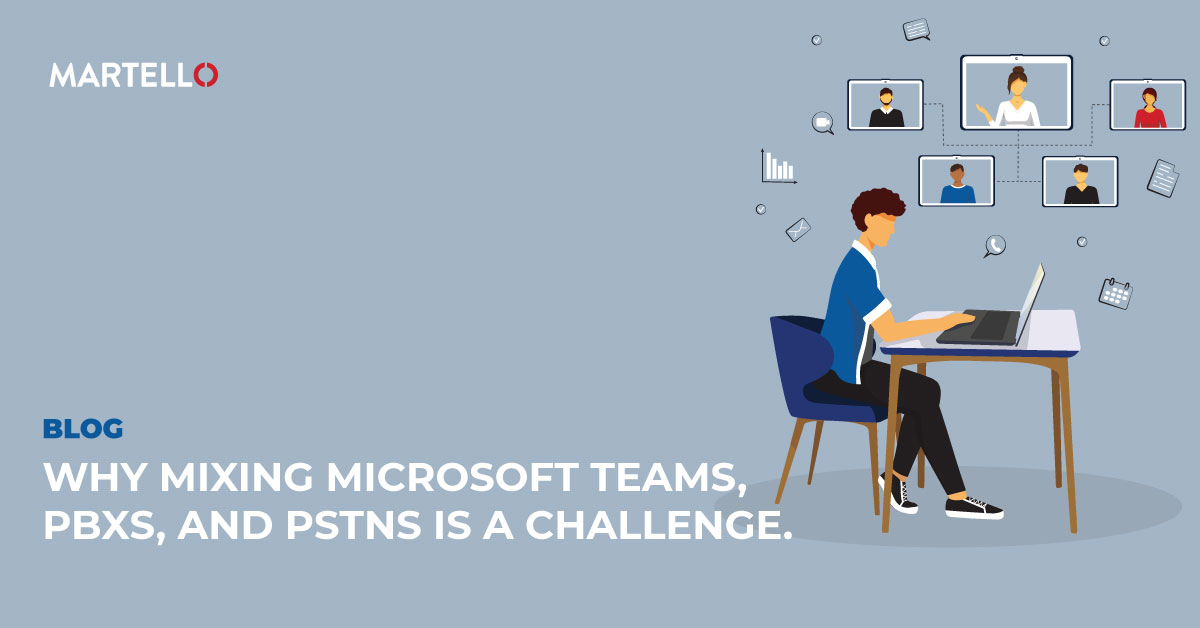 The work landscape has changed dramatically over the past two years and it has been a challenge for an organizations IT teams to keep the workforce connected. For many businesses, Microsoft Teams has become a core part of their efforts to keep connected but supporting the Microsoft Teams infrastructure has been something many IT departments have had to learn on the fly. 
Pre-pandemic, businesses might have had thousands of employees working in a handful of offices. Today, for the majority, that has morphed into thousands of employees in thousands of unique "offices" scattered around the globe in homes, coffee shops, and shared workspaces.   
This shift to the modern workplace from a relatively static work environment where everyone was utilizing the same network, dealing with a wide range of connections, methodologies, routing paths, devices, and more has created a new paradigm in terms of what connectivity looks like and the technologies involved in this process.   
Placing Microsoft Teams at the center of this modern workplace may seem like an easy option – after all, most companies have Microsoft 365 already embedded in their day-to-day business operations. Microsoft has enhanced Team's operational usefulness by developing Direct Routing – a service that allows Teams to connect to the PSTN (your legacy public switched telephone network), so that the platform can be used in conjunction with a fully-fledged business phone system (PBX). 
Microsoft Teams on its own is already multifaceted – it involves a number of different services under the hood, from OneDrive and SharePoint, to Exchange and much more. So, there's a host of different networks, services, servers, and applications already being used on the Microsoft side alone. That's all before you start adding in voice functionality and connecting to legacy telephony systems, devices, and services (e.g., PBXs, PSTN, SIP Trunks, etc).  
Of course, adding this voice functionality to MS Teams adds a tremendous amount of value, but does come at a cost. In the new hybrid working environment, where some people work from home while others are still in the office, it makes sense that we should want to have employees keep their same methods of working. If they're used to grabbing a handset or headset and just making their calls from their computer, then that's ideally what they should continue to do. However, supporting this adds a new level of complexity for IT, because now we're mixing a very modern cutting-edge technology (MS Teams) with a set of potential legacy telephony technologies that probably haven't been changed in years. 
The harsh reality is that this creates an environment with lots of different potential points of failure with many vendors, services, systems, and connections that may be to blame. Add to this that when users contact the helpdesk all they know is their Microsoft Teams call quality is bad or that they can't connect to Teams, and pinpointing where the issue actually lies can be a major challenge for IT. The bottom line is that this is all adding more layers of technology that are out of IT's control.  
Download our new ebook
'10 Microsoft Teams Performance Use Cases for IT Admins' 
to get up to speed on Teams performance best practices with real-world use cases. 
Download Now >>
—– 
GLOSSARY OF TERMS
Public Switched Telephone Network (PSTN) : A PTSN provides the required infrastructure and services for public telecommunication.  
Session Border Controllers (SBCs) : SBCs are devices deployed at the border between the private and public networks. They ensure the secure and efficient transfer of data from Microsoft Phone System – a hosted Private Branch Exchange (PBX) – to the PSTN network or aggregate of all global telephone networks. SBCs are often also referred to as PSTN Gateways.  
Private Branch Exchange (PBX): A PBX system provides businesses with the necessary functions and features exclusive to business requirements instead of a residential landline or mobile phone.   
Session Initiation Protocol (SIP) Trunking : SIP trunking is a service offered by a communications service provider that uses the protocol to provision voice over IP (VoIP) connectivity between an on-premises phone system and the public switched telephone network (PSTN).  
—- 
Are you and your team still spending a lot of time troubleshooting MS Teams performance issues?
Martello's Microsoft Teams Monitoring solution enables proactive support for all Microsoft Teams voice calls, whether they use cloud or PSTN infrastructure.
Book a demo today >>