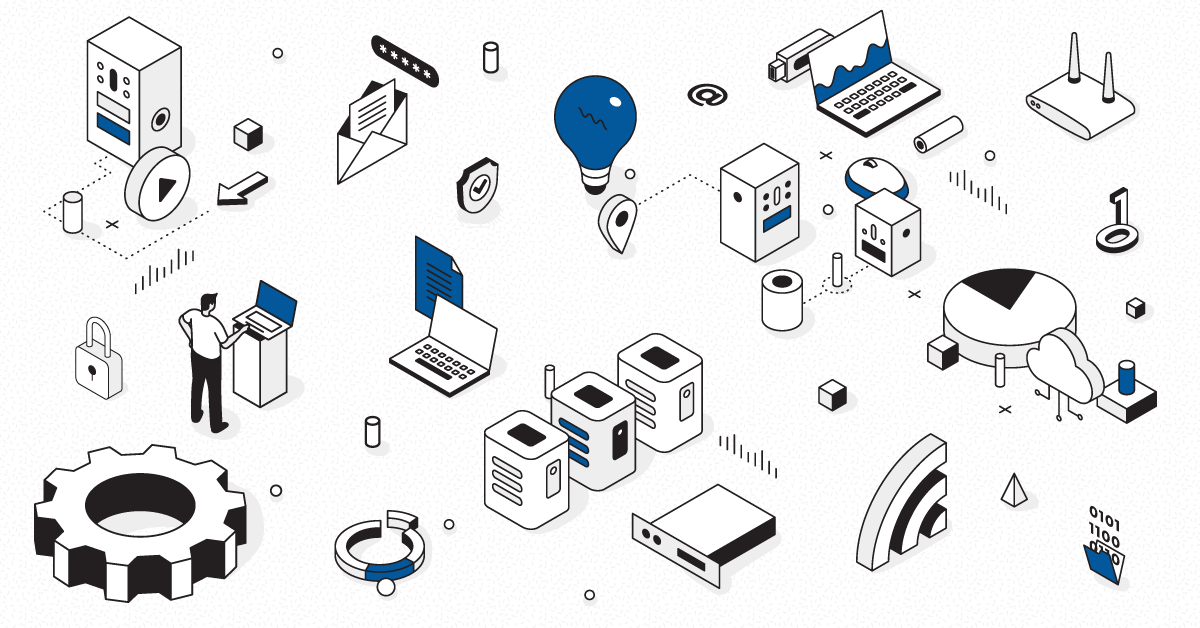 CIOs and IT leaders are finding themselves on the front lines of business evolution. Technology has shifted from a support service to a driving force in many businesses. Regardless of industry, CIOs who position themselves with the organization's core strategic priorities have an opportunity to deliver more value and accelerate progress.
The IT Dashboard, which puts key data in one snapshot, is a critical tool in this process. Without visibility over how your entire IT organization is performing, you can't identify where improvements are needed or which solutions aren't working.
Dashboard Qualities
Provides High-Level Overview of Current Performance
Operations/Short-Term Goals
Evaluates Using Metrics
Measures Performance
Delivers Real-Time Updates
Before you create an IT Dashboard, know your purpose
To have an effective dashboard, you need to be clear about its purpose. Often, businesses are overwhelmed with copious amounts of data coming from many sources, and separating what is meaningful from the noise becomes critical. What qualifies as critical will depend on your goals of the dashboard and who will be using it.
Clearly identify your target audience of the dashboard
Customer of Service / End User
Administrator  or Technical Resource
Non-Technical Role Reliant on the Data (such as Helpdesk or Management)
Troubleshooter
Forecaster/Reporter or Business Analyst Role
What are the Top 3 Dashboards you should be using?
3. Business Services Dashboard
Purpose: To give a complete view of all the applications running, their various components and the health of those components supporting the application. This is a "red", "amber", "green" dashboard that does not require in-depth performance counters, but will provide all users with ability to see problems coming in their applications before they impact the users of the application. Hung on large screens within IT departments this gives control to the team and delivers visibility at all times.
Target Audience: Administrator or technical resource, troubleshooter, non-technical role reliant on the data (such as helpdesk or management)
Overview: This dashboard displays the overall health of your business and IT services, but also provides additional insight into how it is performing. By separating your services into 3 different perspectives (End-User, Application, Infrastructure), you can quickly identify which service requires immediate attention. It also provides insight into the number of alerts and incidents that are associated with that service.
2. Hyper-V Dashboard
Purpose:  Virtual resources are constantly running out as new systems are spun up all the time, keeping track of these is simplified with this style of dashboard. This means that virtual resources are always available for any user needing them.
Target Audience: Administrator or technical resource
Overview: This dashboard shows information about the health of your Hyper-V devices. It separates the hosts and virtual machines for clarity.
1. Client Computer Health Dashboard
Purpose: Aid in the troubleshooting process to give a real-time view of the health states of the monitored IT objects.
Target Audience: Customer of Service/ End User, Administrator or technical resource, Troubleshooter
Overview: This dashboard shows health information for any Windows client computers. It includes a heat map of health states on the left and an alert listing widget on the right. The health state widget provides a quick look to briefly see if computers are either healthy, unhealthy, or unresponsive. The alert listing widget provides more specific notifications for each computer.
Using Martello Vantage DX to you can build custom dashboards to alert the right people when an issue comes up. Pulling in data from your other monitoring systems, and then displaying it for you into easy-to-read dashboards. From there, you can filter and organize your alerts into actionable data. For example, you can create boards for locations, applications, or business units and then divide these boards into sub-boards. You are then able to assign boards and services to a role, such as an operator role, and then anyone who has that role can see the board or service.
Creating custom dashboards to suit the needs of your business will increase efficiency and help with reporting, as well as diagnosing the root cause of problems when they come up.
What does the future of dashboards look like? As applications and services to move to the cloud, networks will continue to become more complex. That means more metrics for monitoring will be added, encouraging the CIO to constantly review and evolve the dashboard. Using the right dashboards to help monitor and manage that data will increase efficiency and help resolve issues before the end user experiences a delay or outage. One of the biggest challenges that IT leaders face for IT Dashboards is to integrate data from multiple business systems that are already in place, both on-premise and in cloud solution. The ability to seamlessly merge all this data into a single pane of glass is optimal for decision-makers.
Need dashboards that pack more of a punch? Get in touch with one of our experts today.