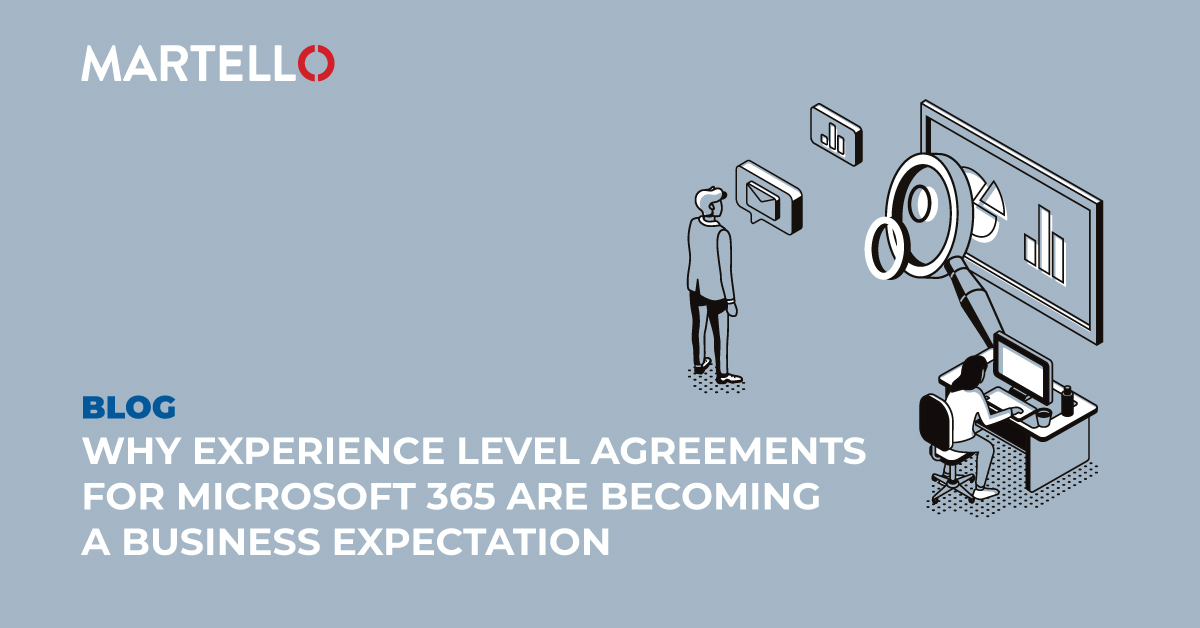 When it comes to business, having a productive IT team means enhanced productivity. Understanding that productivity is a direct result of a good user experience is crucial. In this blog, we will examine what constitutes a good user experience and how experience level agreements for Microsoft 365  are becoming a business expectation.
An effective Experience Level Agreement is a combination of different data sources.
Some of the most successful technologies and methods that are being used today that help support them include the following:
Synthetic Transactions
Using robots to simulate user transactions within Microsoft 365 and measuring the response (ex: sending an email, conducting a conversation on Microsoft Teams, scheduling a meeting in a calendar, etc.). This technique is more representative of the potential experience of a group of individuals.
24/7 End-to-End Microsoft 365 Monitoring
Test Microsoft 365 services from where your users are. Receive alerts, analyze availability, performance issues, etc. and assess the performance of your route to the cloud.
Teams Call Quality
Improve user experience with Teams by monitoring Teams call quality, a powerful new level of data correlation to pinpoint potential issues. This is done by watching what real users are doing in real[1]time and determining how well the service being delivered to them is. This technique identifies the user experience on an individual level; in conjunction with synthetic transaction data, the overall visibility then becomes even more enriched and valuable.
No Agent
Nothing to install at the end user's home. Provides insight on laptop, desktop, or mobile service performance for the end-user. LAN, WIFI, ISP service reports, and an instant view of user's performance and highlights of any issues.
Active Network Path Monitoring
How does the route that traffic takes through the network affect a user's ability to access service? This capability identifies where there is a breakdown causing a loss of productivity.
24/7 End-to-End Network Path Monitoring
Gain visibility of external networks that you don't own or control. Hop-by-hop analysis including jitter and packet loss. Rapidly identify whether issues are related to the cloud provider, ISP, or user's network.
Why Experience Level Agreements Are Becoming an Expectation
The delivery of effective service should be the goal; service providers need to maintain a consistent uptime to meet demand and satisfy their SLAs, and businesses require insight into how that service is working so they can make any necessary adjustments to improve productivity and the user experience. If slow is the new down, you must get up to speed with Martello. Our solutions provide a comprehensive form of coverage; our SLA reporting feature in Martello iQ provides a dashboard with clear intuitive visualization of an SLA and whether it has been breached. We also provide tools that offer insight into the user experience with Microsoft 365 services, and when used together you get the clarity and functionality to help ensure your business can grow, be productive, and avert several common IT challenges.
How a Martello Solution can Help
Interested in learning more about how a Martello solution can benefit your business? Firstly we would encourage you to download our eBook titled 'Fostering Exceptional Microsoft 365 User Experiences: Why Experience Level Agreements are Becoming an Expectation' today. Secondly, contact one of our specialists who will schedule a demo so you can see our solutions in action.