Martello Technologies (TSXV:MTLO) closes non-brokered private placement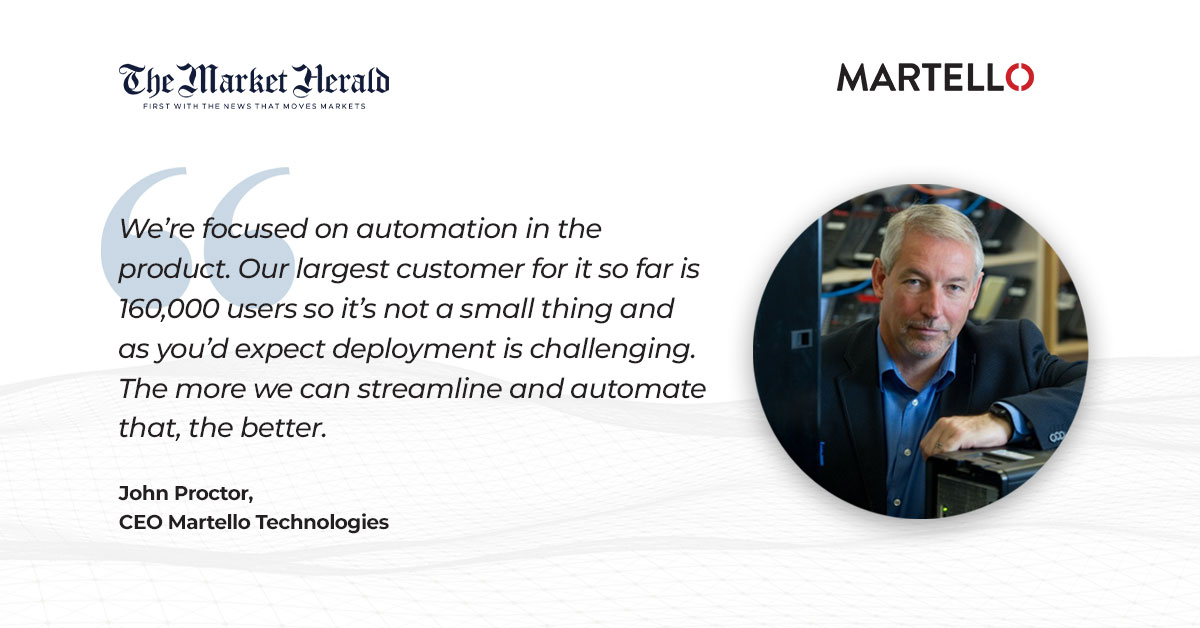 The Market Herald | 30 March 2022 08:45 (EDT)
Martello Technologies Group (MTLO has closed the third and final tranche of a non-brokered private placement for gross proceeds of $2,487,000
Under the third tranche, the company issued 500,000 common shares at a price of $0.10 per share for aggregate gross proceeds of $50,000
The net proceeds will be used to pursue sales activities and product features and enhancements
Martello Technologies is a technology company that provides digital experience monitoring (DEM) solutions
Martello Technologies Group Inc. (MTLO) opened trading at C$0.055 per share
Martello Technologies Group (MTLO has closed the third and final tranche of a non-brokered private placement for gross proceeds of $2,487,000.
Under the third tranche, the company issued 500,000 common shares at a price of $0.10 per share for aggregate gross proceeds of $50,000.
The offering has been subscribed entirely by Martello insiders.
The shares issued are subject to a four-month hold period expiring July 24, 2022.
The net proceeds will be used to pursue sales activities and product features and enhancements, as well as for general working capital purposes.
Martello Technologies is a technology company that provides digital experience monitoring (DEM) solutions. The company's products provide monitoring and analytics on the performance and user experience of critical cloud business applications while giving IT teams and service providers control and visibility of their entire IT infrastructure.
Martello Technologies Group Inc. (MTLO) opened trading at C$0.055 per share.
Martello provides the only end-to-end Microsoft Teams performance monitoring tool that Microsoft recommends to their customers to maximize employee productivity. Our solution Vantage DX proactively monitors Microsoft 365 and Teams service quality, enabling IT with complete visibility of the user experience to ease troubleshooting of issues before they impact users. Find out why Martello is Microsoft's go-to-solution for Microsoft Office 365 Monitoring >>