Martello Board of Directors to Nominate Technology Leader Paul Butcher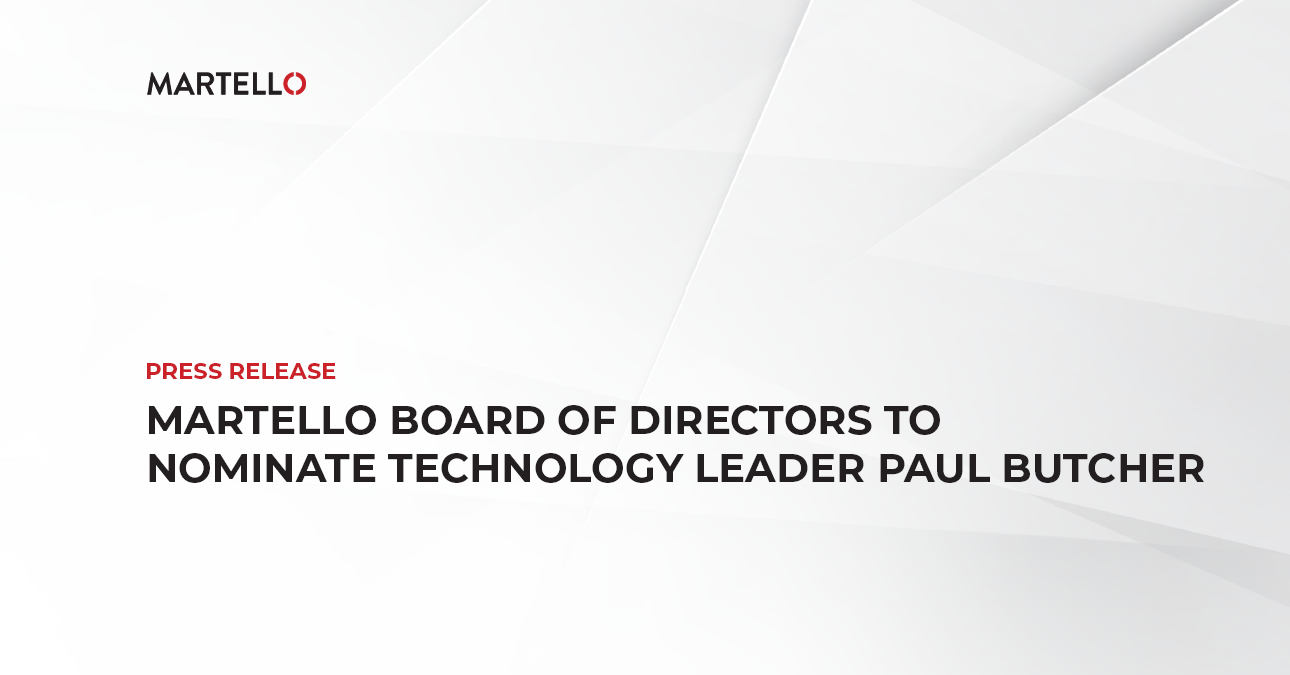 /NOT FOR DISTRIBUTION TO UNITED STATES NEWSWIRE SERVICES OR FOR RELEASE, PUBLICATION, DISTRIBUTION OR DISSEMINATION DIRECTLY, OR INDIRECTLY, IN WHOLE OR IN PART, IN OR INTO THE UNITED STATES./
Seasoned visionary with track record of driving growth and innovation in technology businesses to be nominated at upcoming shareholder meeting.
OTTAWA, ON, Sept. 21, 2023 /CNW/ – Martello Technologies Group Inc., ("Martello" or the "Company") (TSXV: MTLO), a provider of software that optimizes the Microsoft Modern Workplace, announced today that the board of directors (the "Board") intends to nominate technology leader Paul Butcher to fill the seat vacated by the recent resignation of Antoine Leboyer. Mr. Butcher will be nominated at the upcoming Annual General and Special Meeting of Shareholders on September 27, 2023 in Ottawa.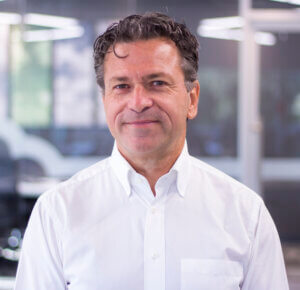 Mr. Butcher, based in Ottawa, Canada is an accomplished entrepreneur and business leader with over 25 years' experience driving strategic growth, change and innovation in technology businesses. Most recently, Mr. Butcher co-founded HostedBizz, a cloud IT services firm which caters to the needs of small and medium-sized businesses and emerged as a beacon of integrated tech solutions. The impressive trajectory of HostedBizz culminated in its acquisition in 2022.
As the President and Chief Operating Officer of Mitel from 1999 to 2011, his leadership was evident in the significant milestones the company achieved. Under his guidance, Mitel made its way to being publicly listed on the Nasdaq, setting a strong foundation for its future endeavors. With a strategic mindset, Mr. Butcher led the company in completing numerous high-profile acquisitions, the most notable of which was the acquisition of Inter-tel for $725M. His visionary approach extended beyond mergers and acquisitions; he was instrumental in expanding Mitel's global sales footprint and cultivating pivotal technology partnerships with renowned firms such as HP, VMware, and RIM.
"I am pleased to nominate Paul Butcher to the Martello Board of Directors," said Terry Matthews, Chairman of Martello, "Paul's successful career is a testament to his exceptional strategic decision-making and his ability to drive innovation. With a track record of spearheading multiple successes and catalyzing transformative changes within the businesses he has led; Paul brings a wealth of experience and knowledge that makes him an ideal addition to the Board as we strive to accelerate growth and innovation."
"I am enthusiastic about the prospective role on the Martello Board", said Mr. Butcher. "With a solid 15-year background in the cloud industry, I firmly believe that Martello's portfolio of capabilities places the company in a prime position to excel as a SaaS business by harnessing the critical importance of performance metrics. I look forward to being able to apply my experience alongside the Martello team."
"As Martello carves its place in the rapidly growing market for modern workplace optimization solutions, I look forward to the insights and expertise Paul can offer as a member of our Board", said John Proctor, President and Chief Executive Officer of Martello. "His product management background and experience creating high performance teams to achieve revenue growth and market success will make him a strong asset to Martello's Board as we grow the Vantage DX business."
Beyond his professional accomplishments, Mr. Butcher is grounded in solid educational roots. He holds a Computer Engineering degree from the esteemed University of West London. This academic background, combined with his expansive industry experience, equips him with a comprehensive perspective on the ever-evolving tech landscape.
About Martello Technologies Group
Martello (TSXV: MTLO) is a technology company that provides monitoring solutions to optimize the Microsoft Modern Workplace. The Company's products provide actionable insight on the performance and user experience of cloud business applications, while giving IT teams and service providers control and visibility of their entire IT infrastructure. Martello's software products include Vantage DX, which provides Microsoft 365 and Microsoft Teams end user experience monitoring and optimization. Martello is a public company headquartered in Ottawa, Canada with employees in Europe, North America and the Asia Pacific region. Learn more at http://www.martellotech.com
This press release does not constitute an offer of the securities of the Company for sale in the United States. The securities of the Company have not been registered under the United States Securities Act of 1933, (the "1933 Act") as amended, and may not be offered or sold within the United States absent registration or an exemption from registration under the 1933 Act.
This press release shall not constitute an offer to sell or the solicitation of an offer to buy nor shall there be any sale of the securities in any state in which such offer, solicitation or sale would be unlawful.
Neither the TSXV nor its Regulation Services Provider (as that term is defined in the policies of the TSXV) accepts responsibility for the adequacy or accuracy of this news release.
Cautionary Note Regarding Forward-Looking Information
This news release contains "forward-looking information" within the meaning of applicable Canadian securities legislation. Forward-looking information can be identified by words such as: "anticipate," "intend," "plan," "goal," "seek," "believe," "project," "estimate," "expect," "strategy," "future," "likely," "may," "should," "will" and similar references to future periods and includes, but is not limited to, information, statements and expectations regarding activities, events or developments that the Company expects or anticipates will or may occur in the future.
Forward-looking information is neither a statement of historical fact nor assurance of future performance. Instead, forward-looking information is based only on our current beliefs, expectations and assumptions regarding the future of our business, future plans and strategies, projections, anticipated events and trends, the economy and other future conditions. Because forward-looking information relates to the future, such statements are subject to inherent uncertainties, risks and changes in circumstances that are difficult to predict and many of which are outside of our control. Our actual results and financial condition may differ materially from those indicated in the forward-looking information. Therefore, you should not rely on any of the forward-looking information. Important factors that could cause our actual results and financial condition to differ materially from those indicated in the forward-looking information include, among others, the following:
Continued volatility in the capital or credit markets and the uncertainty of additional financing.
Our ability to maintain our current credit rating and the impact on our funding costs and competitive position if we do not do so.
Changes in customer demand.
Disruptions to our technology network including computer systems and software, as well as natural events such as severe weather, fires, floods and earthquakes or man-made or other disruptions of our operating systems, structures or equipment.
Delayed purchase timelines and disruptions to customer budgets, as well as Martello's ability to maintain business continuity as a result of COVID-19.
and other risks disclosed in the Company's filings with Canadian Securities Regulators, including the Company's annual information form for the year ended 

March 31, 2021

 dated 

January 7, 2022

, which is available on the Company's profile on SEDAR at www.sedar.com.
Any forward-looking information provided by the Company in this news release is based only on information currently available and speaks only as of the date on which it is made. Except as required by applicable securities laws, the Company undertakes no obligation to publicly update any forward-looking information, whether written or oral, that may be made from time to time, whether as a result of new information, future developments or otherwise.
SOURCE Martello Technologies Group Inc.
For further information: CONTACTS: Tracy King, Vice President of Marketing, tking@martellotech.com, 613.410.7636; John Proctor, President & CEO, jproctor@martellotech.com, 613.271.5989