Martello Completes Acquisition of GSX and Related Financing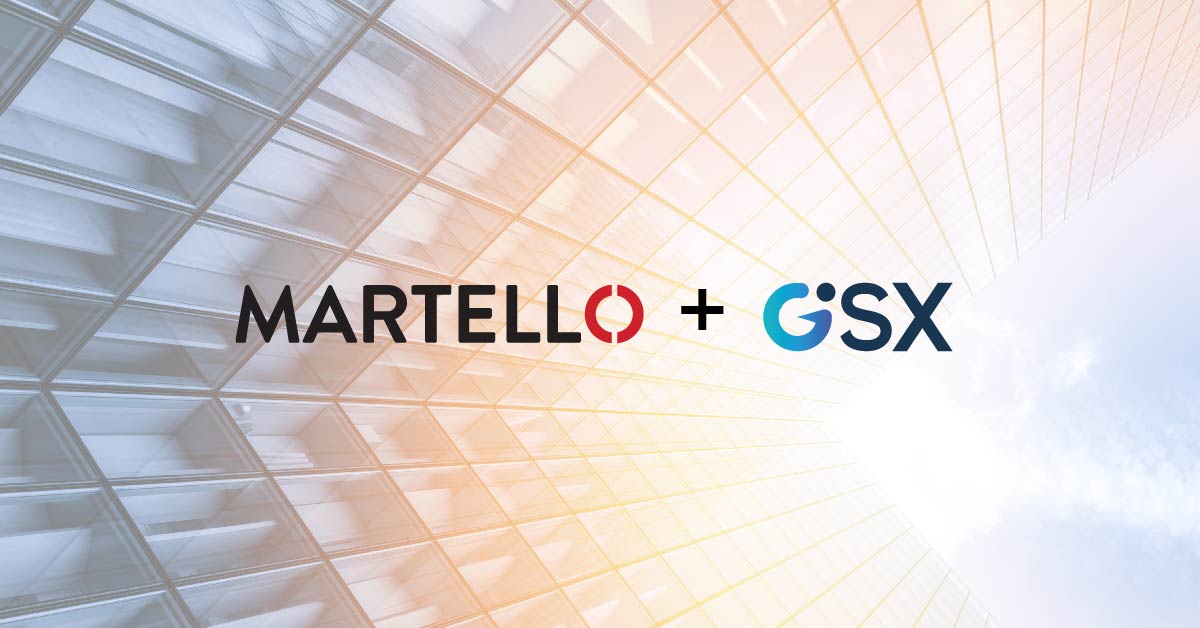 Acquisition strengthens digital experience monitoring opportunity and adds to monthly recurring revenue.
/NOT FOR DISTRIBUTION TO UNITED STATES NEWSWIRE SERVICES OR FOR RELEASE, PUBLICATION, DISTRIBUTION OR DISSEMINATION DIRECTLY, OR INDIRECTLY, IN WHOLE OR IN PART, IN OR INTO THE UNITED STATES./
OTTAWA, May 29, 2020 /CNW/ – Martello Technologies Group Inc., ("Martello" or the "Company") (TSXV: MTLO), a provider of digital experience monitoring (DEM) solutions deployed in more than 5,000 enterprise networks around the world, today announced that it has completed the acquisition of GSX Participations SA ("GSX"), a provider of end-user experience monitoring for Microsoft Office 365 (the "Transaction"). All conditions required to close the Transaction have been met.
Further to its press release dated April 28, 2020, Martello has acquired 100% of the shares of GSX, which is headquartered in Geneva, Switzerland with more than 400 enterprise customers globally. The consideration for the acquisition was 22,000,000 common shares and CDN$13,860,000 cash for an aggregate purchase price of $18,370,000.
The acquisition of GSX, recognized by Gartner as a digital experience monitoring vendor, extends Martello's DEM capabilities into the Microsoft Office 365 market, which has approximately 200 million monthly active users. Based on unaudited financial statements prepared by GSX for the year ended December 31, 2019, GSX generated FY2019 revenues of €4.4M (approximately CDN$6.6M), 89% of which were recurring, while billings from sales of Microsoft Office 365 digital experience monitoring increased by 34% in FY2019.
Martello has closed debt financing concurrent with the closing of the Transaction. A US$8M subordinated secured term loan provided by Vistara Capital Partners has partially funded the acquisition of GSX. As previously announced, Martello has also entered into a credit agreement with National Bank of Canada for a $7.5MM secured revolving facility, which the Company expects will close by June 1. Additional information about the transaction and the debt financings above are detailed in the press release dated April 28, 2020.
In addition, on May 26, 2020, Martello closed a $6.9 million bought deal public offering led by PI Financial Corp. and Eight Capital as co-lead underwriters and Paradigm Capital Inc. on behalf of a syndicate of underwriters. This was pursuant to a short-form prospectus filed on May 20, 2020, which is available on SEDAR. More information on the bought deal is detailed in the press releases dated May 6, 2020 and May 26, 2020.
"GSX brings a technology and business that is accretive to Martello's objectives of increasing monthly recurring revenue and investing in digital experience monitoring solutions", said John Proctor, President and CEO of Martello. "As global businesses shift to a remote work model, the performance of cloud digital services like Microsoft Office 365 has become even more critical. I appreciate the vision of our lenders,, who haverecognized this significant opportunity and provided financing despite uncertain market conditions. As we begin the integration process, I'm pleased to welcome the GSX team to the Martello family".
Oak Hill Financial will receive a fee of $175,000 for advisory services in connection with the debt financings from Vistara Capital Partners and National Bank.
Investor Call
Martello President and CEO John Proctor and CFO Erin Crowe will host a conference call for investors and analysts on Monday, June 1, 2020 at 10:00 AM EST, featuring Antoine Leboyer, the General Manager and former CEO of GSX. The call will provide insight into the strategic rationale for the GSX acquisition and a question and answer period for analysts.
Date: Monday, June 1, 2020
Time: 10:00 AM EST
Canada/USA Toll Free: 1-800-319-4610
International Toll: +1-604-638-5340
Callers should dial in 5 – 10 min prior to the scheduled start time and simply ask to join the Martello call.
An audio recording of the call will be available on June 1, 2020 at martellotech.com.
About Martello Technologies Group
Martello Technologies Group Inc. (TSXV: MTLO) is a technology company that provides digital experience monitoring (DEM) solutions. The company develops products and solutions that provide monitoring and analytics on the performance of real-time applications on networks, while giving IT teams and service providers control and visibility of their entire IT infrastructure. Martello's products include unified communications performance analytics software, and IT analytics software. Martello Technologies Group is a public company headquartered in Ottawa, Canada with offices in Montreal, Amsterdam, Paris, Dallas and New York. Learn more at http://www.martellotech.com
This press release does not constitute an offer of the securities of the Company for sale in the United States. The securities of the Company have not been registered under the United States Securities Act of 1933, (the "1933 Act") as amended, and may not be offered or sold within the United States absent registration or an exemption from registration under the 1933 Act.
This press release shall not constitute an offer to sell or the solicitation of an offer to buy nor shall there be any sale of the securities in any state in which such offer, solicitation or sale would be unlawful.
Neither the TSXV nor its Regulation Services Provider (as that term is defined in the policies of the TSXV) accepts responsibility for the adequacy or accuracy of this news release.
Cautionary Note Regarding Forward-Looking Statements
This news release contains "forward-looking statements". Forward-looking statements can be identified by words such as:"anticipate," "intend," "plan," "goal," "seek," "believe," "project," "estimate," "expect," "strategy," "future," "likely," "may," "should," "will" and similar references to future periods. Examples of forward-looking statements include, among others, statements we make regarding accretive monthly recurring revenues and effect of closing on the Company's gross margins.
Forward-looking statements are neither historical facts nor assurances of future performance. Instead, they are based only on our current beliefs, expectations and assumptions regarding the future of our business, future plans and strategies, projections, anticipated events and trends, the economy and other future conditions. Because forward-looking statements relate to the future, they are subject to inherent uncertainties, risks and changes in circumstances that are difficult to predict and many of which are outside of our control. Our actual results and financial condition may differ materially from those indicated in the forward-looking statements. Therefore, you should not rely on any of these forward-looking statements. Important factors that could cause our actual results and financial condition to differ materially from those indicated in the forward-looking statements include, among others, the following:
Continued volatility in the capital or credit markets.
Our ability to maintain our current credit rating and the impact on our funding costs and competitive position if we do not do so.
Changes in customer demand.
Disruptions to our technology network including computer systems and software, as well as natural events such as severe weather, fires, floods and earthquakes or man-made or other disruptions of our operating systems, structures or equipment.
Delayed purchase timelines and disruptions to customer budgets, as well as Martello's ability to maintain business continuity as a result of COVID-19.
Any forward-looking statement made by us in this news release is based only on information currently available to us and speaks only as of the date on which it is made. Except as required by applicable securities laws, we undertake no obligation to publicly update any forward-looking statement, whether written or oral, that may be made from time to time, whether as a result of new information, future developments or otherwise.
SOURCE Martello Technologies Group
For further information: Tracy King, Vice President of Marketing, tking@martellotech.com, 613.410.7636
Martello provides the only end-to-end Microsoft Teams performance monitoring tool that Microsoft recommends to their customers to maximize employee productivity.
Our solution Vantage DX proactively monitors Microsoft 365 and Teams service quality, enabling IT with complete visibility of the user experience to ease troubleshooting of issues before they impact users.
Find out why Martello is Microsoft's go-to-solution for Microsoft Office 365 Monitoring >>