Martello Places No. 205 on The Globe and Mail's Second-Annual Ranking of Canada's Top Growing Companies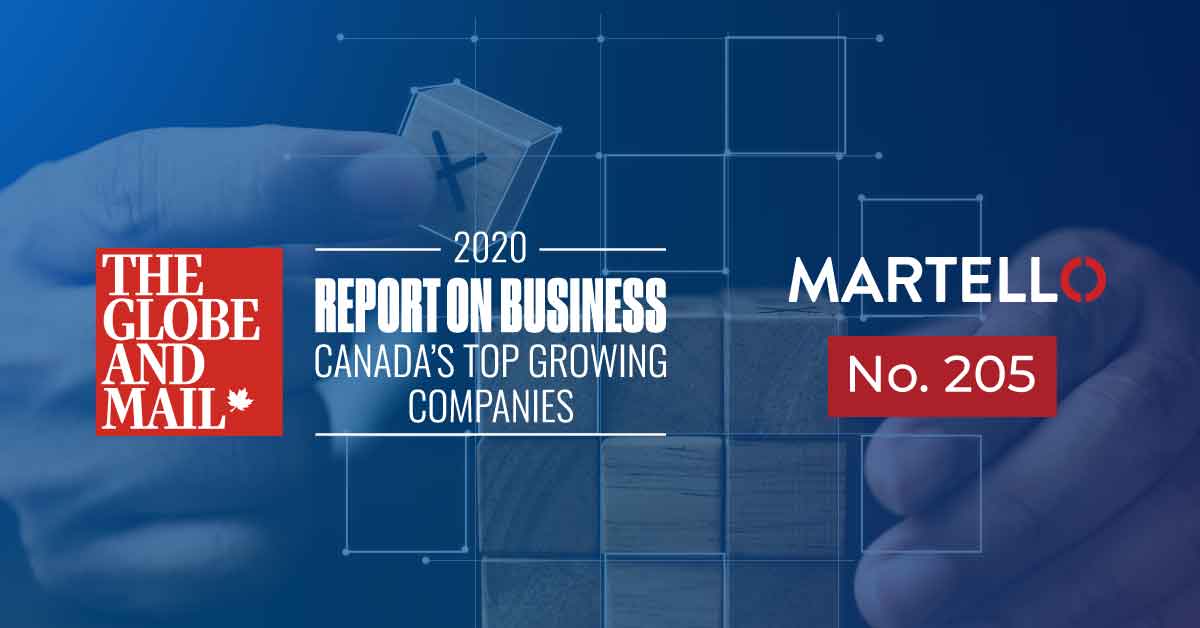 Recognition highlights three-year revenue growth of 197%.
OTTAWA, ON, Sept. 25, 2020 /CNW/ – Martello Technologies Group Inc., ("Martello" or the "Company") (TSXV: MTLO), a provider of digital experience monitoring (DEM) solutions for thousands of customers around the world, is pleased to announce it placed No. 205 on the 2020 Report on Business ranking of Canada's Top Growing Companies.
Canada's Top Growing Companies ranks Canadian companies on three-year revenue growth. Martello earned its spot with three-year growth of 197%.
"Martello is pleased to be recognized for the second consecutive year on Canada's Top Growing Companies list, moving up in ranking and revenue growth since 2019," said John Proctor, President and CEO of Martello Technologies. "We have reached key milestones over the last year, including the acquisition of GSX, which contributes recurring revenue in the rapidly growing Microsoft 365 market".
Martello acquired GSX in May 2020, as part of its strategy to deliver the industry's clearest picture of the digital user experience for cloud services such as unified communications and video conferencing. Headquartered in Switzerland, GSX develops Gizmo, the end-user experience monitoring solution for Microsoft 365. This strategic acquisition adds to Martello's monthly recurring revenue (MRR) and diversifies Martello's revenue stream, while offering access to an addressable market of 200 million monthly active users of Microsoft 365.
Launched in 2019, the Canada's Top Growing Companies editorial ranking aims to celebrate entrepreneurial achievement in Canada by identifying and amplifying the success of growth-minded, independent businesses in Canada. It is a voluntary program; companies had to complete an in-depth application process in order to qualify. In total, 400 companies earned a spot on this year's ranking.
The full list of 2020 winners, and accompanying editorial coverage, is published in the October issue of Report on Business magazine—out now—and online at tgam.ca/TopGrowing.
"The stories of Canada's Top Growing Companies are worth telling at any time, but are especially relevant in the wake of COVID-19 pandemic," says James Cowan, Editor of Report on Business magazine. "As businesses work to rebuild the economy, their resilience and innovation make for essential reading."
"Any business leader seeking inspiration should look no further than the 400 businesses on this year's Report on Business ranking of Canada's Top Growing Companies," says Phillip Crawley, Publisher and CEO of The Globe and Mail. "Their growth helps to make Canada a better place, and we are proud to bring their stories to our readers."
Related Resources
About Digital Experience Monitoring (DEM)
Video: Microsoft 365 Monitoring
Whitepaper:  Ensuring Teams Performance when it's OneDrive, SharePoint and Exchange Under the Hood (Nick Cavalancia, Microsoft MVP)
About The Globe and Mail 
The Globe and Mail is Canada's foremost news media company, leading the national discussion and causing policy change through brave and independent journalism since 1844. With award-winning coverage of business, politics and national affairs, The Globe and Mail newspaper reaches 5.9 million readers every week in print or digital formats, and Report on Business magazine reaches 2.1 million readers in print and digital every issue. The Globe and Mail's investment in innovative data science means that as the world continues to change, so does The Globe. The Globe and Mail is owned by Woodbridge, the investment arm of the Thomson family.
About Martello
Martello Technologies Group Inc. (TSXV: MTLO) is a technology company that provides digital experience monitoring (DEM) solutions. The company's products provide monitoring and analytics on the performance and user experience of critical cloud business applications, while giving IT teams and service providers control and visibility of their entire IT infrastructure. Martello's software products include unified communications performance analytics, Microsoft 365 end user experience monitoring and IT service monitoring and analytics. Martello Technologies Group is a public company headquartered in Ottawa, Canada with offices in Amsterdam, Geneva, Nice, Paris, Dallas and New York. Learn more at http://www.martellotech.com.
FORWARD LOOKING STATEMENTS: This press release contains forward-looking statements that address future events and conditions, which are subject to various risks and uncertainties. Actual results could differ materially from those anticipated in such forward-looking statements as a result of numerous factors, some of which may be beyond the Corporation's control. These factors include: general market and industry conditions, risks related to continuous operations and to commercialization of new technologies and other risks disclosed in the Corporation's filings with Canadian Securities Regulators.
Forward-looking statements are based on the expectations and opinions of the Corporation's management on the date the statements are made. The assumptions used in the preparation of such statements, although considered reasonable at the time of preparation, may prove to be imprecise and, as such, undue reliance should not be placed on forward-looking statements. The Corporation expressly disclaims any intention or obligation to update or revise any forward-looking statements whether as a result of new information, future events or otherwise, except as required by applicable law.
Neither the TSX Venture Exchange nor its Regulation Services Provider (as that term is defined in the policies of the TSX Venture Exchange) accepts responsibility for the adequacy or accuracy of this release.
For further information: Tracy King, VP Marketing, tking@martellotech.com, 613.410.7636