Martello Vantage DX Now Provides Insight into Microsoft Teams Telephony Service Delivery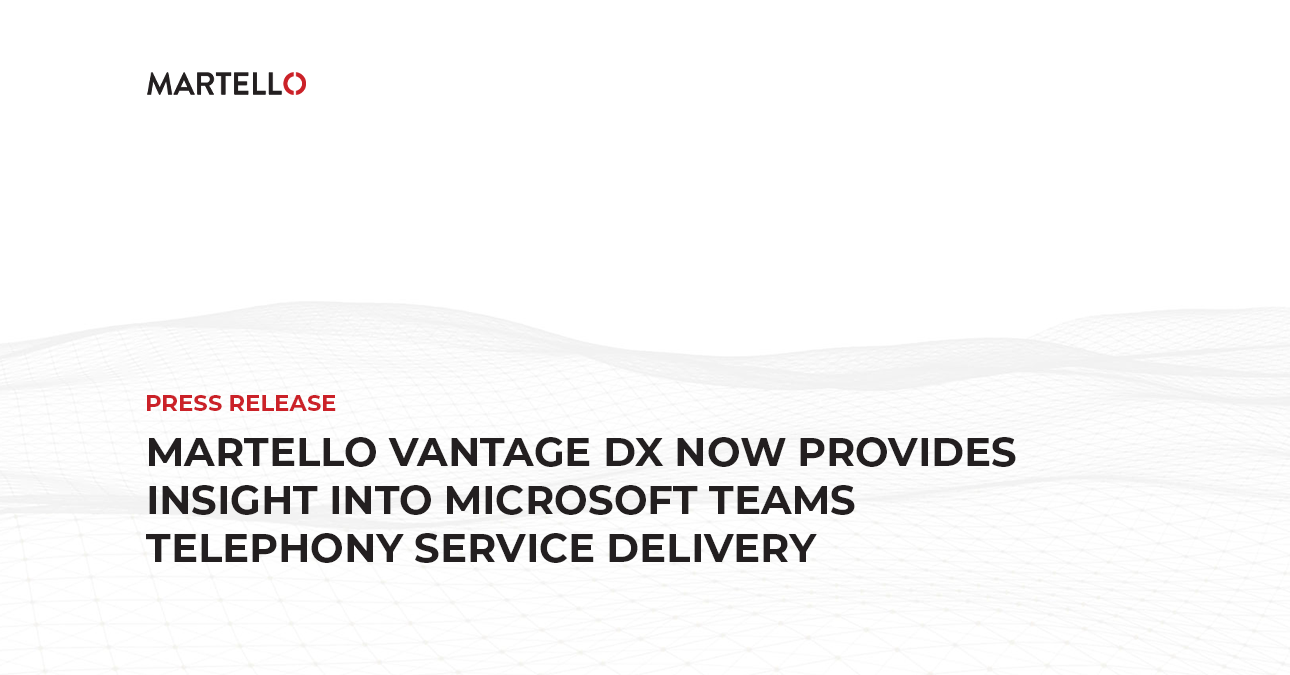 Monitoring and optimization platform recommended by Microsoft solves 'visibility gap' by providing insight into the IT infrastructure supporting Microsoft Teams calls from end-to-end.
Orlando, FL (March 22, 2022) – Martello Technologies Group Inc., ("Martello" or the "Company") (TSXV:MTLO), a leading developer of enterprise digital experience monitoring ("DEM") solutions for Microsoft 365 and Teams, announced today a unique solution to simplify the delivery of stellar Microsoft Teams telephony user experiences in even the most complex large enterprise environments, mixing Direct Routing with session border controllers (SBCs), multiple internet service providers (ISPs) and Teams Video in hybrid workplaces. Martello will demonstrate this technology at Booth #902 at Enterprise Connect 2022 in Orlando, FL on March 21-24.
The popularity of Microsoft Teams telephony has grown significantly in recent years, as enterprises seek to deliver flexible communication solutions to their employees working remotely and in the office. By offering PSTN connectivity, such as Direct Routing together with Microsoft Teams, employees can use Microsoft Teams flexibly and conveniently between devices. However, for enterprise IT teams, supporting these users can be challenging because until now, there has been no way to easily access service availability and performance information for SBCs, ISPs and Microsoft Teams to identify the source of a performance problem.
Vantage DX aims to solve this 'visibility gap'. This Microsoft 365 and Teams monitoring and optimization platform recommended by Microsoft empowers IT teams with the information they need to proactively deliver optimized Microsoft Teams telephony user experiences despite network, ISP or other issues that may impact performance.  Working in silos and using different monitoring tools, until now IT teams have not had a centralized view of all the components that impact the performance and delivery of Microsoft Teams telephony.
Vantage DX provides the following Microsoft Teams telephony insights to enterprise IT teams:
Automatic discovery of user location, connectivity type, carrier, SIP trunk provider and network challenges.
Grouping user experience data by carrier to detect and alert on PSTN carrier call quality issues.
Correlating user issues with PSTN carrier and trunk usage data (users, devices, inbound, outbound, minutes, etc.)
Define end-to-end Microsoft Teams PSTN business services by correlating an enterprise's existing network monitoring data (PBX, SBC, switch, etc.) with Vantage DX insights to report on service performance.
Vantage DX will soon provide integrations with Microsoft-certified SBC vendors, providing the ability to:
Collect relevant data to understand end-to-end Microsoft Teams telephony service delivery.
Alert on key performance metrics affecting the end user experience.
Correlate SBC data with Microsoft Teams Call Quality Dashboard and an enterprise's existing monitoring insights, for complete management of Microsoft Teams telephony service delivery.
"Feedback from close to 3 million Microsoft 365 and Teams users already utilizing Martello's monitoring capabilities indicates that bridging this Microsoft Teams telephony visibility gap is important to improve mean time to repair and maximize IT resources," said Rob Doucette, VP Product Management at Martello. "The upcoming Vantage DX SBC integrations, together with PSTN monitoring and advanced visualization capabilities eliminate finger pointing and guesswork associated with troubleshooting these complex Microsoft Teams telephony environments."
Microsoft is a Gold certified Microsoft Partner and its Vantage DX software is a Preferred Solution on the Microsoft Azure Marketplace.
Learn more about Vantage DX for Microsoft Teams Telephony:
About Martello Technologies Group
Martello Technologies Group Inc. (TSXV: MTLO) is a technology company that provides digital experience monitoring (DEM) solutions focused on the Microsoft market. The company's products provide actionable insight on the performance and user experience of cloud business applications, while giving IT teams and service providers control and visibility of their entire IT infrastructure. Martello's software products include Vantage DX, which provides Microsoft 365 and Microsoft Teams end user experience monitoring and optimization. Martello is a public company headquartered in Ottawa, Canada with employees in Europe, North America and the Asia Pacific region. Learn more at https://www.martellotech.com
Neither the TSXV nor its Regulation Services Provider (as that term is defined in the policies of the TSXV) accepts responsibility for the adequacy or accuracy of this news release.
This press release does not constitute an offer of the securities of the Company for sale in the United States. The securities of the Company have not been registered under the United States Securities Act of 1933, (the "1933 Act") as amended, and may not be offered or sold within the United States absent registration or an exemption from registration under the 1933 Act.
This press release shall not constitute an offer to sell or the solicitation of an offer to buy nor shall there be any sale of the securities in any state in which such offer, solicitation or sale would be unlawful.
Martello provides the only end-to-end Microsoft Teams performance monitoring tool that Microsoft recommends to their customers to maximize employee productivity.
Our solution Vantage DX proactively monitors Microsoft 365 and Teams service quality, enabling IT with complete visibility of the user experience to ease troubleshooting of issues before they impact users.
Find out why Martello is Microsoft's go-to-solution for Microsoft Office 365 Monitoring >>