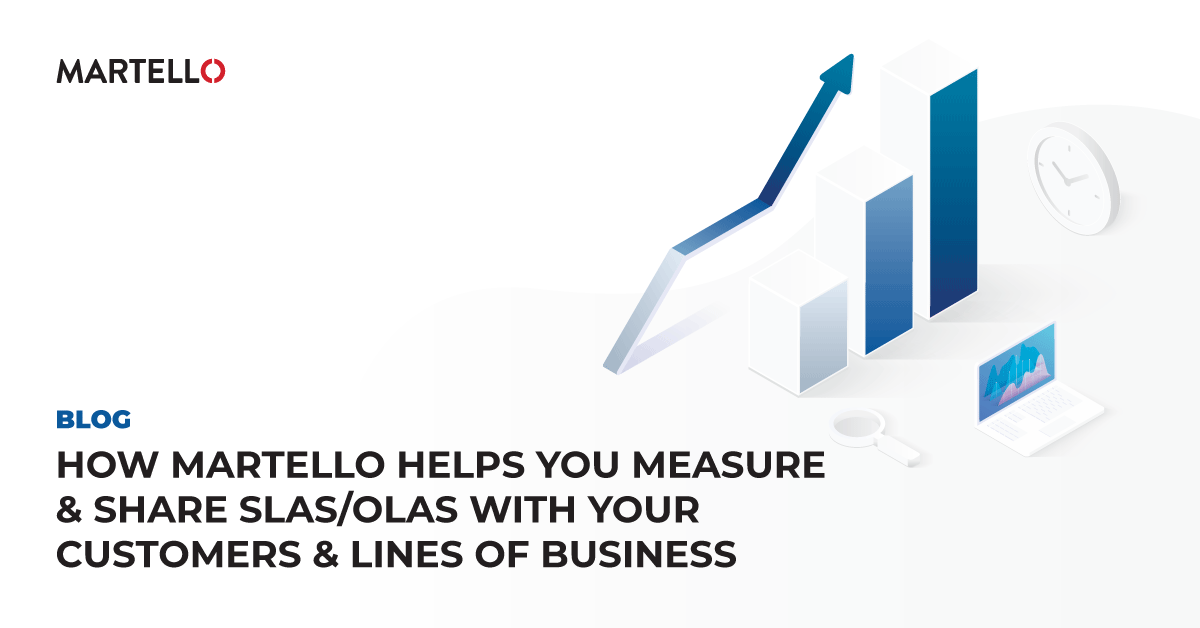 The ability to maintain successful operations in business requires specific agreements that are critical to helping justify service delivery, understand the service performance, and get a budget for any potential infrastructure projects. Service Level Agreements (SLAs) are made between partners and customers and focus on the commitment of the partner to uphold an agreed-to level of service. Objective Level Agreements (OLAs) are similar in the sense that a commitment to maintaining a certain objective is set, but it is made between the IT team and the Business Lines. The inevitable questions regarding these agreements and how they relate to maintaining productive businesses is: how are these SLA and OLA agreements measured and how can they be used to benefit my business and/or achieve a specific set of business goals? 
Microsoft Limitations
Imagine your business utilizes Microsoft 365 services; to ensure optimal productivity for your team's use of Microsoft Teams you establish an SLA with Microsoft that "guarantees" the availability of Microsoft Teams and regular uptime of the service. However, a change in the traditional workplace structure we were all accustomed to was upended by unforeseen circumstances (aka global pandemic) which drastically changed how and where most of your staff works. Instead of your entire team working out of managed offices, 95%+ of your staff now works remotely for the foreseeable future. When staff worked out of an office it was easier for IT to manage activity and resolve issues because everyone was on the same network, but with everyone dispersed it becomes more challenging, especially when it comes to proving an issue was caused by the service provider. Also, consider that for Microsoft Teams the Microsoft BI reports on the 'average voice quality' only.  There are  SLA reports for Teams performance and voice quality, but only from a Microsoft datacenter point of view. There are no custom SLAs extended to network and local IT or other Microsoft 365 workloads and no way to effectively measure the quality of the service being delivered around the clock, or when an SLA is breached.
When it comes to the Microsoft 365 services being provided Microsoft does not own any of the associated networks, ISPs, or data centres your organization uses; they are solely responsible for their own Microsoft network. This means that problems with their service that arise from network issues on the business' end (including networks and ISPs of remote staff) are not protected under any SLA. SLAs do not guarantee the quality of service that is being received, but the availability and performance of the service itself from a provider point of view.  Therefore, to measure the level of service that is effectively delivered to Business Lines, organizations are choosing OLA that enables them to take into account every component of the service delivery to the end-users.
Martello Solution – an SLA tailored to your business needs
To facilitate an environment that promotes optimal user productivity IT service managers need as much data on the quality of the service being delivered as possible. Our Martello solution allows service managers to understand the service performance down to the user level. With that understanding comes an improved overall experience and a clearer pathway toward productivity. Here's a closer look at what that means for your business:
Provides 24/7 service performance tests & reports that continuously measure each Microsoft 365 workload to each critical site –
End-to-end OLA reports for remote workers including the service delivered by Microsoft & the ISP
Automatic SLA/OLA calculation with a target reach
Custom extended SLAs that include every necessary component to deliver the service such as authentication system, network, ISP, devices, etc.
Ability to identify the root cause of an SLA breach to continuously optimize the service performance level
Pinpoints the users that are affecting the overall SLA achievement and provides data to negotiate the achievement of the SLA
With Martello, you will be able to effectively detect where problems are coming from by identifying the root cause, properly (and more quickly) troubleshoot the issue when and if it does arise and not be impeded by issues you've dealt with before; create a clearer path to navigate your business forward.
Our solution empowers your IT team to fix problems faster to reach better SLA achievement and grants the sharing of comprehensive reports on the quality of your Microsoft Teams and Microsoft 365 service to your stakeholders.
Let Martello help you tailor your SLA/OLA to your specific business needs and justify a more accurate budget for investment into achieving the optimal user experience. Learn more about our SLA monitoring here.