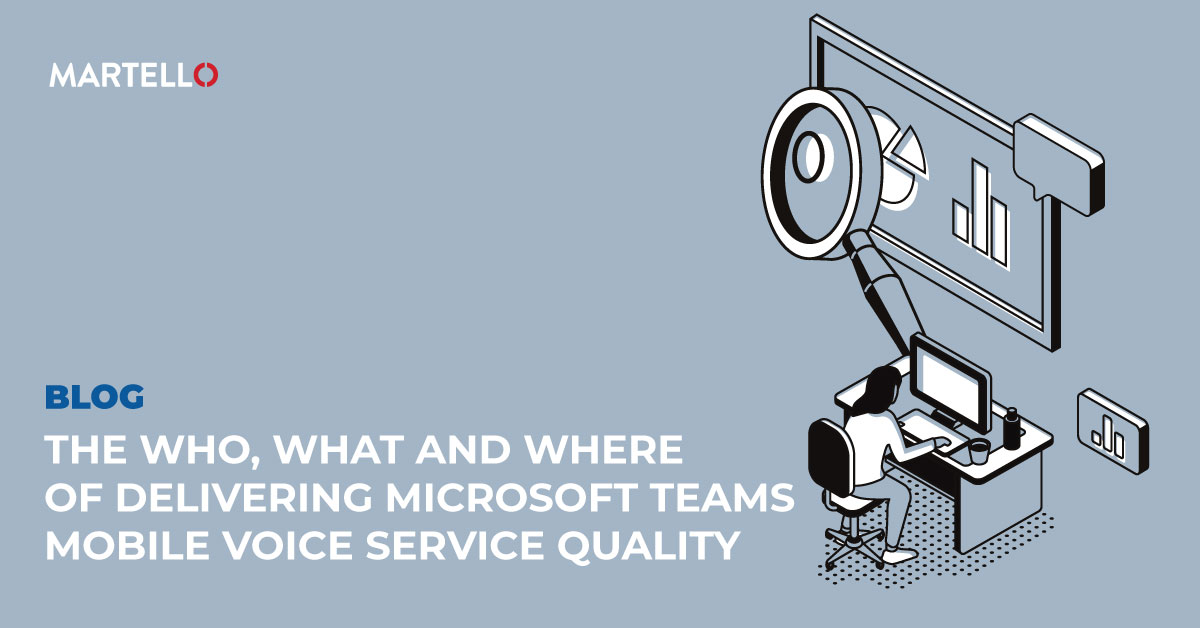 Microsoft Teams users, whether they use peer-to-peer calls, meetings, or PSTN Telephony very often switch from their laptop to their mobile and expect reliable call quality on all devices. Monitoring and ensuring call quality for Microsoft Teams users, in general, is already challenging at times. But when it comes to Microsoft Teams mobile calling, there is added complexity for IT teams.
Due to the 'bring your own device' policies of some businesses, identifying mobile devices that cause issues and understanding how they affect Microsoft Teams mobile call quality can be a long process, preventing IT from a comprehensive understanding of the Teams Voice service user experience.
Fortunately, Vantage DX gathers the information IT teams need to get that visibility back. The platform's Microsoft Teams Mobile Voice dashboard helps IT teams to understand what mobile devices are used, who is experiencing call quality problems, where the problems are, and under which network conditions.
Overall Service Quality for Microsoft Teams Mobile Calling
Microsoft's Call Quality Dashboard (CQD) collects every user's data related to their Microsoft Teams mobile calling experience. Vantage DX transforms this data into important insights for IT with the Microsoft Teams Mobile Voice dashboard, which groups and sorts the data by location, type of device, ISP or even the reason for issues.
Automatically, the IT team has an overview of the mobile user experience, the challenges associated with it and can be alerted when service degradation occurs.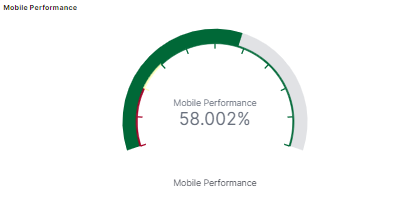 At the center of this dashboard is the overall counter that gives you a metric on the general mobile experience. This indicates the percentage of calls that actually went through without any problem on mobile devices. Of course, the goal is to keep that figure as close as 100% as possible. But if it is not, Vantage DX provides additional metrics and data to help IT teams dig a bit further to understand what is going on.
WHAT mobile devices are experiencing problems?

There are two charts that show what types of mobile devices are in use and which ones are the most involved in poor quality Voice services. Checking these charts helps IT personnel understand if a particular type of device is generating too many alerts and if potentially there is a problem with the version of the operating system (OS). Clicking on any device will then adjust the "poor call quality" that explains the root cause of service disruptions on these devices.
The last important chart in the Microsoft Teams Mobile Voice dashboard illustrates the internet service providers (ISP) that are used by mobile users. The purpose is to identify any ISP that is connected with an abnormal number of mobile-related performance issues.
WHERE are my Teams Voice mobile user problems?

To prioritize activities when addressing Teams mobile issues, the first step is to identify which regions or cities have the most issues. The Vantage DX Mobile Call Map clearly identifies this right away, enabling you to drill down to get specific metrics.
Another way to quickly identify which cities report the most Mobile Device issues is to check the Top 5 Cities with Mobile Issues, which shows the main root causes for poor call quality by city.

WHO is experiencing the most Teams Voice mobile problems?
Finding users with poor Microsoft Teams mobile calling voice quality is simple with Vantage DX. By checking the Top Users with Issues chart you'll know who, with which device, where they are and the most important root cause of their issue.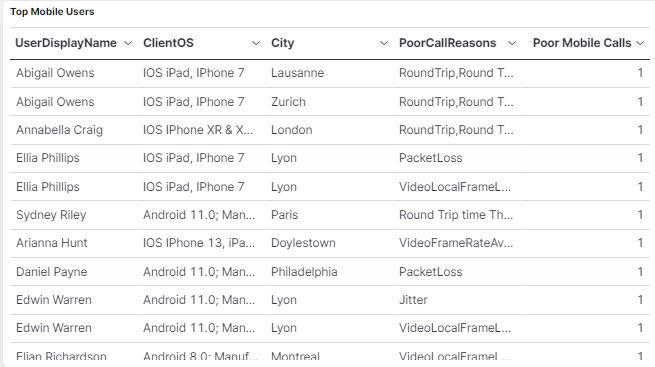 After spotting these most problematic users, you can look for their specific data directly in the User dashboard. This dashboard provides an overview of a user's calls and any network issues detected for them: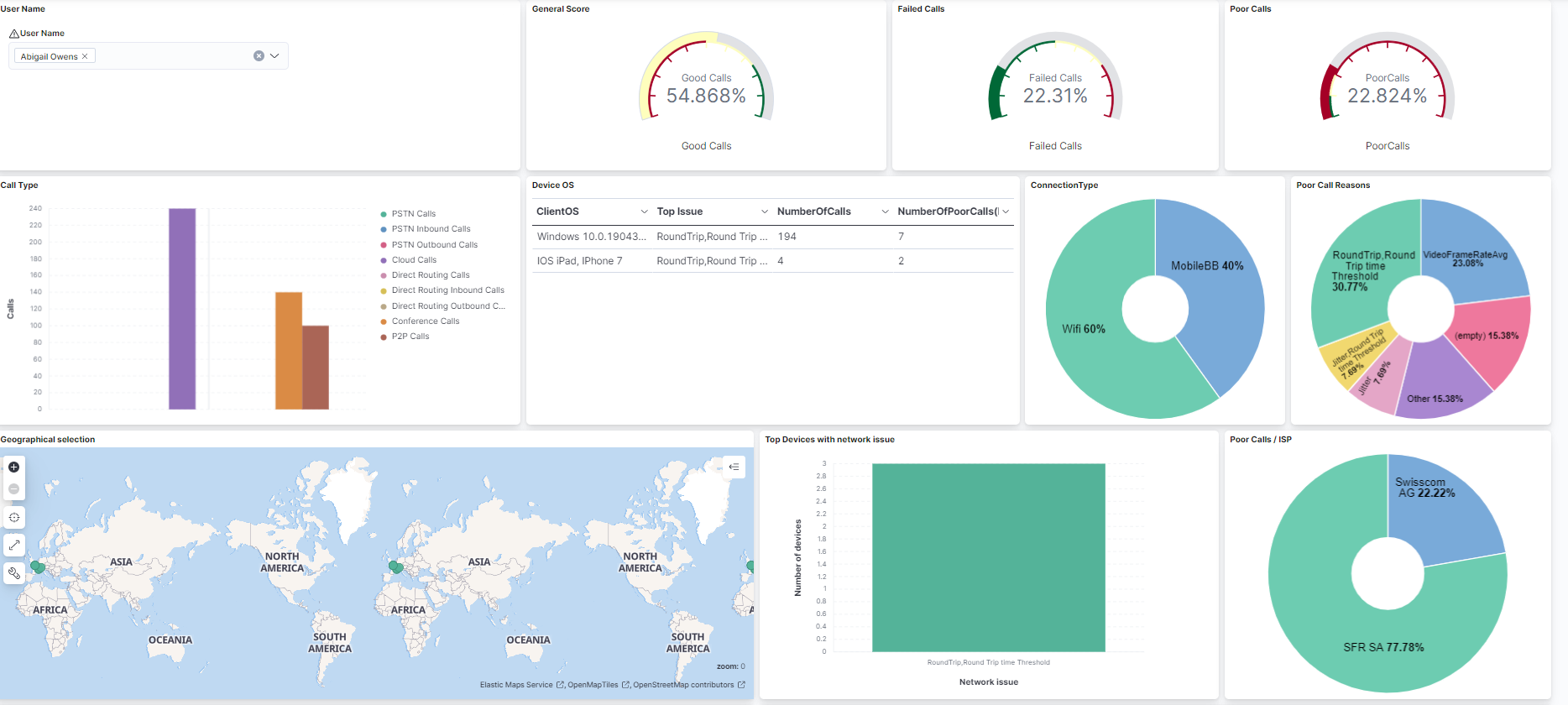 This dashboard demonstrates right away how a user generally connects to Microsoft Teams, the network issues that are detected, what Microsoft says about the calls' poor-quality reasons and additional information that can help IT personnel better understand the situation.
You can select only mobile calls to get a better idea of the overall mobile situation. In addition, it is also possible to compare the type of performance this user is getting with a wired connection, in order to identify a specific network or hardware bottleneck.
To dig even more into Mobile user problems, you can also use specific searches in Vantage DX to compare this user with others and to monitor this more accurately by setting up alerts on it or on a group of critical users to watch.
Mobile usage and its underlying issues are difficult to catch. A mobile Microsoft Teams user is even less likely to open a ticket than a Windows user. However, now that people are jumping from laptop to mobile and expect the same quality of service, it is really important to be able to quickly determine where the issues are, what the issues are, who is impacted, what type of devices are involved and what to work on to improve the situation. This is what the Vantage DX dashboards are focused on.
Looking for more content on dashboards? Read our latest blogs to get concrete use case examples:
How to Use the Key Performance Metrics you Already Have to Improve the Microsoft Teams User Experience. Read More.
Interested in seeing Vantage DX in action? Book a demo today.