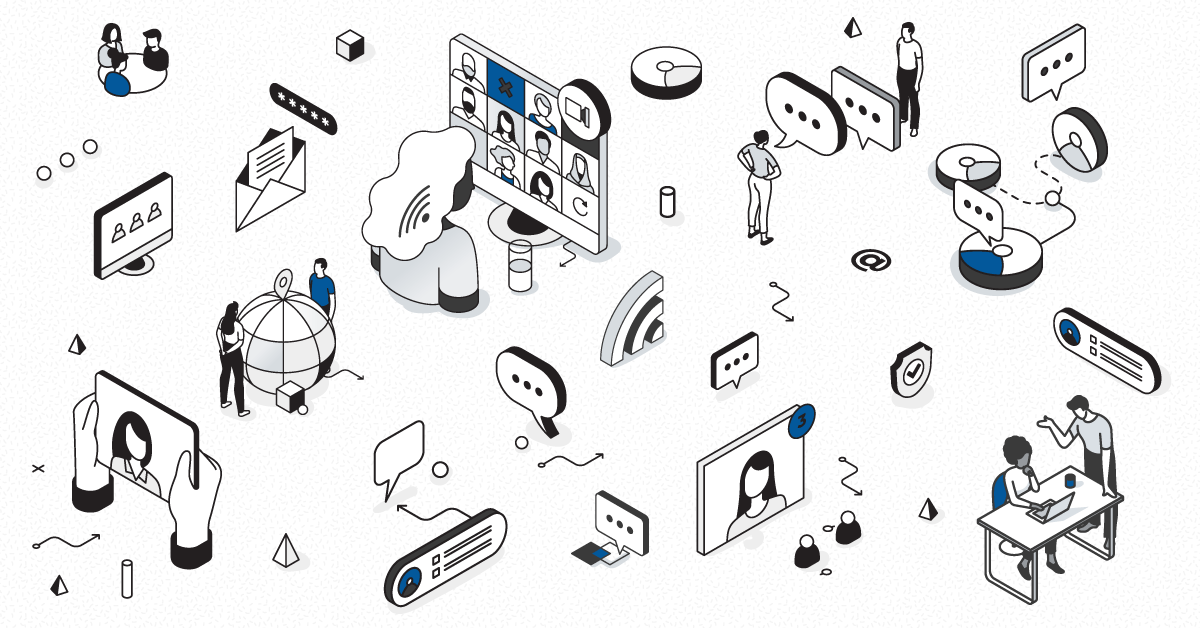 There's no doubt that COVID-19 has pushed the workforce to rethink their routines, from work locations, to operating efficiencies (I guess all those meetings could have been emails, after all!), to how we structure our daily lives. It's been imperative to digitally transform our places of work to be able to operate effectively given the new restrictions to limit the spread of the virus. Those companies that are able to use technology well to keep going and reassess their business model for the future by fast tracking digital transformation will be the ones ahead of the competition.
The ability to work from home is a benefit many employees value, however prior to the changes we have seen globally over the last few months, many companies lacked the technology to offer that capability without some sacrifices to they way they usually operate. With the dramatic shift to remote work, many companies have begun to realize the benefits of fast-tracking digital transformation.
With millions working from their homes right now, it's expected that some companies will migrate back to the traditional office setting, while others may see a shift to this new phase of work. It is now up to IT departments to not only patch and prepare their systems to enable employees to work remotely, they now have to think to the future of what the workforce will look like after this is all over.
Minimizing Downtime To Enable Efficiencies
With increasingly complex systems sustaining mission-critical services, IT departments are hard at work designing business continuity strategies to avoid the unpleasant surprise of downtime and outages.
As network complexity increases, downtime can seem inevitable. Each year companies collectively lose $26.5 billion in revenue due to IT downtime- whether planned or unplanned. For Fortune Hundred companies who experience critical application failures, the costs can hit a staggering 1 million dollar in losses, for each hour of downtime.
Network downtime can have a tremendous impact on your business. The longer you go without access to your data and business systems, the greater the financial implications are.
Most outages are predictable to a certain degree, but you can't plan for everything. That being said, in the end, 51% of outages are avoidable. And for the other 49%, well there are several ways to help you limit their impact and reduce the time they prevent your teams from being productive, or your clients from buying your products.
By establishing a proactive approach to help minimize the effects of downtime, you will not only save revenue but provide a positive user experience for your entire business – both your staff and your clients.
Start by creating a business continuity plan. This should outline the different fail-safe processes, contingencies and alternate resources at your disposal to help keep your business operational during an outage. More than just a back-up plan, a business continuity strategy will keep your business operating when your network experiences planned or unplanned downtime. This plan should contain details of exactly what to do, who to call and the next steps to take, for each of your mission-critical services. The more detailed the plan, the better chances your business has to remain operational and reachable.
Next, establish a disaster recovery plan. A bit of a more pessimistic version of the business continuity plan, disaster recovery is set in motion when a section of your business becomes entirely unresponsive. Floods, earthquakes and other elements beyond your control, this is where you can – and should – plan for the worst. From a network and services standpoint, this means ensuring that company data is backed up within off-site resources on a regular basis – automatically, if possible. Now, let's not kid ourselves – if you need to use this plan, you're not looking for simple continuity anymore. You're looking at outright recovery after an insurmountable interruption. This means hosting back-up data and resources in an off-site data centre, colo centre, private or public cloud, where everything is safely stored and easily recoverable.
Finally, it's great to have a plan in place, but you need to ensure that it will work when placed in a real-world scenario. The best way to do it is to test it regularly to reveal any issues that need troubleshooting, before you're in a situation where you need to deploy your strategy.
Calculating the Cost of Downtime
The true cost of downtime can be measured. The reality is, the impact to a business for a single hour of downtime can be very costly. When you consider the loss of productivity, the loss of revenue, plus the additional costs to recover from the outage, those number add up quickly and can hit the bottom line of any business. The average cost of a single hour of downtime has risen by 25-30% since 2018.
Due to these costs, you need to know where the problems are before they impact the end user. You need to leverage every investment made within your organization, which means all your tools are clearly visible, used efficiently, and communicating in real time to the correct people.
Did you miss our Webinar "Prevent Downtime from Data Center to the End-User"? Watch the recording now.