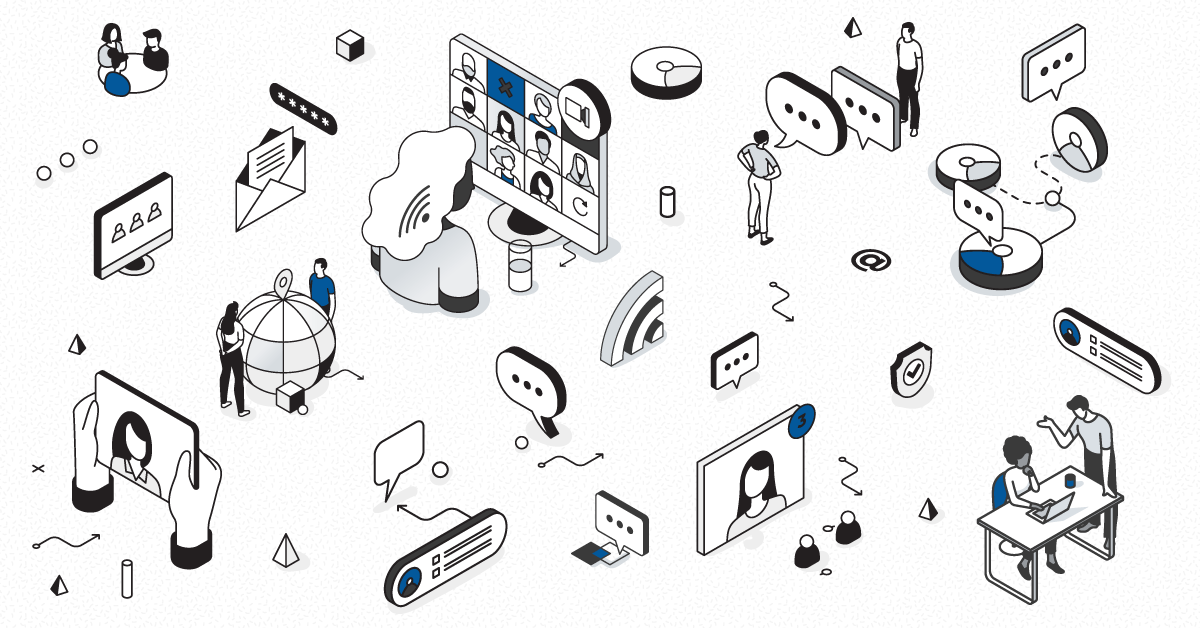 With the majority of knowledge workers globally working from home right now, you might have experienced issues during voice and video calls, even if you have good bandwidth. That can be due to your connection, to the Internet or to the service itself. How can you know what's causing a poor video or voice experience? There are a few simple tools that can tell you.
The test runs entirely from your browser. If you are curious or are experiencing issues, take time to try different setups to compare the results.
UCScore – Free Web-Based Tool
You can test how video and voice calls will perform on your home network using a free web-based tool called UCScore. The test runs entirely from your browser. If you are curious or are experiencing issues, take time to try different setups to compare the results.
Try these situations and see how your results vary:
On Wi-Fi
Through a Direct Wired Connection
After unplugging your kids' X-Box network cable and shutting down Netflix.
Advanced UC Network Testing:  Synthetic Call Testing in Action
After shifting to
remote work
after his office was closed, Antoine found a
problem on his home Internet connection
and was able to find a workaround thanks to
Network Testing
!

He installed a Martello probe at his home 3 weeks ago. A probe enables the communication between network analytics software and the customer network. It also acts as a data collector for the monitored devices. This data is then sent to your network analytics as actionable data.
After installing the probe, Antoine set it up with a couple of Network Testing tests to compare against the Internet Provider's Service Level Agreements. He also enabled alerts so that he would receive SMS messages when alarms are raised.
After 10 days or so, he started receiving numerous text messages about tests failing. The graphs on Network Testing were showing clearly something was wrong, and getting worse: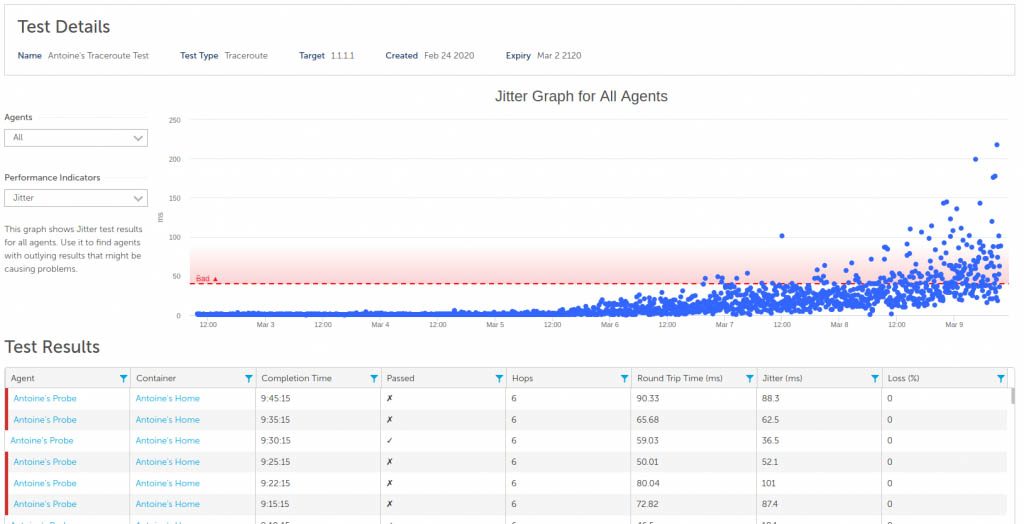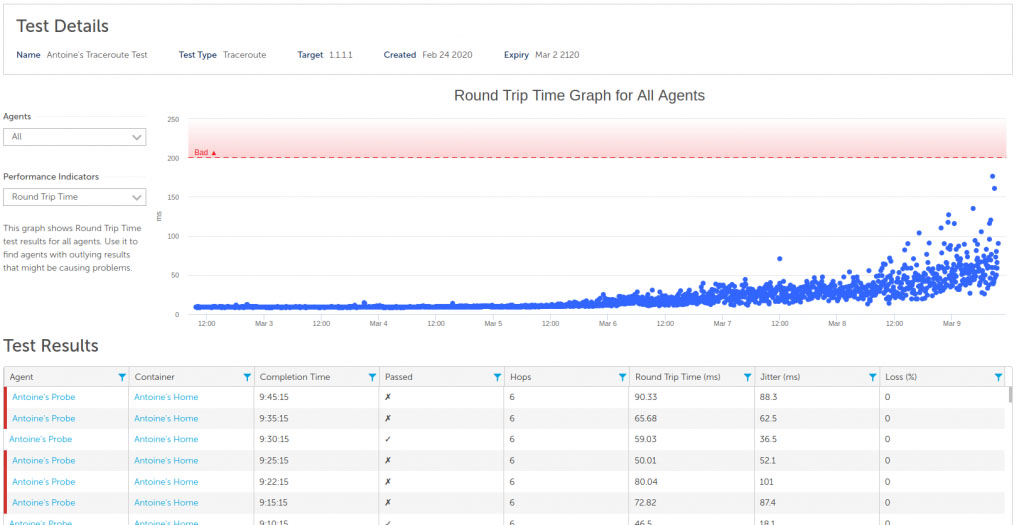 Jitter was increasing and RTT was following quickly. At first he thought it could be linked to the destination the probe was pinging (it was 1.1.1.1). Except the IP SLA gadget showed that many destinations were affected.

You can see the RTT for 3 different destinations increasing day after day.
He tried restarting the probe to clear any potential bugs, but the situation did not improve.
In France, the ISP provides end users with a Wi-Fi router. It is not rare to see a bug on those. So he tried restarting it which resolved the issue. You can see the situation going back to normal suddenly.

That was Tuesday night.  He checked again the following morning and it was obvious that the fix was only temporary and the problem was already coming back (look at the right of the graphs, with Jitter and RTT increasing slightly).


So that's just jitter and RTT on pings and traceroute, no big deal, right? Well not so much. If you look at the real calls being simulated by the probe, on Tuesday they started experiencing
poor Voice Quality
as well. This was caused by RTT increasing. It came back in order after he restarted his router.

So what does that mean for the real world? If he was working from home or trying to do a video call with family, Antoine would have had a poor experience.
So now that he has discovered a workaround, what next? If he wanted a real fix, he would have to call his ISP, convince them that they have a bug on their router and get them to fix it, but at least now he has the data to show where the issue originated from.
Every day before starting work, Antoine would reboot his router, since the bug was still active he would continue to receive alerts. The problem was resolved by his ISP about a week later, thanks to an upgrade in the firmware.
In Antoine's case, to run his scenario you just need a Martello UC Analytics probe or agent.
A Focus on Network Health
Often recurring issues on the network go unnoticed until you are faced with poor voice quality and a negative end user experience. By having Martello's UC Network testing tools in place, you can proactively identify a problem and find its source before ever experiencing issues as an end user.