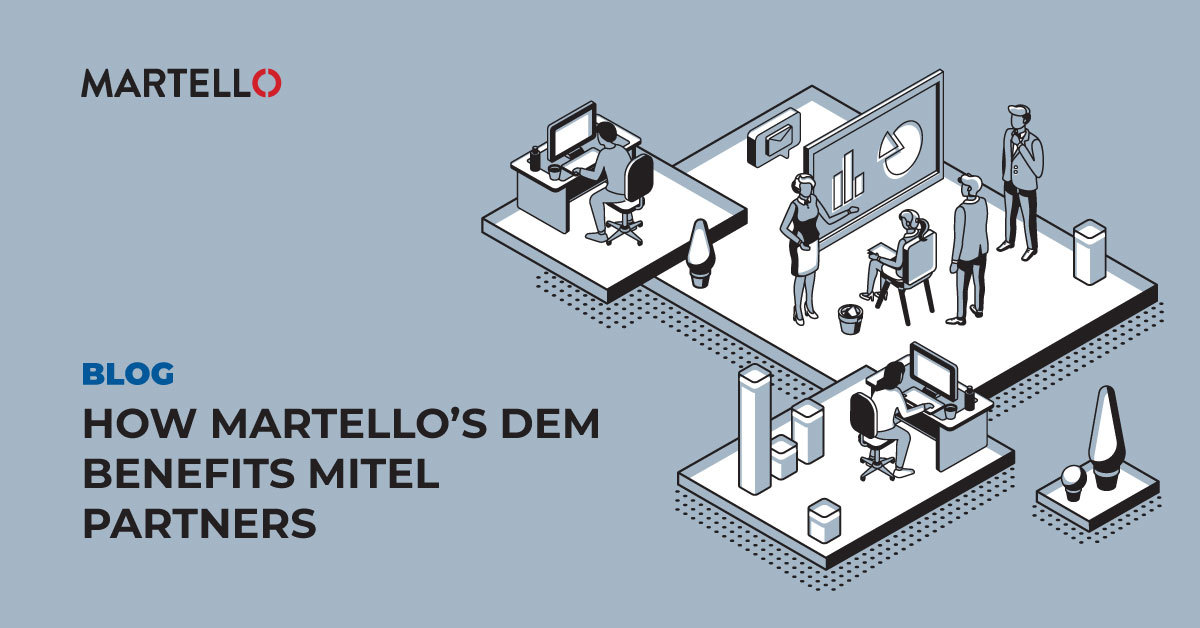 The ability to work from anywhere is a great concept but isn't without specific challenges to navigate, especially for the IT teams of an organization. One of our new solutions – Real User Monitoring –  adds a powerful level of data correlation to Martello's current DEM suite, providing IT teams with proactive insights into when problems with Microsoft 365 will arise, but also provides insight into what is happening with real users and their activities, whether they are working at the office or remotely.  This blog will examine how Martello's DEM solutions can help benefit Mitel partners. 
Extending Mitel support to Microsoft Teams & other Microsoft 365 managed services
Our MPA solution helps Mitel partners precisely monitor the quality of the unified communication services they are using – down to the specific user. As Mitel partners' customer base continues to adopt Microsoft Teams the partners need a way to effectively monitor their Microsoft Teams call quality, and whether they are P2P, conference calls or calls made through PSTN/direct routing, etc. in addition to their other Mitel services.  
Microsoft's Limitations
Mitel partners that are managing customers using Microsoft Teams often have access to the Microsoft Call Quality Dashboard however a lack of alerting functionality, inability to group calls or users and the absence of correlation functions with infrastructure & network monitoring metrics limits what they can achieve. Mitel partners can monitor other Mitel services but are not able to effectively monitor the Teams service quality for their clients with this dashboard alone and require a solution that can assist them. This is where Martello comes in.  
The 
Martello Solution
Our DEM solutions help Mitel partners extend the reach of their services and ensure that their clients can effectively continue to use different Microsoft 365 services – in collaboration with Mitel services – with ease. Since Microsoft 365 services are multi layered in terms of their functionality and capabilities (and all of the processes behind the scenes that we don't see) the solutions also need to be multi faceted and varied to cover a wider range.  
Martello iQ part of our digital experience monitoring (DEM) solution for Microsoft 365 offers a single pane of glass where all pertinent issue alerts are clearly displayed and easily identified. It correlates information from existing infrastructures/network monitoring tools and provides 24/7 digital experience monitoring, offering our Real User Monitoring solution and will soon also include our Active Network Path Monitoring (ANPM) solution that ensures the network path performance from users' location to Microsoft Teams services. This acquired data provides necessary insight to Mitel partners to assist in extending their managed services of Microsoft Teams and Microsoft 365. Multiple instances of MPA can be managed under this single pane of glass as well. This solution helps to increase customers' retention, reduce support costs and the MTTR in the case of an issue and helps to differentiate their offering to win more business. 
In addition, our Real User Monitoring solution provides the call quality data and alerts to better understand the service delivery for each Mitel partner customer user; it will also soon provide PSTN and direct routing call quality alerts. This solution enables proactive support for Microsoft Teams voice without the need for any additional product installation.  
A Martello solution helps Mitel partner customers effectively monitor the service quality of Microsoft Teams and other managed Microsoft 365 services. Learn mor
e about 
Martello
 for
 manage
d
 service 
providers
 and 
our 
'work from anywhere' solutions
 today.