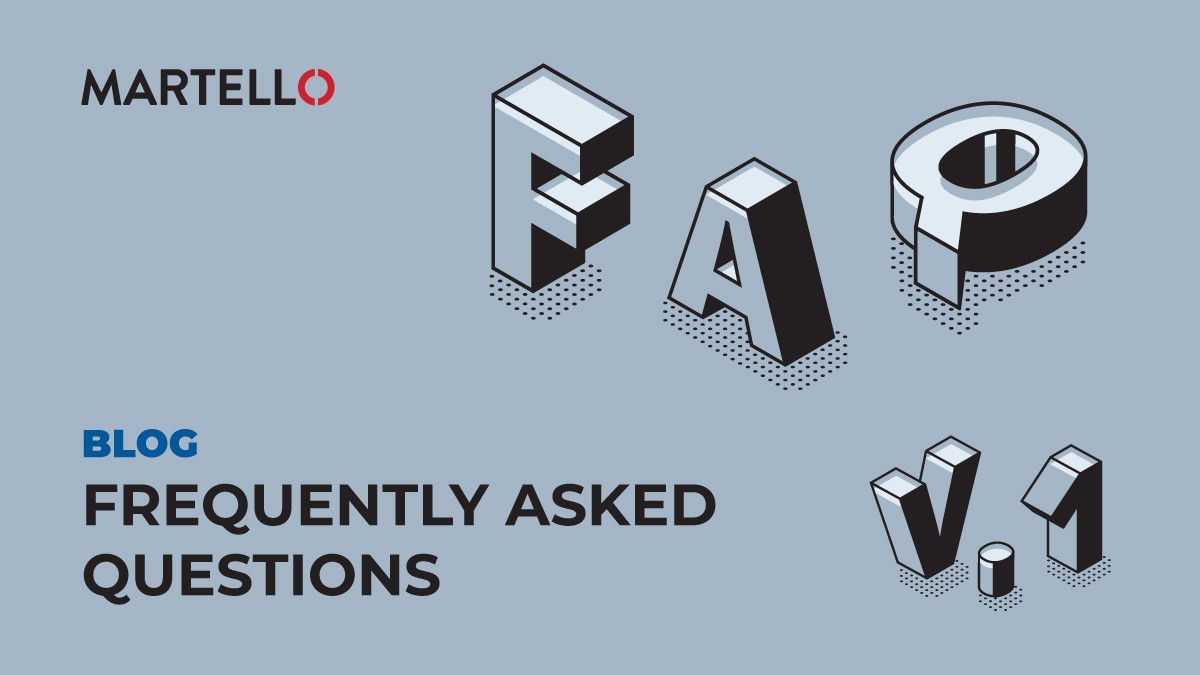 In an industry where technological evolution is commonplace, it's easy to get lost in a sea of terminology and acronyms. It's important to establish a solid foundation of understanding and Martello has developed a 'Frequently Asked Questions' series to help. What is real user monitoring? How do you monitor Office 365 services? These are some of the questions we examine here in Frequently Asked Questions: Vol 1.   
What is digital experience monitoring (DEM) for Office 365?
Enterprise IT teams have no visibility into the performance of services delivered to their branch offices and business lines and therefore are exposed to productivity loss.  Microsoft 365 is only able to tell you the status of the service inside the Microsoft data centre. Therefore, you have a blind spot on everything in-between your end-users and the Microsoft cloud. To understand the service quality, you are delivering to your sites and business lines, you need a Microsoft 365 monitoring tool that continuously tests the user experience, from where your users are located. Martello's digital experience monitoring (DEM) for Microsoft 365 delivers more than 10 years of cooperation with Microsoft in large Microsoft 365 deployments. 
How do you monitor Office 365 services?
Since Microsoft 365 does not come equipped with end-to-end service quality monitoring capabilities it is necessary to employ a software product that does; enter Martello Vantage DX. Vantage DX Robot Users have been designed to do this. Contrary to any other application performance monitoring tool, they perform synthetic transactions on Microsoft Exchange, SharePoint, OneDrive, and Teams actions using Microsoft rich clients while also testing the network conditions. 
How 
to
improve Office 365 performance?
There are two ways to improve the performance of Microsoft 365 services: detect problems before they impact end-users and to get to the root problem of issues quickly to mitigate the impact when you can't. Using synthetic transaction monitoring to mimic a user's behaviour 24/7 helps to detect problems when potentially no users are experiencing them. This gives IT teams ahead starting to fix problems before an outage occurs. In order to successfully diagnose and get to the root cause faster, you need to collect the right data and visualize it in a way that makes sense.  Martello's Vantage DX Analytics unifies all your disparate monitoring tools, cloud platforms, and ITSM systems. It improves troubleshooting, decreases downtime, and makes reporting easier. 
How do you troubleshoot issues with Microsoft 365?
Organizations need a means by which to troubleshoot Microsoft 365 service delivery issues in a way that first provides some level of information about the scope of the problem, but more importantly provides internal IT teams with a level of insight into what the next steps are – whether this is simply communicating the outage to the impacted users internally or remediating the problem when possible. Also, keep in mind that the source of a service delivery problem may have nothing to do with Microsoft; it could be a problem with a slow personal computer, the users' home Wi-Fi, their VPN connection, a misconfigured client application or browser, or an issue stemming from routing network traffic through the corporate network before heading out to the Microsoft cloud. An end-to-end monitoring solution like Vantage DX can help you effectively troubleshoot Microsoft 365. Learn more by downloading our 'Troubleshooting Microsoft 365 End-to-End' ebook.  
What is end-user experience monitoring for Office 365?
End-user experience monitoring needs to be an objective means of measurement; one that eliminates a lot of the noise that can occur when two factors can proverbially "point" at each other. Microsoft offers a health status for all its services at status.office365.com which provides the status of all services that are a part of your subscription, as well as any known incidents and advisories. But this set of, what is effectively, server-side metrics only tells one part of the user experience tale, as it only covers everything from within the "walls" of Microsoft 365. Client-side monitoring has the same issue; because we're talking about monitoring users interacting with a SaaS application, the measurement must represent the entire path from the client to the service and back. Learn more about how our Martello Vantage DX solution can help. 
What is synthetic transaction monitoring for Office 365?
Synthetic transaction monitoring is a way to monitor performance, in the case of Microsoft 365, real user interaction is mimicked – including authentication, file upload/download, and use of individual services. These transactions provide organizations with visibility into measured experiential metrics that can be used to identify performance issues and root causes of problems. Since the transactions occur within the very same paths that users themselves take, they offer a real-world view into what users are experiencing well before users have "had enough" and inform IT of an issue. Other forms of monitoring Microsoft 365 performance lack the contextual detail synthetic monitoring can offer because they typically are relying on bigger picture monitoring metrics (such as the previously mentioned Microsoft 365 health status) that isn't helpful with, say, attempting to isolate whether it's your WiFi that is causing a performance issue. Learn more about how our Martello Vantage DX solution can help. 
What is Real User Monitoring (RUM)
 for Office 365
?
Real user monitoring adds a powerful new level of data correlation to its existing suite, which includes synthetic user monitoring. Martello synthetic user monitoring simulates a range of user activities for users in multiple locations. These simulated activities will alert IT teams if a potential problem is detected so that IT can address the problem before it impacts a real user. By adding real user monitoring to the Martello DEM suite, IT teams get not only a predictive view of when problems will happen but a view into what's happening with real users and their activities whether they are working at home or in the office. Learn more about Martello's real user monitoring solution here. 
How to monitor emails in Office 365
IT administrators will start by requesting the user provide their email header, then checking to see whether the issue is widespread amongst the organization or isolated. If they find that the delay is happening on the Office 365 end, they will raise a case with Microsoft to identify the problem. Unfortunately, the Office 365 administrator can't see the mail queues in the portal, so they aren't able to proactively identify and fix email delay issues. Martello helps save time and reduce complaints by providing a mail routing end-to-end check associated with an echo mailbox in the cloud that allows administrators to send a test email every five minutes to validate message reception and time. By doing this, Martello helps admins continually understand round-trip time, and be alerted in case of any failures in sending or receiving emails. This lets administrators be proactively notified about delays, and to fix any issues before the end-user even becomes aware of them. Learn more about monitoring emails in Microsoft 365 . 
Can Microsoft Teams be monitored?
Yes, Microsoft Teams can be monitored. Vantage DX allows you to install Robot Users at each of your sites; these Robots use Microsoft Teams exactly the way your users do with synthetic transactions. During Microsoft Teams monitoring, they capture every network statistic (jitter, packet loss, healed ratio, MOS, etc.) to determine whether there is an issue. You now have 24/7 monitoring of the Microsoft Teams user experience. This alerts you in case of any issue and reports on service delivery site by site. Learn more about how Vantage DX can help you monitor Microsoft Teams. 
How to monitor Microsoft Exchange
Hybrid deployment for Microsoft Exchange is the norm for very large environments for several reasons. With a material portion of your messaging residing in the cloud and managed by Microsoft, knowing when and why declines in service quality occur can be a challenge. Our Microsoft Exchange monitoring tool can help you fill the visibility gap.  Martello is the only MS Exchange monitoring solution that enables hybrid end-user experience monitoring, making sure hybrid services are up and performing well. Learn more here.  
How to monitor SharePoint Online performance
To ensure end-user satisfaction you need to provide MS SharePoint monitoring to maintain the quality of service that is delivered to your sites and business lines. Thanks to the Martello Robot Users, which you can deploy everywhere, you can test your MS SharePoint performance with synthetic transactions 24 hours a day, 7 days a week. Martello Robots use the Office 365 document management system that is the heart of OneDrive, SharePoint, and Teams. They use it exactly the way a user does. They login to the service, upload and download a selected file. Learn more about our Vantage DX solution to monitor Microsoft SharePoint here. 
 If you have specific questions about digital experience monitoring, troubleshooting Microsoft 365 services, or just want to learn more about monitoring tools such as Vantage DX, and more, please contact us directly.