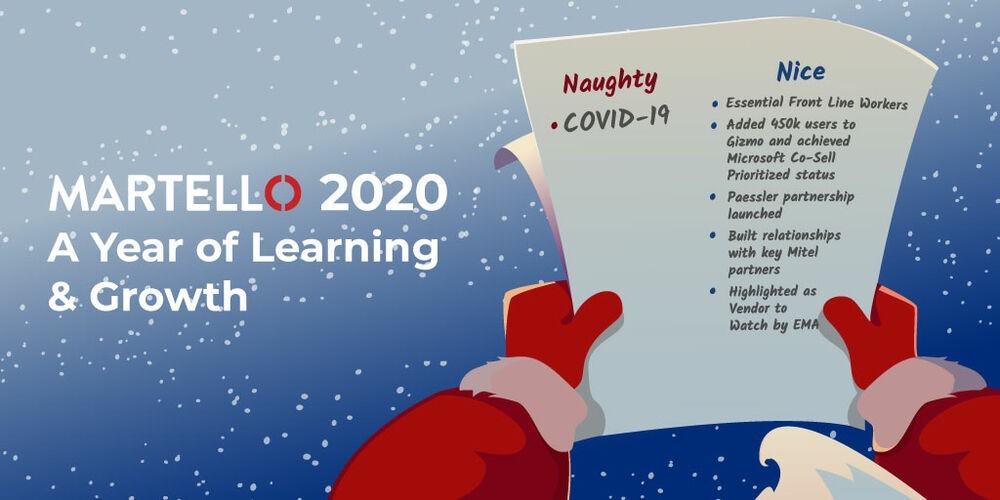 Perspective is important; 20/20 to someone who has just completed an eye exam is good news, however, the experience of 2020 that the rest of us have been privy to was much less clear.  
Martello has navigated through the challenges brought on by a global pandemic by taking proactive measures, being flexible, pivoting quickly when necessary, and continuing to work together – albeit as a socially distant team.  We are thankful to our customers, partners, investors, and employees who continue to be such an integral part of Martello's continued success and form the foundation for our future.  
As another holiday season is upon us, we are taking this time to reflect on the year we've had and how grateful we are to be in the position we are in. This year we have been pleased to help support two initiatives focused on COVID-19 relief. Through our Employee-Directed Gift Program we helped supply front line workers with much needed face shields and provided life-saving technology to a local hospital. Though it has been an unprecedented year, we have made a list (and checked it twice!) to share some Martello highlights from 2020.  
January – Use Digital Experience Monitoring To Stand Out In a Sea of MSPs, Start the New Year with 20/20 Visibility Over Your Network 
February – Martello Reports $3.4 Million in Revenues with 93% Gross Margins in Third Quarter Fiscal 2020 Financial Results  
March – SD-WAN Expo Exhibitor Martello Enables CoronaVirus-Inspired Teleworking for Mitel Users, Martello Recurring Revenue Model Offers Stability in Volatile Market Conditions  
April – Martello to Acquire GSX as Part of Strategic Investment in Digital Experience Monitoring, Martello Software Launches as Part of PRTG Enterprise Monitor to Meet Large Enterprise Needs  
May – Martello Announces $5 Million Bought Deal Public Offering of Units, Martello Announces Closing of $6.9 Million Bought Deal   
June – Martello Appoints Mike Danforth as VP Global Partnerships and Sales, Martello Service Monitoring and Analytics Platform Helps Visma Deliver a Stellar Customer Experience  
July – Martello Reports $13M Annual Revenues with 89% Recurring and 13% Year over Year MRR Growth in Fourth Quarter, Martello Sells ELFIQ Networks to Adaptiv Networks  
August – GSX is Recognized by Gartner in Three Recent Reports, GSX Gizmo Earns Top Marks in TechGenix Review , Martello Reaches $1.5M in Monthly Recurring Revenues and Positive Adjusted EBITDA in First Quarter of Fiscal 2021 
September – Martello Achieves Microsoft Gold Partner and Co-Sell Prioritized Status, Martello Announces Retirement of Niall Gallagher from Board of Directors, Martello Places No. 205 on The Globe and Mail's Second-Annual Ranking of Canada's Top Growing Companies 
October – Martello Adds More than 450,000 New Microsoft 365 Users Since June 2020, Martello Highlighted as Vendor to Watch by EMA as Gizmo 2.0 Launches with Advanced Microsoft Teams Video Monitoring, Martello CFO Erin Crowe wins 2020 Report on Business Best Executive Award  
November – Martello Revenues Grow 63% to $4.4M with Positive Adjusted EBITDA in Second Quarter of Fiscal 2021, Antoine Leboyer Appointed to Martello Board of Directors, Burgeoning Microsoft sales channel helps boost Martello's revenues in Q2  
December – Martello to Present at the 13th Annual LD Micro Main Event Conference, Partnerships and Microsoft Co-Sell Drive Key Sales Wins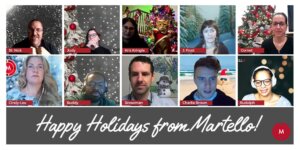 As we move into a new year, we would like to wish everyone a safe, happy, and healthy holiday season. Here's to 2021!